It is that time of year- time for the Parade of Homes! This year Landmark Fine Homes has 8 Homes featured in the Parade.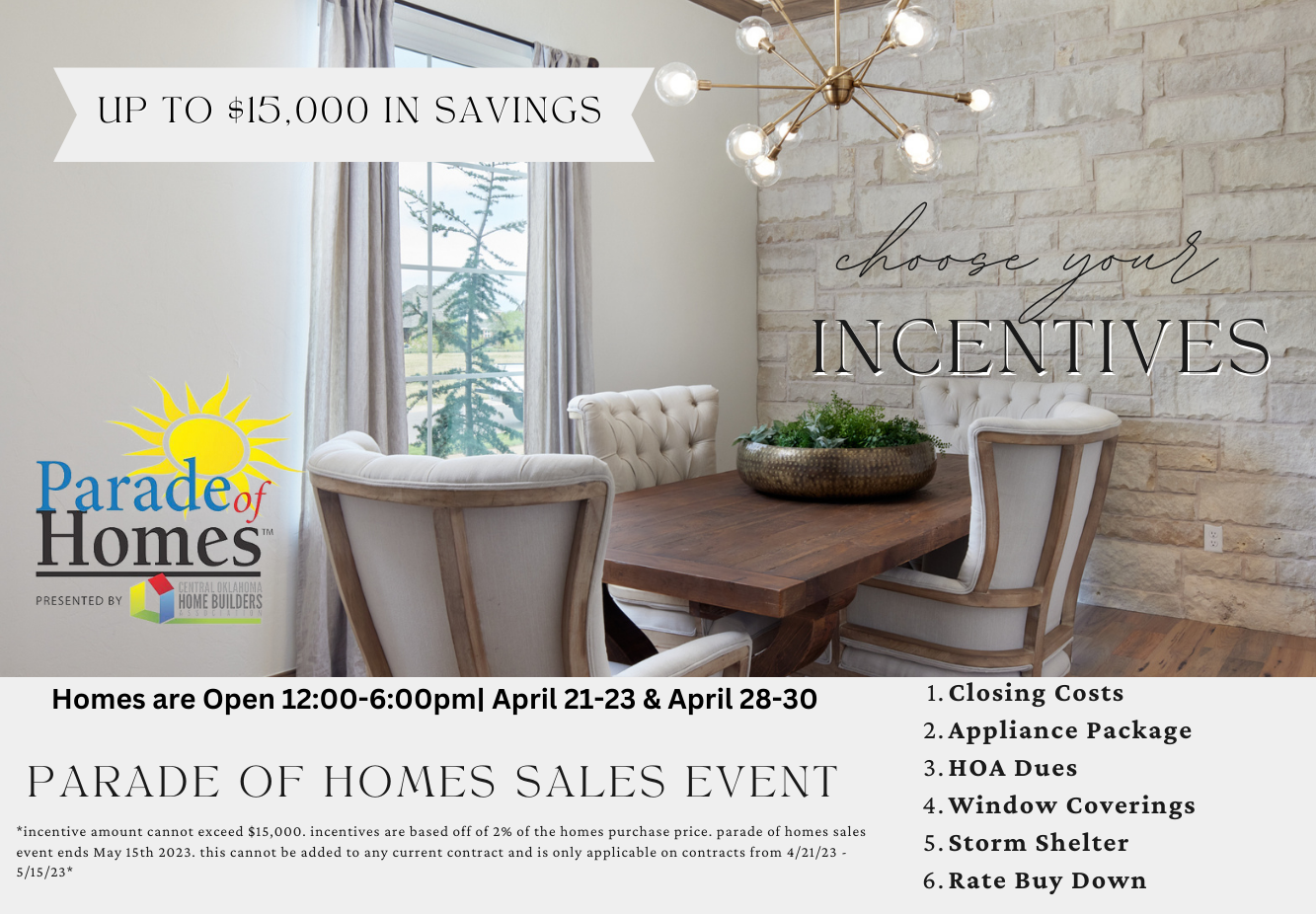 Now is the perfect time to buy a new home. Overall, living in the right home can help your family feel comfortable, safe, and happy while providing opportunities for personal growth and connections with the community. It can be a place where your family can thrive and create lasting memories together.
Please stop by one of our Parade Homes this weekend, find the perfect completed home, or talk to us about custom home building. While you are there, be sure and ask about our Parade of Homes Incentives!
For a limited time, Homeowners have the choice of three different offers based on what works best for them.
Option #1:
Save up to $90,000 on a 30-year mortgage PLUS receive up to $2,000 in closing costs! Landmark Fine Homes will buy down your interest rate by two points for the full lifetime of your loan for a limited time only. This two-point buy-down varies in the total percent saved off your interest rate based on factors such as credit score, home price, down payment, and more.*
Option #2:
Save up to $13,000 in the first two years PLUS receive up to $2,000 in closing costs! Landmark Fine Homes will buy down your interest rate by 2% for the first year of the loan and 1% for the second year of the loan for a limited time only. Years three and beyond are locked in at the full interest rate. This is a fixed-rate mortgage with no penalty to refinance at any time.*
Option #3:
If you are a Homeowner with the funds available to purchase the home without getting financing from a lender, Landmark Fine Homes will provide 2% of the purchase price (up to $15,000) toward personalized enhancements to your home and/or closing costs.
Offer valid thru November 30, 2022
Are you ready to take advantage of these great deals? Contact us TODAY!
*Savings amount based on home price, credit score, down payment, loan amount, and other factors. The dollar figures provided are estimates only
One of the big indoor decorating trends of 2020 is a new way to "green" your home's interior: garden rooms. From plants for aesthetic beauty, flowers for color to herbs and home-grown foods that punch up your cooking, the garden room (or green room) trend offers unlimited possibilities to blend light and nature for a delightful, relaxing and custom designed space.
What is a Garden Room?
Whether inside your home, attached to your house, or even in an outbuilding such as a shed, a garden room is where nature and creativity combine for beautiful aesthetics in a healthy, lush atmosphere.
Garden room ideas are brimming with possibility and limitless combinations, no matter how big or small your living space. Think levels and layers, with hanging baskets, unique plant hangers, artistic plant stands and contrasting shapes and sizes to deliver rich, beautiful dimensions. Mix and match green plants and flowers for whimsical charm.
Tip: Pet owners, be sure to read and understand which plants and flowers are poisonous to animals. Either exclude, or raise them up off the ground with hanging baskets.
To get a better idea, check out this Pinterest board filled with lush, enviable garden rooms. If you're viewing on desktop, try this neat Pinterest trick: Tap on the magnifying glass icon at the bottom of your smartphone screen in the Pinterest app, tap on the camera icon, and scan the pincode below to go directly to the board.
You can build your own garden room just about anywhere in your home. Consider whether you want to keep it a private, intimate space such as part of your bedroom, or designate a more heavily trafficked area for enjoyment by everyone in the family and/or visitors to your home.
Transform an entire existing room, or focus on a corner by strategically adding different sizes and types of plants. Consider repurposing a space such as a Florida room or indoor patio for your garden room. You can even build a dedicated green space onto your home as an addition, or use an outbuilding for your garden room — transforming a "she shed" or "man cave."
Does a Garden Room Add Value?
Value is delivered on multiple fronts when you add a garden room to your home.
Clean. The right mix of houseplants may improve your indoor air quality, as well as offering a pleasant atmosphere that brightens the spirits. Good health is, of course, of immeasurable value.
Distinctive. If you're planning to eventually sell, garden rooms can elevate your home from the pack of for-sale signs with a unique space where you feel instantly relaxed, surrounded by natural beauty. If you're building a home or thinking about remodeling, including a garden room can make your home truly special.
Herbal. Don't stop with just plants and flowers. Think creatively and plant several herbs in a variety of pretty pots (mind your instructions on sunlight and water for long life). This can save you hundreds of dollars a year vs. buying herbs at the grocery store, taking home cooking to the next level.
Digestible. With enough space and the right growing conditions (think LED grow lights), you can plant-pot a good variety of fruits and vegetables to create a homegrown food supply — no lawn gardening necessary. Tomatoes, radishes, scallions and microgreens are just a few of the foods conducive to growing indoors.
Garden rooms add value and beauty to any home, and the possibilities for customizing are endless. Consider Zen-style gardens for a super-peaceful atmosphere, add collectibles for distinctive decor, or consider water effects like small fountains or waterfalls for a spa-like feel. Add animal prints for a jungle or rainforest theme, or create a cooking corner where you can quickly and easily grab fresh herbs to add to any dish. Whatever inspires and delights you for your garden room can be woven into these beautiful, creative and unique spaces.
If you're looking for more ways to enjoy your home, consider these steps to get your home ready for spring and summer!
You've found the land, and want to buy it so you can build your perfect, custom home. How can you get a handle on accurate build-on-your-lot costs?
Homebuilding can be both exciting and challenging, but you need to create an accurate master budget that reflects what you can afford and plan to spend on this important project—even before you buy the land. Once you've got that figure, you should reach out to an expert to see if your concept of a home is possible. Daydreaming about your dream home is fun, but you need real-world experience and solid numbers to find out if your dream can come true.

Talk To A Home Builder First
Before you buy land, you should first consult with an experienced homebuilder to discuss what this investment will look like in real time and costs for your lot, region and desired property. It's easy to imagine your dream home on an empty space, but there are so many considerations to build-on-your-lot homes, you need to work with someone experienced who understands the potential pitfalls. The right home builder will work with you to create a realistic plan and house choice that works for you, your land and your budget.
If you've inherited land, contact a builder to help you understand the costs and time involved in preparing the lot for a home, like costs of running utilities, driveways (which can be much more expensive than most people imagine), and slopes and other ground issues. These must be factored into your budget or else it doesn't accurately reflect the total cost to build.
Selecting a Builder
You'll want to spend time talking to the builder about your dream home and your lot. Ensure you cover these areas:
Ask about their specific experience in build-on-your-lot homes.
Call references to get genuine feedback.
Do they have leveraging strength that will enable the best price for materials?
How flexible do they seem about deviating from existing floor plans to respond to your custom-home wishes?
Are they up front about the real numbers involved with the home you envision?
Real discussions with a builder about your dreams, budget and lot may solidify your dreams and give you a realistic vision for moving forward. Or, going through the numbers may make you realize every single thing you imagined may not be possible. A good builder will walk you through all of your options while managing your expectations:
Custom Build. When you custom build with Landmark, we can take one of our floor plans and modify it to fit your needs or if you want to start from scratch we can match you to the right architect for the job.
Home Developments. If you buy a lot in a housing development, we can work with you to make sure the requirements for that particular community are being met, saving you money and time along the way.
If you are still considering building on your own land know each choice provides positives and negatives. There's more to consider outside of the home itself, such as allocating funds for dirt work, insurance, well and septic and more. Truly, the answer to how much it costs to build a home depends on how much you have to spend, where you live, your lot size and what size and type of home you want.
Consult with a homebuilding professional to get started on understanding your true "build on your lot cost," nail down your budget, and get that dream home built.
Most people think of bedside tables as simply a place to put things during the night—a glass of water, a book, your phone, glasses, and so forth. But purposeful, creative nightstand decor ideas can increase the aesthetic pleasure and relaxing atmosphere of your bedroom. Thoughtful and beautiful bedroom side tables add personal style and flair to one of the most important rooms in your home—your haven for relaxation and rejuvenation.
Bedside Table Ideas
Whether you've just moved in or have been in your home for a while, nightstands offer an opportunity to put your own personal design stamp on the bedroom. Bedroom side tables are an often-overlooked opportunity to punch up your style.
New. With so many available options, it's easy to shop for the perfect new nightstands for your bedroom. Replace mismatched, old, scratched or worn nightstands with new tables that are perfectly suited to your room's size and style.
Used. From moving sales to thrift stores, there are dozens of opportunities to find gently used nightstands that are the perfect complement to your bedroom's decor. Enjoy browsing for those interesting pieces that make the room pop.
Homemade. If you're a DIY type, consider creating custom bedside tables to match your exact design aesthetic and desired size. Small space nightstands can be simple, easy and fun to build and decorate if you have the time and inclination.
Repurposed. Think outside of the box for an interesting nightstand style. Wooden shipping crates, metal sculpture, open and closed boxes—get super creative with shape, style and functionality.
Tip: If you charge a lot of devices at night, consider creating a dedicated space on your nightstand such as a stylish charging box in which you can place items at night to keep nightstands clutter-free.
Beautiful Bedside Decor
Understanding how to beautify these small but impactful tables can set the tone for relaxation, comfort and delight. Here are a few considerations on how to decorate a nightstand through impactful bedside table decor:
Personalize it. Showcase unusual or interesting personal items. Travel memorabilia, meaningful family items or photos—all of these give the eye and mind something pleasant to touch upon.
Beautify it. Choose colors that compliment or delightfully contrast your bed or wall color and style. Try adding pizzazz through multicolored stacks of books or colorful bookends.
Light it. Consider the size and shape of your room. If you are working with a small space nightstand, downsize your lamp to something small but visually interesting. Thrift shops and antique stores are great places to find these unique treasures.
Whatever your style, creating an attractive nightstand array can completely change the tone and feel of your bedroom. From the material you choose for the nightstand itself to how to de-clutter, beautify and decorate the top, bedside tables offer a design opportunity that enhances beauty and relaxation in a bedroom.

Need more style inspiration? Check out our blog posts on planning a family picture wall or turning your bathroom into a personal spa!
With the beautiful weather we are having, now is the perfect time to get your storm shelter cleaned up and stocked up with all the supplies you might need.
We reached out to our team at Landmark Fine Homes and asked, "What are the "Must Haves" that you put in your storm shelter?" Some of the ideas are things you might have thought of but we have a feeling there are a few on this list that you haven't.
Magnetic hooks for hanging tools, backpacks, etc.
Battery operated fans (If you already have these, be sure and test them to make sure you don't need new batteries.)
Set of clothing for each family member
Dog Food and Leashes
Case of Water
Folding Hand Saw
Medications
Battery Operated Radio
Extra Batteries
Portable Toilet or a 5 gallon bucket with a lid
Toilet Paper (Hopefully, you can spare a extra roll)
Get a "Go Bag" ready with jerky, snacks, blankets, towels, shoes for each person, copies of insurance policies, birth certificates, passports, handheld charging device for phone that is completely charged, feminine products, bowl for dog food/water
Battery Operated Push Light
Gloves
Rain jacket
Umbrella
If you don't currently have a shelter, it is not too late. There are many options available so research and decide what is best for your situation. At Landmark Fine Homes, we offer our customers the following options:
Interior Stand Up Shelter that is inside a closet or room
Garage Shelter- in ground or above ground
Exterior Shelter- concrete safe room or in ground
These can easily be designed into your new home. Are you curious about the process? Check out our process HERE.
We are here for YOU! Our Team continues to be dedicated to helping you with your Home Buying needs. Although safety is our priority, that doesn't mean you can't still buy a home.
If you are in the market for a home, your weekends were filled with stopping by a Model to get design ideas , making decisions about where to live, what floor plan would work best and what kind of back splash would stay with the current trends as well as withstanding the test of time. In a short amount of time that has changed into keeping your social distance, washing hands repeatedly and going to multiple stores just to pick up that toilet paper. Although the way we shop and view homes might have changed temporarily, you can still keep those plans going.
We are able to VIRTUALLY show you a home. You can stay on your couch and our team can walk you through one of our Available Homes.
Face time/Zoom Appointments-We have the ability to go over floor plans, tour you through the Design Process and more while you are at your home. Do you want to come by the Model and see it in person? No Problem! We can do that.
Did you know Landmark Fine Homes has other platforms besides our website? Well, WE DO!!! Our New Home Consultants can give you a link to sign on. You have the ability to mark up floor plans with changes you would like, save all those Pinterest Pictures to one location, take a Design Quiz and watch your home come to life!
Electronic Signatures and earnest money wires are easy.
Once you sign a contract, many of your Selections can be made online through our App powered by Builder Trend.
Simply choose what type of appointment you would like and we will meet your needs!
Decorating for Halloween is a tradition that many families take part in year after year. As with most traditions, though, the decorating trends that dominate Halloween change from time to time. Giant inflatables and laser light shows were all the rage just a few years ago, but now things are starting to shift a bit more toward subtle. The over-the-top Halloween decorating style will likely never fully go away, of course; there's at least one house in every town that goes all out with its display and people always love it. If you're looking for something simpler (and easier on the power bill), here are a few trendy options to keep in mind.
Candles
With the right candleholders, basic white candles can add a spooky ambiance that hearkens back to older Halloween traditions. Specialty candles are available that are carved to look like bones or horns as well. No need to go overboard with effects-candles, such as those that "bleed" when lit; just a few tapers burned to different lengths and then extinguished serve as the perfect subtle candle accent to your other decorations.
Pumpkins
What would Halloween be without pumpkins? While the traditional jack-o-lantern is still great, there's an increasingly common trend to display uncarved pumpkins as well. White pumpkins are also seeing an upswing in popularity to really help set your decorations apart from the norm.
Halloween Wreaths
Also seeing an increased popularity are Halloween wreaths. Coming in a variety of styles, these wreaths have a lot more room to experiment than more traditional Christmas wreaths because of the generally spooky nature of the holiday. You can DIY a wreath yourself or buy one of multiple pre-made varieties to give your home a really unique Halloween look.
Lighting and Signs
Halloween lights have been growing in popularity in recent years, providing a decorative option that can be enjoyed even once the sun goes down. Signs, both lighted and non-lighted, are also firmly establishing themselves as Halloween must-haves. Combining the two can give your home a unique look that neighbors can enjoy both during the day and after the night descends.
Window Décor
Instead of going all-out with inflatables, animatronics and big clunky pieces made of plastic and rubber, an up-and-coming trend is to make use of silhouettes in front of plain curtains to give your decorations a more subtle flair. Some homes even take this a step beyond, using white sheets or similar coverings on the interior windows and then using creative lighting and figure placement to actually cast shadows onto the waiting windows. The shadow puppet feel gives the effect an extra layer of spookiness.
Black and White and Purple Trappings
While black and orange are the dominant colors of Halloween, a big trend in recent years has been to move away from the orange and embrace the holiday's darker tones. White is used for contrast, with the predominant colors in decorations being black and dark purple. Splashes of other colors may be added as well, but the black, white and purple theme is definitely striking.
Zombie Flamingos
While there has been a move away from some of the cheesier parts of the holiday, the kitsch of putting zombie flamingos on your lawn is a bit too fun to ignore. There are a variety of styles of flamingoes available ranging from silly to gory, giving you plenty of room to find birds that match both your personal tastes and decorating style. Best of all, they can be mixed with a few traditional pink flamingos to give everything a splash of color while totally buying into the Halloween fun.
Need Some Halloween Style?
If you're not sure what sort of decorations would look best with your home, consider consulting a decorator who has experience with Halloween trappings. Not only will they help you pick the best décor options, but they'll aid you in choosing accents that go perfectly with both your home style and the decorations you choose.
All of our Model Homes are open on Halloween. Feel free to bring those kiddos by and we can help fill up their baskets with candy!
Periodic home maintenance is essential, both to keep your house looking its best and to prevent problems that could worsen over time. One of the best times to clean up and maintain your home is during the fall, when temperatures start to drop but winter freezes are still a little way off. Fall cleaning can be a big job, so here are a few tips on how to tackle it in ways that you might not have considered.
Watch Your Flower Beds
A lot of people let leaves and other plant material build up over flower beds in the fall, working under the assumption that doing so will get the beds off to a good start in the spring. After all, won't the leaves break down over the winter and give the soil a natural boost of fertilizer? The problem with this is that the piled leaves can also give insects and other pests a place to bed down in the winter and possibly gain access to your home. If you have rose beds, diseases and fungal infections may also stick around on those leaves, only to resurface in the spring.
Start Garden Prep Early
What can you do with those unwanted leaves, then? Drag them over to your garden! Spread fallen leaves, compost and any other material that will break down over the winter and cover your garden soil with it. Run a tiller over the whole area, breaking up the soil and driving that compostable material into the soil. This will take care of your leaves and other material AND make starting your garden easier in the spring!
Wash, Then Dry
It's fairly common practice to unhook and stow your hoses in the fall before cold temperatures set in. Before you do that, though, give them a workout! Give your house a good wash before you unhook the hoses, removing as much dirt and other debris from the siding or bricks as possible. Once you're done, unhook the hoses and allow them to dry thoroughly before storing them for winter.
Make Leaf Cleanup a Breeze
If you have a lot of leaves to deal with, get a few tarps and spread them out under your trees before the leaves start to fall. Let them get a good coverage of leaves, then drag the tarps over to your leaf pile or other area that you've set aside for them. You'll probably still have a few leaves to rake, but this will take care of the lion's share of the work!
Aerate for Winter
If you have drainage problems in the winter, fall is a good time to aerate your yard. While you can do this using hand tools, a lot of outdoor and hardware stores have machine aerators that you can rent at a decent price. The aerator will break through the packed-down topsoil, giving water an easier route to drain in the event of a wet autumn or winter season. Best of all, grass will grow better in the spring so you can easily cover up any thin or bald patches in the yard.
Break Out the Mower
Even though the grass stops growing in the fall, there's still a good case for giving your yard one final mow. Wait until a lot of your yard tasks are finished, then run over the yard with the blade set low. Use a mulching guard and/or mulching blade for even better effect. This will not only nab any stray leaves that might have fallen after your clean-up but it will also ensure that your grass has a nice even cut before it starts growing again in the spring.
Call In the Cavalry
If you don't have the time or equipment to properly take care of all of these tips, consider calling in a house cleaner or landscaping professional to get your home in tip-top shape this fall.
Robotics and automation have changed the way that a number of things work in the home. You may not realize that you can automate tasks outside of the home as well. Though they have not received as much attention as home automation sensors and digital assistants, robotic lawn mowers are starting to change the way that people approach lawn care. Modern robotic lawn mowers were introduced only in recent years, but the devices have a longer history than you might think.
Introducing the MowBot
Believe it or not, the first robotic lawn mower was actually created and patented in 1969. Dubbed the MowBot, the robotic device was self-propelled and capable of making random turns within an area defined by a signal wire that was used to create a boundary. Though the battery-powered device was primitive compared to today's robotic lawn mowers, the approach it took to lawn maintenance wasn't that far off from how today's devices work. It had some staying power as well, as MowBot Inc. is still producing robotic mowers today that are more modern takes on the original MowBot functionality.
The Modern Robotic Lawn Mower
While robots like the MowBot persisted since the 1960s, it wasn't until the 1990s that the more modern style of robotic lawn mowers began to emerge. A solar-powered mower was developed in 1995 by Husqvarna, and this was followed in the next 10 years by other niche robotic lawn mower designs. Smaller-scale robotic mower releases occurred in the United States and the UK in 2000, but it wasn't until 2005 that the first widespread commercial release of a robotic lawn mower occurred. Interestingly, these mowers used the same sort of signal wire that the MowBot had combined with a few more modern features.
The market has taken off in the time since then, with a variety of solar-powered and self-charging robotic mowers hitting the market with innovations such as programmability, autonomous obstacle avoidance and even the ability to program or control the mower remotely from a smartphone or similar device. Some modern robotic mowers are even designed to only trim a small section of the grass blades at a time, opting instead to mow more frequently (often without any input from their owners) to keep the lawn in optimal shape.
Benefits of Robotic Lawn Mowers
Robotic lawn mowers offer a number of benefits over traditional push mowers or riding lawn mowers. A few of the benefits of these mowers include:
Electric-powered robotic mowers reduce fuel costs and carbon emissions
Smaller, more frequent cuts prevent excessive strain on your lawn that could result in browning or other damage
Lightweight units that use random movements while cutting the lawn prevent damage caused by mowing in the same pattern repeatedly
Electric units with smaller motors significantly reduce noise pollution while cutting
The mulching action of robotic lawn mowers recycles clippings to feed your lawn throughout the year
Other benefits of using a robotic lawn mower include increased free time, more consistent lawn heights and the elimination of the dangers of injury created by the traditional lawn mower.
Rise of the Robots
Though once a niche market, robotic lawn mowers have seen a massive surge in popularity in recent years. Models can range in price from $400 to $3,500 or more, with higher-end models offering greater coverage and more programmability features. Robotic lawn mower sales are growing at a faster rate than sales of traditional mowers, with analysts believing that robotic mower sales will continue to increase by approximately 11 percent each year through 2024. As new mowers are designed and related technologies such as home automation develops, sales rates could increase even more.