This  community located in Southwest OKC, off of Meridian between SW 119th and SW 134th, offers 1/2 acre homesites with several community ponds for fishing plus walking access to Southlakes Park.  There are 2- 1 acre lots  as well!  The community is in the highly sought after Moore School district which includes one of the newest elementaries, South Lake Elementary.
Large 1/2 acre homesites with several community ponds for fishing, plus great walking access to Southlakes Park. This is a very active community with regular activites, such as Kids Fishing Derbies and Easter Egg Hunts.
Homes in this community start at 2700 square feet and up. You can choose from one of our floor plan to completely customize or bring us a plan that you have!
You have picked everything out so the fun can now begin! Meet our Construction Team. It is time to turn over the floor plans and selections to this group. Their job is to take all those ideas and selections you made and bring them to life.
Before we break ground on the project, you will have a Pre-Construction Meeting at our office where you will meet your Construction Superintendent. This is a opportunity for them to be introduced to you as a homeowner as well as your floor plans and selections. They will be briefed on all the details of the home so they have a clear vision of what you are wanting. From this point on they will become part of your family! They will be one of the main sources of contact throughout your build. Their job is to schedule all the trades, get inspections and make sure everything is followed on the plans. They are also the eyes of the company to make sure not only all your selections are fulfilled but everything behind the walls are built soundly and energy efficiently.
During the build of your home, Landmark Fine Homes will schedule several meeting on your jobsite. This gives us the opportunity to educate you on what is behind the walls and get feedback from you on how you want certain areas of your home to look like.
Ground Breaking - You will meet at your home site and have a quick review of how the home will be placed on the lot.
Construction Begins!
Post Frame Meeting - The builder and homeowner meet at the home to verify doors, windows, and wall locations, mark the walls for phone and cable and review the electrical plans.
Pre Drywall Meeting - The builder and homeowner verify everything is installed in the walls and we are ready to begin sheetrock. This is also the time where you will meet with the Custom Cabinet Makers. They will talk with you about what all you would like to see in your cabinets. You will receive a computer generated 3D drawing of those details before the cabinets are made.
Finishes Meeting - The builder and homeowner meet prior to trim, paint and flooring to review the selections you have made and make any adjustments. You will also design your closet layouts at this time.
Flat Work Meeting - The builder and homeowner meet prior to flat work to review. What is flat work? That is your concrete sidewalks and patios!
You are getting close to moving into your new home. Only a few more steps and it will be complete. Check back in next week to see what's next!
Can one room have everything?
As far as design goes, this one might be it! Ship lap is all the rage since Jo and Chip took over HGTV with their hit series, Fixer Upper. I mean who hasn't heard of that great show?!?
And the location - Waco, Texas. Could it get any better?
Back to the Master Retreat.....
This stunner has everything that our customers have been wanting.
Ship lap
Free Standing Tub
Wood Plank Tile
Rustic Detail with Rock Accents
Gray Cabinets
Quartz Countertops
The Best Part is - THIS HOME IS AVAILABLE!
The home is located at 2030 Roveto Court in the beautiful Cascata Falls Community in Edmond. The community has a community clubhouse, pool, ponds, basketball courts, playground and more!
Stop by the home on the weekend from 1:00-6:00 Saturday and Sunday's or call us for an appointment!
Landmark Fine Homes has had the privilege of building 2 homes for this wonderful family. We had the opportunity to spend some time in their beautiful home in The Preserve at Parkside to catch up and find out what all they enjoyed about working with us.
We have found that many people are nervous about custom building a home. Landmark Fine Homes works hard to make sure the process is as easy as possible. Everything is broken down into steps as to not be too overwhelming for anyone.
Diana knew what she wanted when she saw it but wasn't sure how to make it come to life. That is where our Design Team came in to fill in the gaps. She was able to come into our Design Studio and work with our Team Member to make her selections. She didn't need to drive all over town to find things. She could come to our office and see it all put together.
Take a minute and listen to what all the Teels had to say about their experience!
Everyone is gathered around water coolers Nationwide comparing brackets
What does yours look like?
Did you have Villanova going all the way? Lots of talk around that game! What about Duke, Florida State or some of the other Top Teams that have fallen? Maybe you are like some of us that are wondering "How much longer will we HAVE to watch basketball?" No matter which team your are on, those that love March Madness or those that hate March Madness, it won't be long before it is all over for another year!!
There has been a different kind of March Madness going on around Landmark Fine Homes. We have gone a little MAD and have given YOU the opportunity to purchase a home in Belleau Wood located in East Edmond for under $600,000! Are you looking for a community with rolling hills, heavily wooded areas and breathtaking views? Belleau Wood is the perfect community for you! This executive community offers 54- 1+ acre lots that are stretched across 80 acres located in Edmond School District. Custom Homes in this community are 3000 square feet and larger.
Easy access to I-35 makes Belleau Wood the perfect spot for someone working in Edmond, The University of Central Oklahoma or in Oklahoma City Metro Area. The Edmond Community has recognized its unique location and development is growing rapidly. Several hospitals, churches, retail shopping centers, community sports facilities and hotels have made the East Side of Edmond the newest place to be.
Belleau Wood is a short drive to make it to Downtown Oklahoma City to watch a Thunder Basketball Game, an OKC Dodgers Baseball game or eat in one of the many restaurants located in either Brick town or Midtown.
Take a peak at some of the beautiful homes in this one of a kind community and make plans to stop by and see them in person this weekend! Our Model Home which is located at 5400 Janson will be open from 1:00-6:00 this Saturday and Sunday.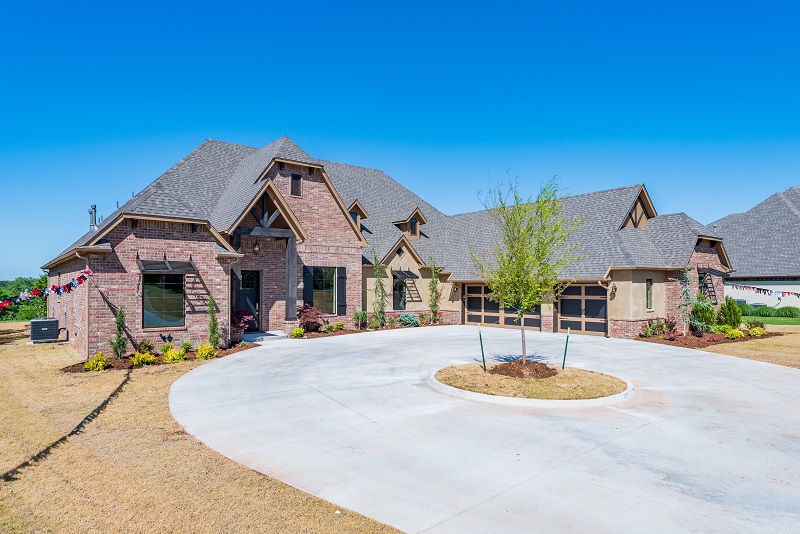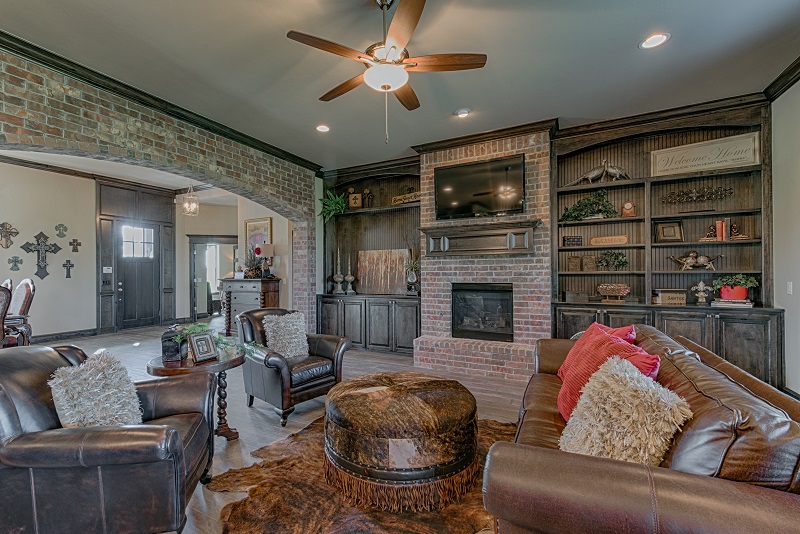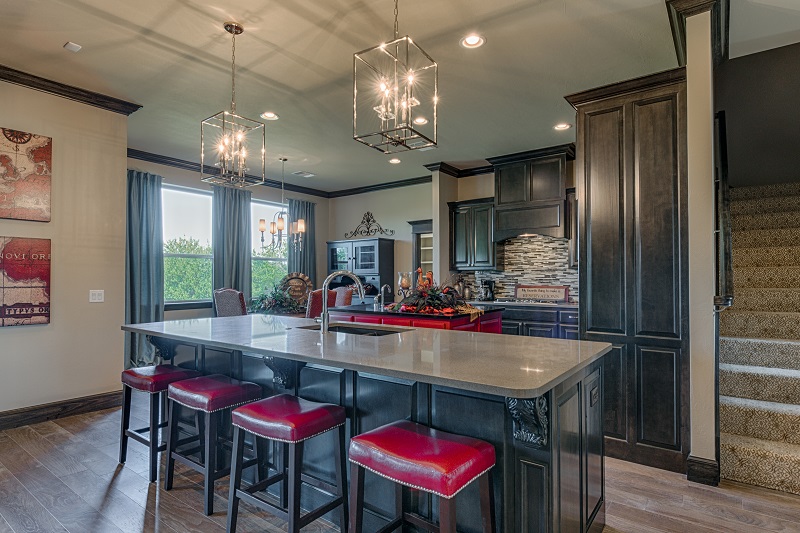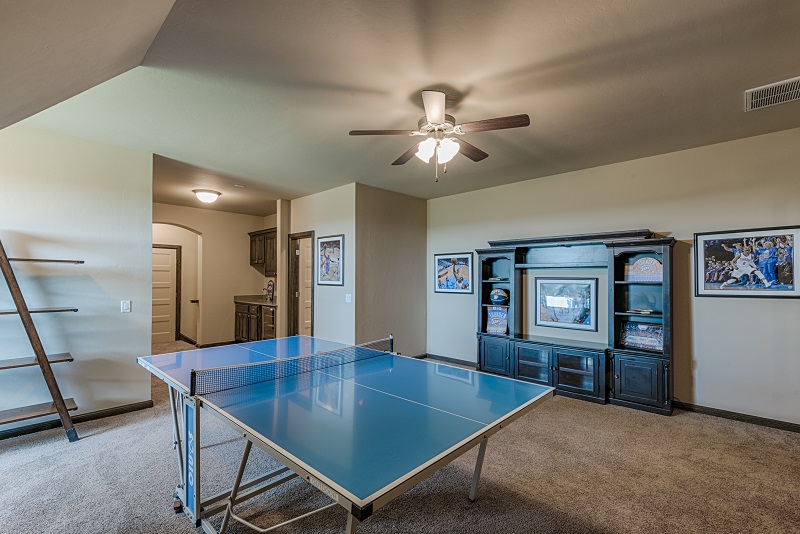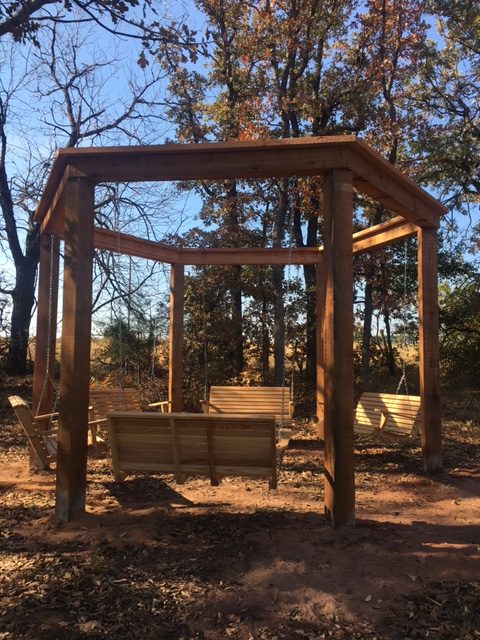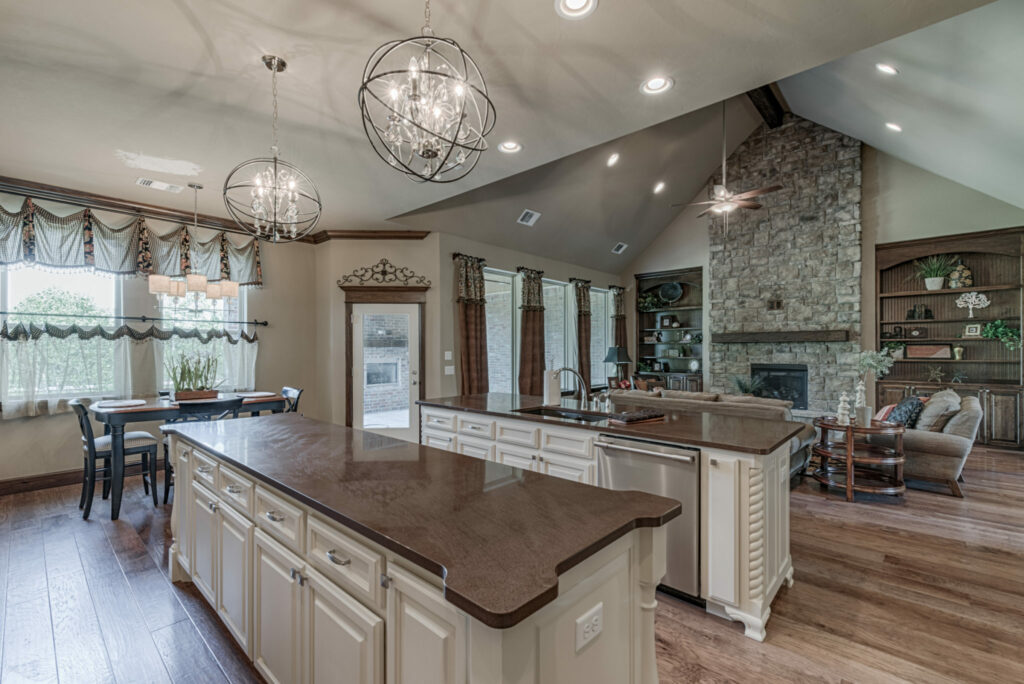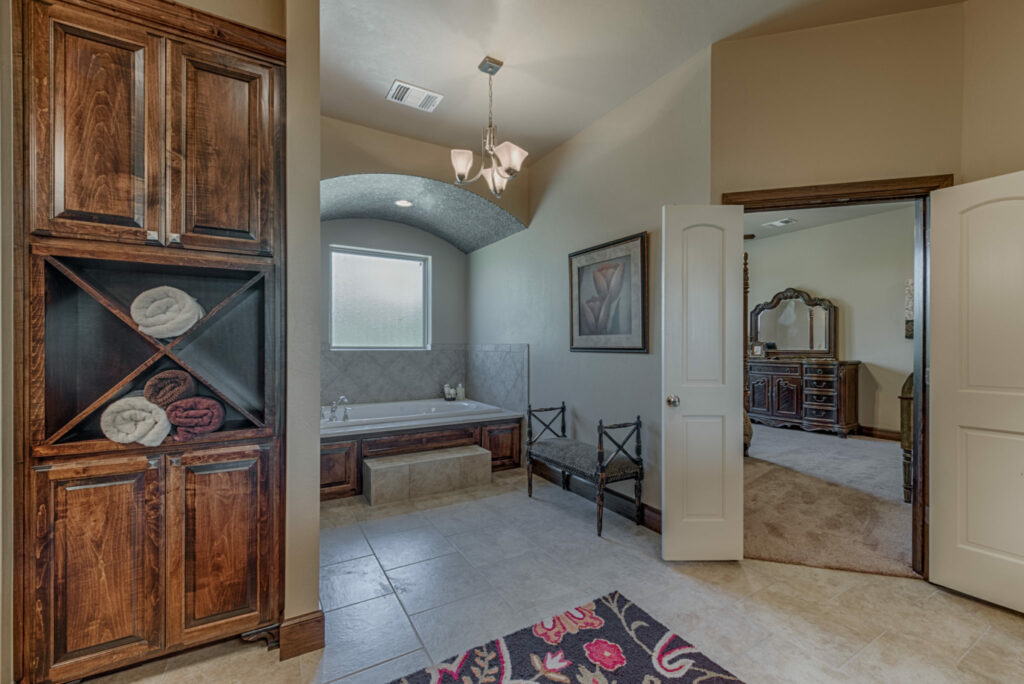 This beauty is located in Montoro Ridge, one of Landmark Fine Homes newest developments in Norman, Ok. The 1/2 acre lot community offers everything you will love about living in the country with all the conveniences of living within a few miles of Norman's premiere Shopping Areas, Hospitals, Grocery Stores and Restaurants.
The Saddie Plan offers 3799 Square Feet that includes a open kitchen, great room and breakfast room. This transitional living design is perfect for those that love the rustic and modern mix. One of the most popular features are the separation of the Master Retreat with the secondary bedrooms. Those secondary rooms are anchored by a great living space that would make a perfect playroom or mother in law living room. The Master Retreat boasts of lots of space, a relaxing bath area and plenty of storage in the closet. Upstairs you will love the recreation room with windows that overlook green space. A formal dining, study, powder bath and laundry finish off the interior of this home. The outdoor living area with a fireplace allows you to enjoy every inch of this home!
This home is located in Norman School District, Eisenhower Elementary, Longfellow Middle School and Norman North High School.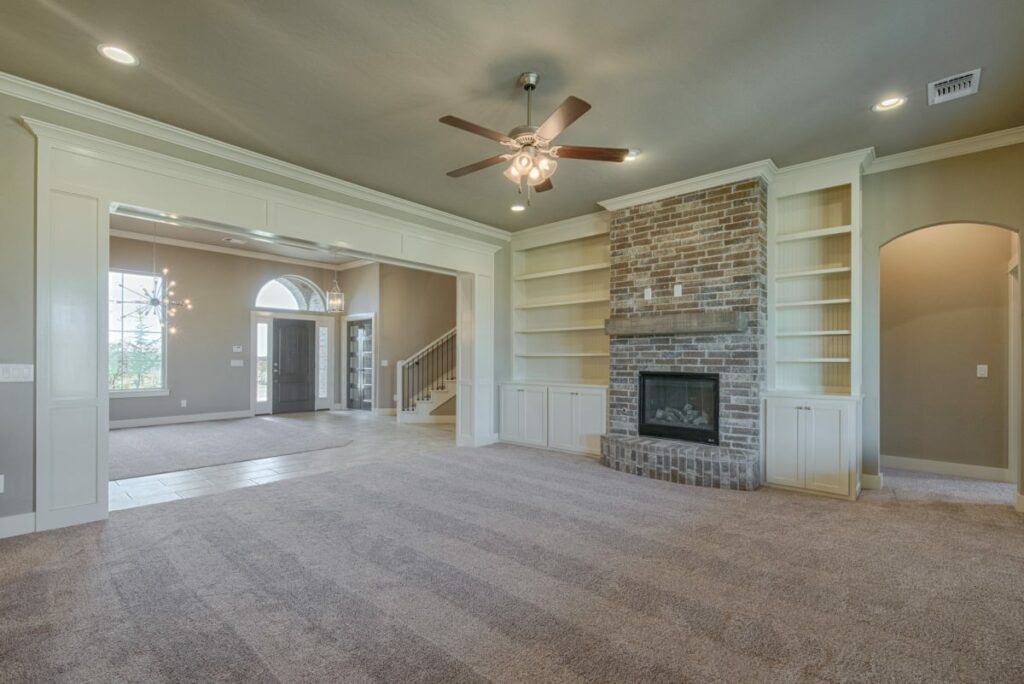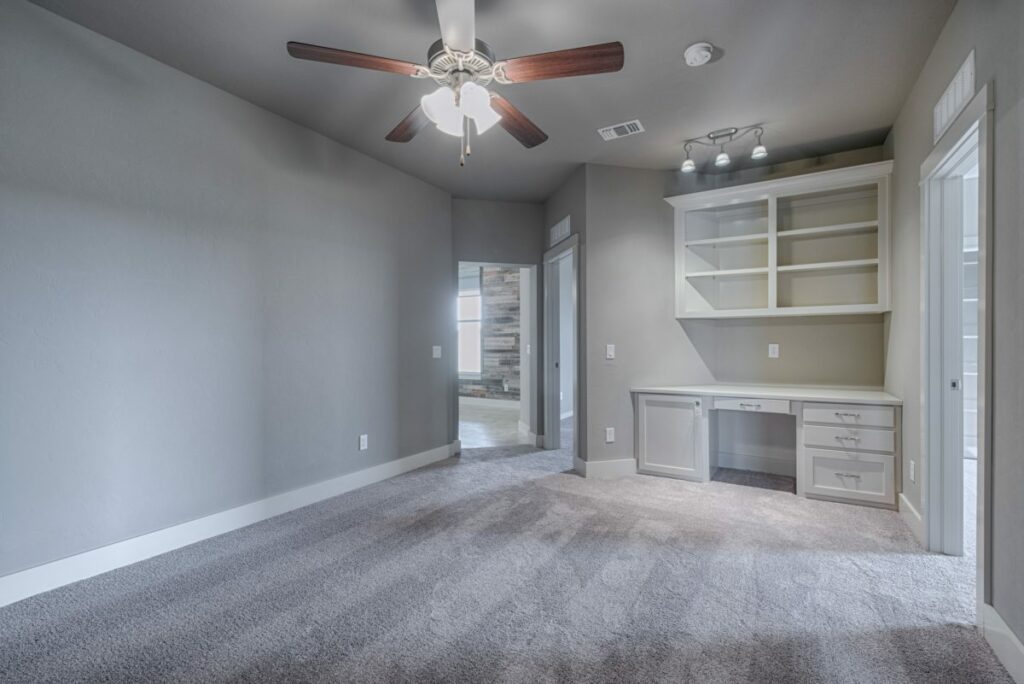 Stop by our Model Home at 800 Villaverde to see this home in person. We also have lots available if you have another floor plan or design in mind. The building process is easy - Just ask us how to get started!
These are the folks at Landmark Fine Homes that you might not come in contact with, but are vital to running the company, our Accounting Department. Each of them come with different strengths that make the department run smoothly.
Meet the Accounting Department:
Al Reeves, Chief Financial Officer, has been with Landmark Fine Homes for 9 years. He was brought out of retirement by the owner Dan Reeves, who happens to be his son. How was Dan able to talk him into it? Al said, "It was a wonderful opportunity to work with a great team of people which included my son Dan and daughter in law Amy. To be a part of his success and knowing that I could help have his back was something I couldn't turn down." Al is a CPA who has served on committees for the Oklahoma Society of CPA's and Nationally for the American Institute of CPA's. He loves to Golf, Fish and Hunt. If you can't find him somewhere in Oklahoma be sure and check Crested Butte Colorado! It is one of his most favorite places to visit. We are also proud of Al's service to our country where he spent 6 years in the Army Reserves 95th Training Division.
Amber Norbury has been with Landmark Fine Homes for 12 years. At her previous job, she was responsible for all aspects of office management, including accounting. As her children became school age she wanted to find a job closer to home and focus on just the accounting. Landmark Fine Homes was the perfect place for both. Those children are now 18 and 15. Amber enjoys being part of the Landmark Fine Homes Family and feels proud to be working for a company that focuses on making people's dream home a reality.
The newest member to the accounting team is Kelli Salser. Kelli joined the team in January of this year after being a stay at home mom for the previous year. She loved the time she got to spend at home with her twins, Jaycie and Wade, but was ready to get back into the workplace. If you ask her what she likes about Landmark Fine Homes she will tell you, "This is the first job that I have had EVER that I actually look forward to going to work every day. Everyone works together, instead of competing with each other, and we all get along so well. I love watching a home go from plans to completion. "Kelli has worked in the corporate structure but prefers the small business feel that she has working at Landmark Fine Homes. Kelli graduated from OU in 1999. Along with her twins, she is a proud stepmom to 3 older children and 2 grandkids.
With this team you can rest assured that the Accounting Department has everything under control!
Landmark Fine Homes is excited to announce our newest community: The Preserve at Parkside located off of Meridian between SW 119th and SW 134th!
The Preserve at Parkside is located in Southwest Oklahoma City, Moore School District. If rural living is what you are looking for with the convenience of the city this is the community for you. The Preserve at Parkside offers ½ acre lots with stocked ponds for catch and release fishing. The neighborhood backs up to the beautiful South Lakes Park, which provides walking trails, a large playground, fishing pond, basketball goals and soccer fields.
The Preserve at Parkside is conveniently located to allow easy access to I-44, St. Anthony's Hospital, grocery stores, retail shops, churches, Earlywine Golf Course, Waterpark and YMCA. Several colleges including Oklahoma City Community College, Mid America Bible College and Moore Norman Vo-tech are minutes away as well as the Will Rogers Airport.
The Moore Public School system services the community and has been providing high quality education to students in the metropolitan area of Moore and South Oklahoma City for more than 100 years. The principals that guide this district include high student achievement, outstanding instruction, and strong community involvement. The Moore Public School System is the 3rd largest school district in the state.
The Preserve at Parkside offers the convenience of custom building a floor plan or choosing from one of our current spec homes under construction. The community offers homes 2700 square feet and larger.
We currently have our Model Home located at 4424 SW 129th. Our Model Hours are 1:00-6:00 Thursday-Monday or if those hours do not work for you just give us a call to schedule a appointment.
Check out these homes that are almost complete and ready for you to purchase.
Doesn't this look like the perfect place to call home!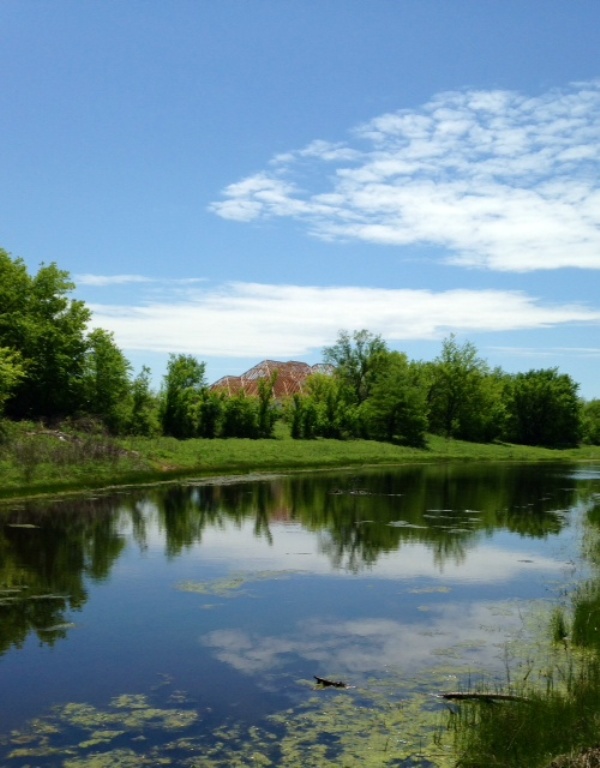 Belleau Wood Community
Edmond Schools
Centennial Elementary
Sequoyah Middle School
Edmond North High School
You won't want to miss this home! This 3976 square foot home sits on a 1 acre home site that backs up to a greenbelt. It truly is country living nestled close to I-35 and with access to all the amenities that Edmond has to offer. The home has a cozy study with a fireplace, a formal dining and a great room that opens up to the kitchen and breakfast area. The master suite is truly a place to escape the busyness of it all. A wrap around master closet is tucked into the Master Bath area. Separate Vanities are a luxury that you will enjoy.
The secondary bedrooms sits on the opposite end from the master suite. Three bedrooms and 2 full baths make this area perfect for children or guests. There is also a large media room with a separate game room.
Contact us TODAY to find out how to make this home yours!