If the Blog on "5 Ways to Make Gardening Easier" has motivated to have a garden but you still don't know if you have the time to keep up with it we have the perfect compromise- The Springs at Skyline Trails!
This community is the first in our "Springs Communties" to offer a community garden. Since the communites are all designed around "Lifestyle taking Center Stage" we knew that a Community Garden would be a perfect place for people to come together around a common interest.
Our first goal was to get a Pergola erected to ground this area and provide a place to escape the summer sun! It is set in a prime location in the community and has great access to the community pond.
Next came the raised flower beds. We knew in order for people to participate we would want to make sure the beds were easy to maintain and not back breaking! Green Okie accepted the challenge and created a beautiful space for the residents.
Since this is our newest community we decided to reach out to a local Girl Scout Troop, Troop #340, to see if they would be interested in taking this on as a community project! At Landmark Fine Homes, giving back to the communtiy is a core value. This was the perfect project to help make that happen. The Girls Scouts needed a place for the summer and are also very interested in giving back. And so it began......
As you can tell it is taking off! Not only is the community garden growing, so is the community itself! We have added several new families a month this quarter and couldn't be happier.
If the bounty is more than the community can consume plans are to donate to Manna Pantry in Yukon. The Girls Scout Troop has already spent multiple hours volunteering for this wonderful organization and knew it would be the perfect spot to donate to.
Does your community offer a Garden? If not and you are looking for one that does, be sure and check out The Springs at Skyine Trails where homes start at $198,000!
Landmark Fine Homes believes in giving back. This year we are collecting school supplies for local schools and one of your favorite teachers at all our Model Homes.
Here are the rules to get your favorite teacher nominated:
You can nominate the Teacher once per day
Nominations will end August 1st, 2018
To nominate them it is easy!
Go to our Facebook Post on Teacher Nomination
Tag or Comment with your favorite Teachers Name
Include the School/District they teach in
Or
Stop by one of our Model Homes and nominate them in person.
All names will be entered into the drawing for the "Favorite Teacher"
We will draw the name of the winner LIVE on August 11th at one of our Community Events- "Donuts in the Drive" that will take place at our Model Homes.
The more you nominate the teacher the more chances they have to win!
You can drop the school supplies by at one of our Model Homes in The Reserve at Valencia, The Springs at Valencia, The Springs at Skyline Trails, The Preserve at Parkside, Carrington Lakes, The Springs at Greenleaf Trails, Little River Trails or Montoro Ridge.
Since the summer heat has kicked up several notches all we can think about is how to cool off! So if this heat has got you looking to do anything else beside mowing your yard- you are in luck!!
Our gated Springs Communities offer the ability to go enjoy life instead of being tied down maintaining your yard. Part of your HOA dues include yard maintenance as well as access to the Community Clubhouse with Fitness Center, Salt Water Pool and Community Pond. The Springs at Skyline Trails offers smaller square footage homes with upscale amenities. The homes won't break the bank either! They start in the $220's. Who can beat that?
The Springs Communities are located in Norman, Edmond and the Mustang/Yukon area. Each community was thoughtfully planned near local shopping, community parks, great schools and medical facilities. Although these communities are not aged restricted we have found that the empty nester is flocking to these communities. The ability to travel and leave your home knowing that it will be secure behind gates and your yard will be cared for is priceless. Not to mention- your neighbors will also have a watchful eye. Monthly Communities gatherings truly make the community a place where everyone can know your name! Did you know that each home can be completely customizable just like our larger homes? Moving walls, adding square footage or taking things away are easy changes that Landmark Fine Homes can handle. If you aren't into building, we have beautiful completed homes in each community ready for you.
Stop by one of our model homes in these communities before you miss out on some great homes.
The Springs at Greenleaf Trails- located off of Tecumseh just west of Porter in Norman
The Springs at Skyline Trails- located off of Reno just east of Garth Brooks in Mustang/Yukon area
The Springs at Valencia- located off of NW 178th between May and Penn in Edmond School District.
The Model Homes are open 1:00-6:00 Thursday- Monday or call us and let us know what works for you and we will meet you then!
In a world where everything has become so high tech we have noticed a growing number of people seeking ways to be in "high touch" environments. Everyone can get lost behind a computer screen, TV or phone and feel like they have a great grasp of what is going on in the world and with their "friends" but still feel like something is missing.
The fact is, there are a lot of people who can build a home. At Landmark Fine Homes, we are focused on not only building great energy efficient homes but great communities! We want to create an environment where neighbors have the opportunity to get to know each other. The kind of communities where if you go out of town you can feel confident that a neighbor will look out for your home, pick up your mail and make sure everything is good while you are away. The kind of communities where if you have a medical issue, the neighborhoods will provide meals to help fill in the gap while you are sick. The kind of communities where you can gather and watch the latest sporting event or reality TV show. The kind of communities where you can gather to learn new ways to cook or create a new craft project and the kind of community where everyone celebrates the newest baby or graduation. I mean, who wouldn't want to be a part of this?!?!?
We will be spotlighting several of our communities and the wonderful things that go on in them. This month we have chosen The Springs at Greenleaf Trails in Norman. This gated community features homes that are 1600 to about 2100 square feet. The community offers a clubhouse with workout room, saltwater pool, walking trails, a pond and one of the best features are the yards are maintained! These smaller square footage homes offer the same high end amenities that you see in our larger homes. The community has monthly potluck gatherings as well as the random nights where someone will send out the message, "Come down to the clubhouse and watch the game!"
Doesn't this sound like a community where you would love to live?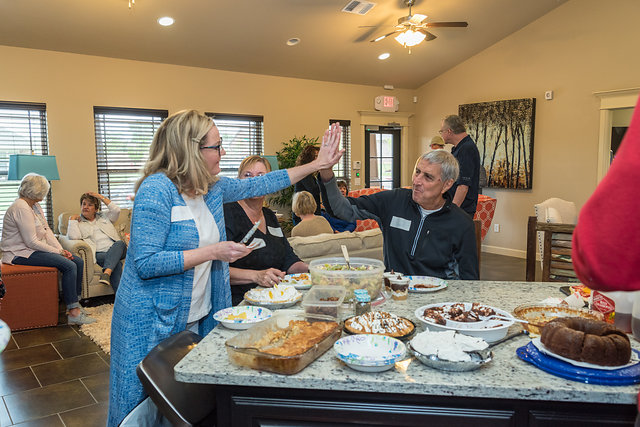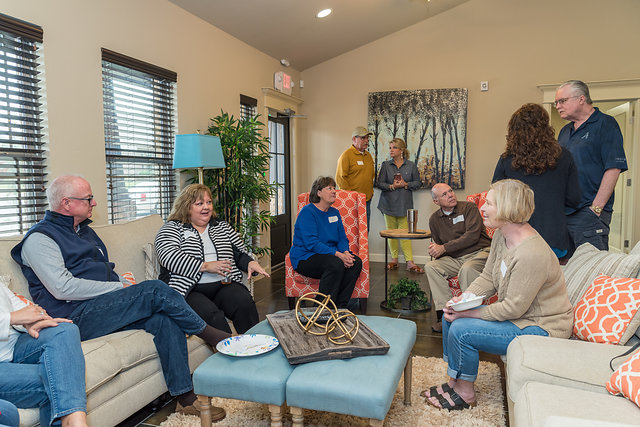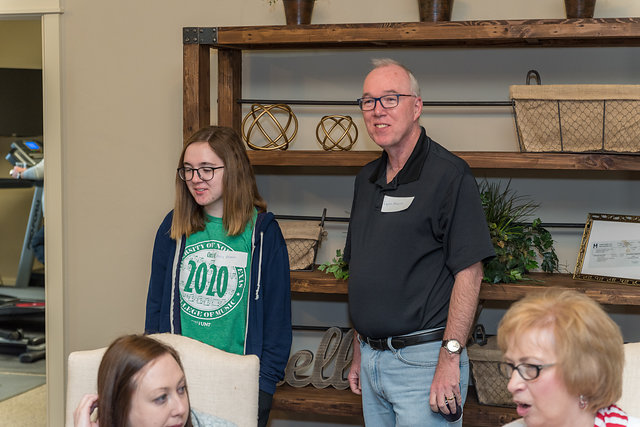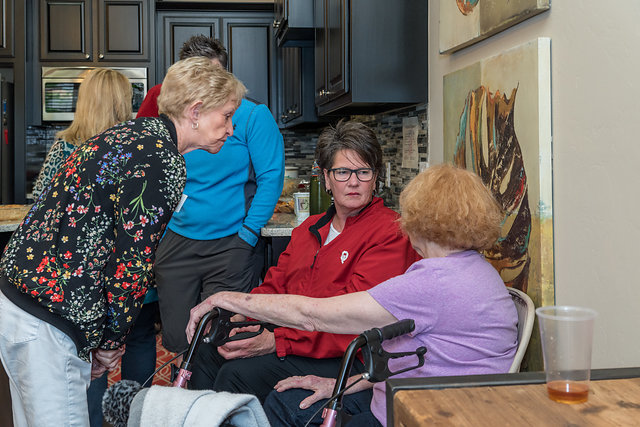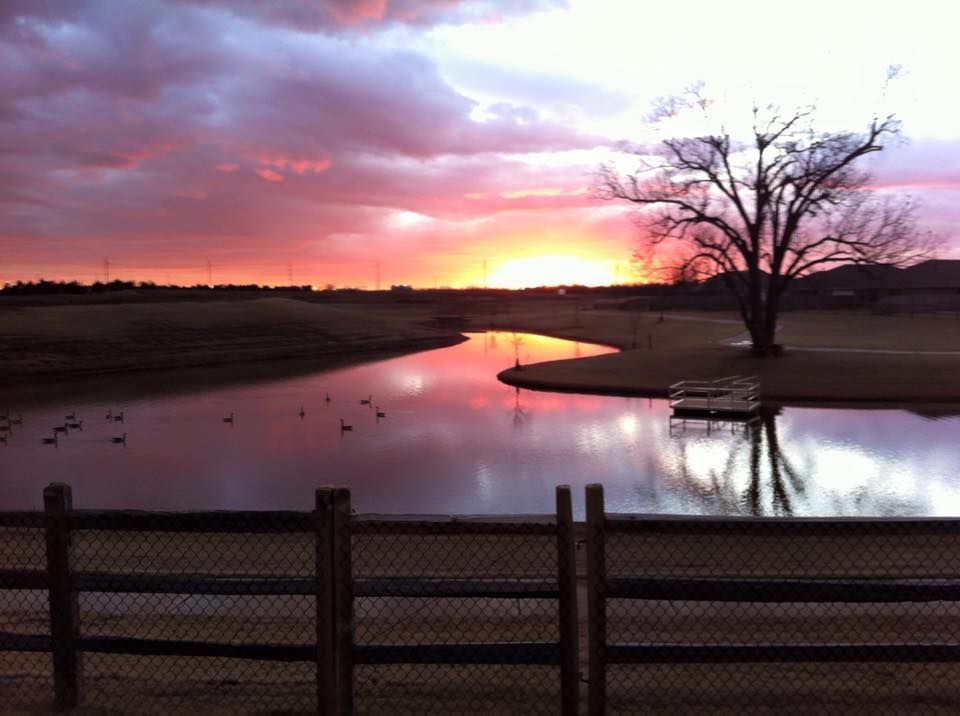 Located off of Tecumseh between 12th & Porter
Norman, OK
The Springs at Green Leaf Trails offers residents the comfort, security and peace of mind found only in a gated neighborhood. Our convenient location give you the ability to be minutes away from great shopping, entertainment, dining and I-35, while still giving you a quiet, country living experience. This exclusive community features brand new floor plan designs that are perfectly styled for modern, busy, professionals and those ready to downsize. Residents will enjoy year round lawn care and access to the pool, clubhouse and workout room. The community will have the benefit of enjoying walking trails around a pond that has catch and release fishing. Homes will range from approximately 1600 square feet to 2100 square feet. One of the best parts is the Investment Range for these homes will start in the lower $200's !
We have several Spec Homes in the community Under Construction as well as several Custom Homes started.  This is exciting because the community is not even finished yet! The finishing touches are being put on the model home now.  It will be open Thursday-Monday from 1:00-6:00 pm or give us a call and we will schedule a private showing.  Take a look at some preview pictures but don't just look here!  Stop by the model home this weekend to see it in person.