You have picked everything out so the fun can now begin! Meet our Construction Team. It is time to turn over the floor plans and selections to this group. Their job is to take all those ideas and selections you made and bring them to life.
Before we break ground on the project, you will have a Pre-Construction Meeting at our office where you will meet your Construction Superintendent. This is a opportunity for them to be introduced to you as a homeowner as well as your floor plans and selections. They will be briefed on all the details of the home so they have a clear vision of what you are wanting. From this point on they will become part of your family! They will be one of the main sources of contact throughout your build. Their job is to schedule all the trades, get inspections and make sure everything is followed on the plans. They are also the eyes of the company to make sure not only all your selections are fulfilled but everything behind the walls are built soundly and energy efficiently.
During the build of your home, Landmark Fine Homes will schedule several meeting on your jobsite. This gives us the opportunity to educate you on what is behind the walls and get feedback from you on how you want certain areas of your home to look like.
Ground Breaking - You will meet at your home site and have a quick review of how the home will be placed on the lot.
Construction Begins!
Post Frame Meeting - The builder and homeowner meet at the home to verify doors, windows, and wall locations, mark the walls for phone and cable and review the electrical plans.
Pre Drywall Meeting - The builder and homeowner verify everything is installed in the walls and we are ready to begin sheetrock. This is also the time where you will meet with the Custom Cabinet Makers. They will talk with you about what all you would like to see in your cabinets. You will receive a computer generated 3D drawing of those details before the cabinets are made.
Finishes Meeting - The builder and homeowner meet prior to trim, paint and flooring to review the selections you have made and make any adjustments. You will also design your closet layouts at this time.
Flat Work Meeting - The builder and homeowner meet prior to flat work to review. What is flat work? That is your concrete sidewalks and patios!
You are getting close to moving into your new home. Only a few more steps and it will be complete. Check back in next week to see what's next!
It is that time of the year. The Central Oklahoma Parade of Homes will run this Spring for two consecutive weekends- May 13-15 and May 10-22. The Parade will be open from 1:00-7:00. We are excited to have 7 homes in this years parade. We will feature a new home everyday for the next week.
4321 Hackney Wick- Carrington Lakes- Norman, OK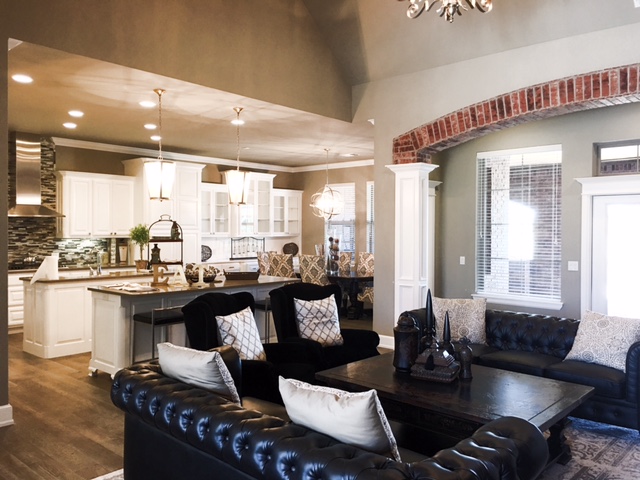 The brick arch, white kitchen and double islands is one you will want to see in person!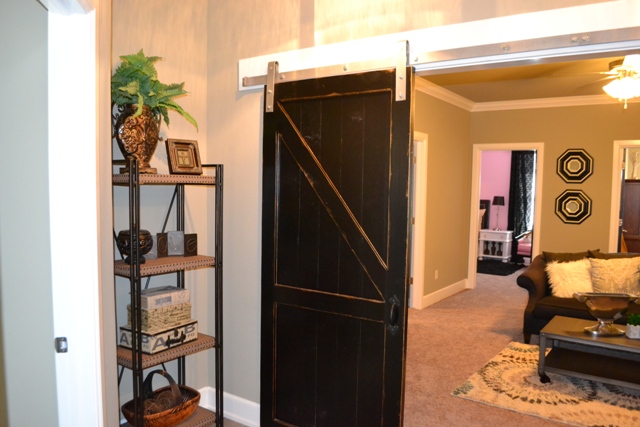 The secondary living area off of the secondary bedrooms is separated with rustic barn doors.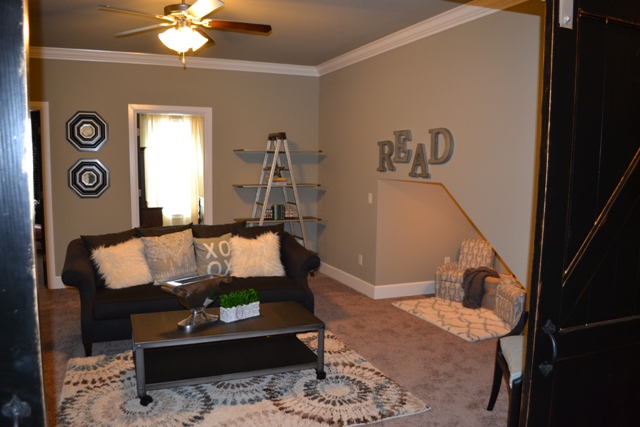 A reading nook in nestled under the stairs. It is a perfect place for the little ones to read.
If you want to see the rest of the house you will want to stop by and see it in person. Our model homes are open Thursday- Monday from 1:00-6:00. We will be open during the Parade weekends until 7:00.
If there is one thing that we consistently hear is-" I would love to build a new custom home BUT it is overwhelming! How will I ever be able to make all the choices? I am not a designer. Do I have to drive all over town to pick things out?"
At Landmark Fine Homes, we have been building Custom Homes for over 15 years. We have broken the building process down into easy steps. There is nothing overwhelming! We ask you to pick out a few things at a time, or if you want, you can complete all the steps in one visit. Kim Kelley, Selection Center Coordinator, has been with Landmark Fine Homes for over 11 years. Her expertise has been priceless in helping our customers make those sometimes hard decisions. She can help you make sure the whole house will come together and be something you are proud of.
Our New Design Center, located at our main office in Norman, has selections from vendors around the metro area. It is truly "One Stop Shopping." The need to run all over town is taken away. Many of our customers have consistently said if they have an idea in their head, Kim helps bring it to life! If you have seen it in a magazine, on Pinterest, Houzz or a website, Kim will be able get that design brought to life in your home.
There is truly no reason to wait!  Stop by one of our Model Homes in Norman at The Springs at Green Leaf Trails or Carrington Lakes, in Edmond at Belleau Wood or The Reserve at Valencia or in Southwest Oklahoma City at The Preserve at Parkside.  One of our New Home Consultants would be happy to get you started on your new home.