If you took a poll around our office right now and asked, "What is your favorite season?", the answer would be an overwhelming FALL!
There is so much going on around the OKC metro area for your family to enjoy.
Carrington Lakes in Norman is hosting their first ever Dog Costume Contest on October 20th from 11am-1pm. The response has been overwhelming! You put pets and costumes together and you know it will be a great time. We are hosting this in the community in honor of our New Model Home at 4220 Hackney Wick that is decked out with Pet Friendly features including a dog bath! You won't want to miss it.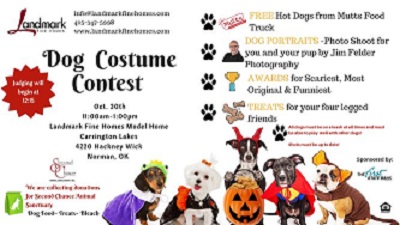 If a dog costume contest isn't your thing- Be sure and check out this great website- Travel Ok.
Landmark Fine Homes believes in giving back. This year we are collecting school supplies for local schools and one of your favorite teachers at all our Model Homes.
Here are the rules to get your favorite teacher nominated:
You can nominate the Teacher once per day
Nominations will end August 1st, 2018
To nominate them it is easy!
Go to our Facebook Post on Teacher Nomination
Tag or Comment with your favorite Teachers Name
Include the School/District they teach in
Or
Stop by one of our Model Homes and nominate them in person.
All names will be entered into the drawing for the "Favorite Teacher"
We will draw the name of the winner LIVE on August 11th at one of our Community Events- "Donuts in the Drive" that will take place at our Model Homes.
The more you nominate the teacher the more chances they have to win!
You can drop the school supplies by at one of our Model Homes in The Reserve at Valencia, The Springs at Valencia, The Springs at Skyline Trails, The Preserve at Parkside, Carrington Lakes, The Springs at Greenleaf Trails, Little River Trails or Montoro Ridge.
I don't know about you- but we are always up for sprucing up the exterior of our homes! Houzz has always been a great source for our customers to get design ideas on their new homes. There is rarely a week that goes by where we do not have someone show us a pictures from their ideabook that they have created for inspiration on building their new home. What some people might not know is Houzz is also a great resource for all things around your home including organizing, decorating, exterior landscape ideas and more. Check out this great article they posted on "14 Colorful Spring Containers to Cheer Up Your Porch or Garden."
Read more..... https://www.houzz.com/ideabooks/104421968/list/14-colorful-spring-containers-to-cheer-up-your-porch-or-garden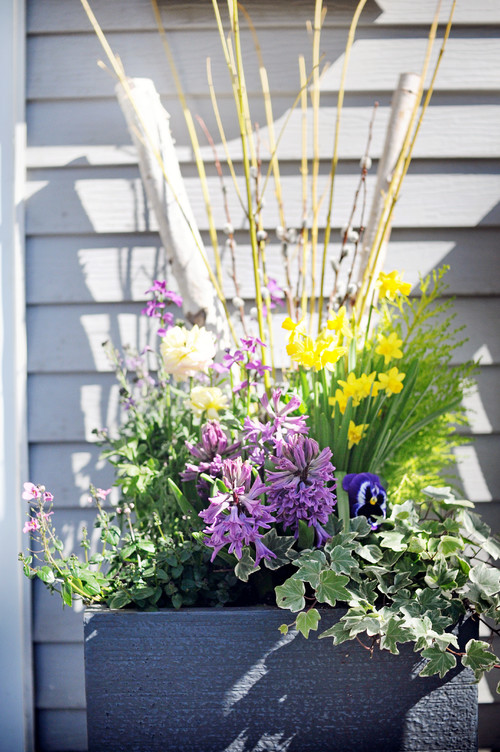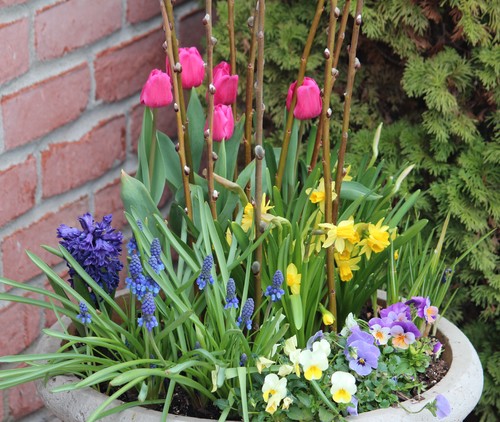 You have picked everything out so the fun can now begin! Meet our Construction Team. It is time to turn over the floor plans and selections to this group. Their job is to take all those ideas and selections you made and bring them to life.
Before we break ground on the project, you will have a Pre-Construction Meeting at our office where you will meet your Construction Superintendent. This is a opportunity for them to be introduced to you as a homeowner as well as your floor plans and selections. They will be briefed on all the details of the home so they have a clear vision of what you are wanting. From this point on they will become part of your family! They will be one of the main sources of contact throughout your build. Their job is to schedule all the trades, get inspections and make sure everything is followed on the plans. They are also the eyes of the company to make sure not only all your selections are fulfilled but everything behind the walls are built soundly and energy efficiently.
During the build of your home, Landmark Fine Homes will schedule several meeting on your jobsite. This gives us the opportunity to educate you on what is behind the walls and get feedback from you on how you want certain areas of your home to look like.
Ground Breaking - You will meet at your home site and have a quick review of how the home will be placed on the lot.
Construction Begins!
Post Frame Meeting - The builder and homeowner meet at the home to verify doors, windows, and wall locations, mark the walls for phone and cable and review the electrical plans.
Pre Drywall Meeting - The builder and homeowner verify everything is installed in the walls and we are ready to begin sheetrock. This is also the time where you will meet with the Custom Cabinet Makers. They will talk with you about what all you would like to see in your cabinets. You will receive a computer generated 3D drawing of those details before the cabinets are made.
Finishes Meeting - The builder and homeowner meet prior to trim, paint and flooring to review the selections you have made and make any adjustments. You will also design your closet layouts at this time.
Flat Work Meeting - The builder and homeowner meet prior to flat work to review. What is flat work? That is your concrete sidewalks and patios!
You are getting close to moving into your new home. Only a few more steps and it will be complete. Check back in next week to see what's next!
You have picked your community, floor plan and signed your contract, so now what?
Next up is picking out all the finishes you would like in your home as well as going over the floor plans to make sure all the details are there. We love greeting new home owners when they walk into our design studio for the first time. Honestly, we see a mix of emotions. Some can not wait to get started on this part. They have been on Pinterest, Houzz or other websites collecting pictures and information of what all they want in their new home. The other set of people walk in looking like a deer in head lights!! The thought of having to pick everything out and making sure it all matches is overwhelming for some. In comes our wonderful team to save the day!!
Landmark Fine Homes believes that we build your home not ours. With that being said, we want to make sure we have all the details in place that you want in your home. There are several meetings scheduled throughout the process of building your home. In the beginning you will come in for a Plan Review Meeting. This is where you will meet with our Estimating Department to make sure we have everything on your plans that you envisioned down to where the light switches are. Then we transition you into meeting with our Design Team. This is where you get to take all those ideas of finishes out of your head and bring them to life! The team does a great job at taking those ideas and matching them to products. During your home building process you will have one designer that is committed to making your home something that you will be proud to show off. Landmark Fine Homes also works hard at not making the process overwhelming. You will have several meetings with our design team where you can focus on certain areas of the home and not feel like you have to make decisions on every facet of the home in one visit.
Now, doesn't that sound easy and fun? It really is! Check out what this family had to say about the process!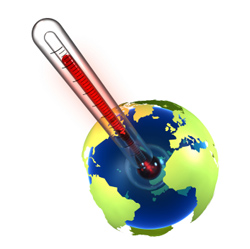 We don't know about you but around here it has been HOT!!! With temperatures in the high 90's and low 100's for the last several weeks everyone is looking for a place to cool off. If you live in one of Landmark Fine Homes communities that offer a community pool- you are in luck!! The pool has been a place where the community has been gathering to relax after a long day at work.
The Springs at Greenleaf Trails, Carrington Lakes, The Reserve at Valencia , Little River Trails and Cascata Falls all offer a pool to be enjoyed by everyone in the community.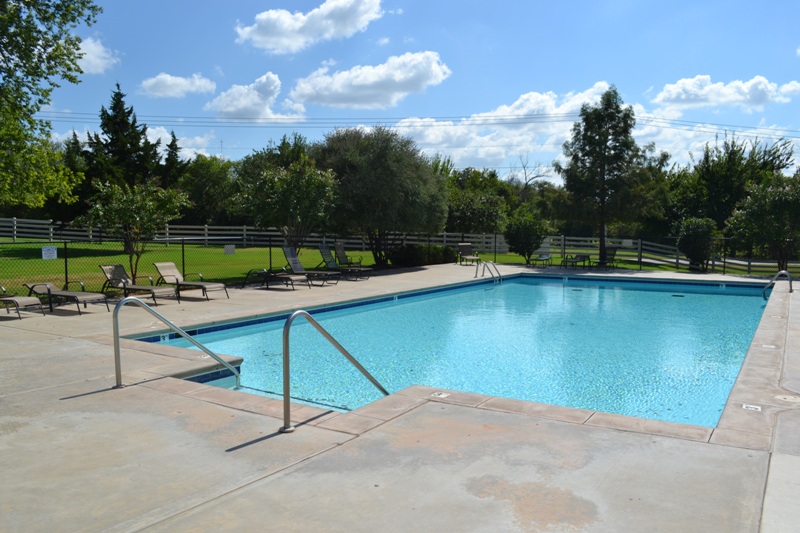 If you don't have a community pool to get wet in at the end of the day, be sure and take care of the air conditioner inside your home. Here are a few tips to make sure it keeps running at its best!
Make sure you are changing your air filters regularly. When your air filter is dirty it makes your air conditioner work harder, which will make your bill higher and reduces the air quality in your home. This will also reduce the life of your HVAC System.
Landmark Fine Homes recommends having your unit serviced regularly. You don't want to be without air in the summer so be proactive and get it serviced to help prevent any issues.
Inspect your outdoor unit and make sure it is clear of grass clippings, mud or other debris.
Carrington Lakes is one of West Norman's most popular neighborhoods that has a Community Clubhouse with Pool, Parks, Playgrounds, Walking Trails, Catch and Release Fishing and a Mom's Council that plans community events throughout the year including a 4th of July Parade! This home located at 4228 Hackney Wick is in one of the newest sections of this community.
A mix of Modern and Farmhouse design will set this home apart from others and the upstairs Game Room will host a party of any size!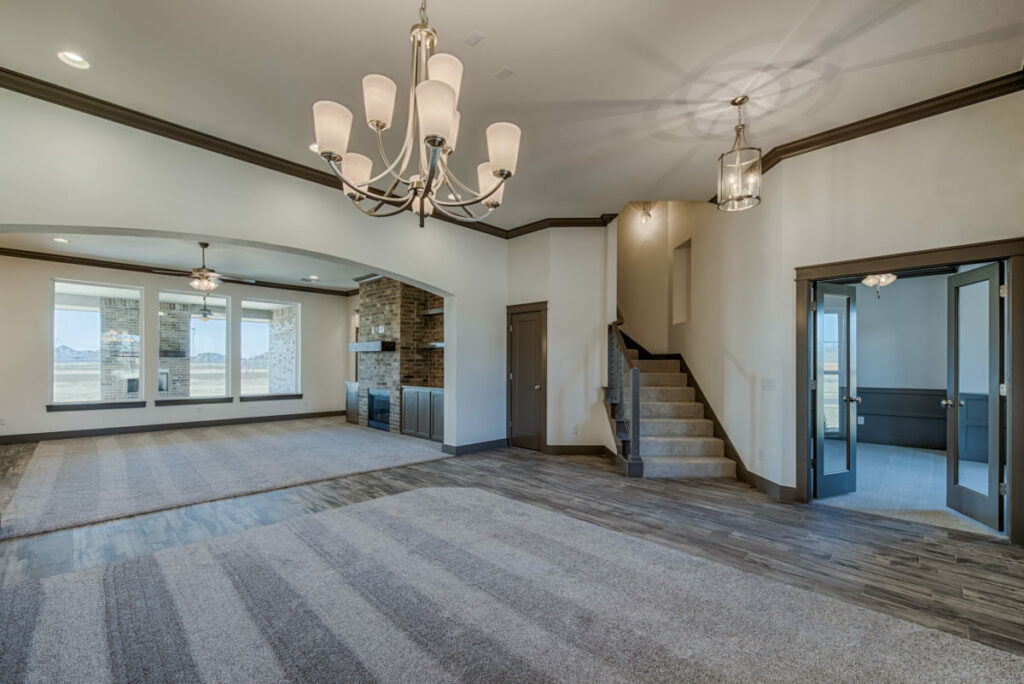 The cable detail on the stairs sets it apart from the more traditional design.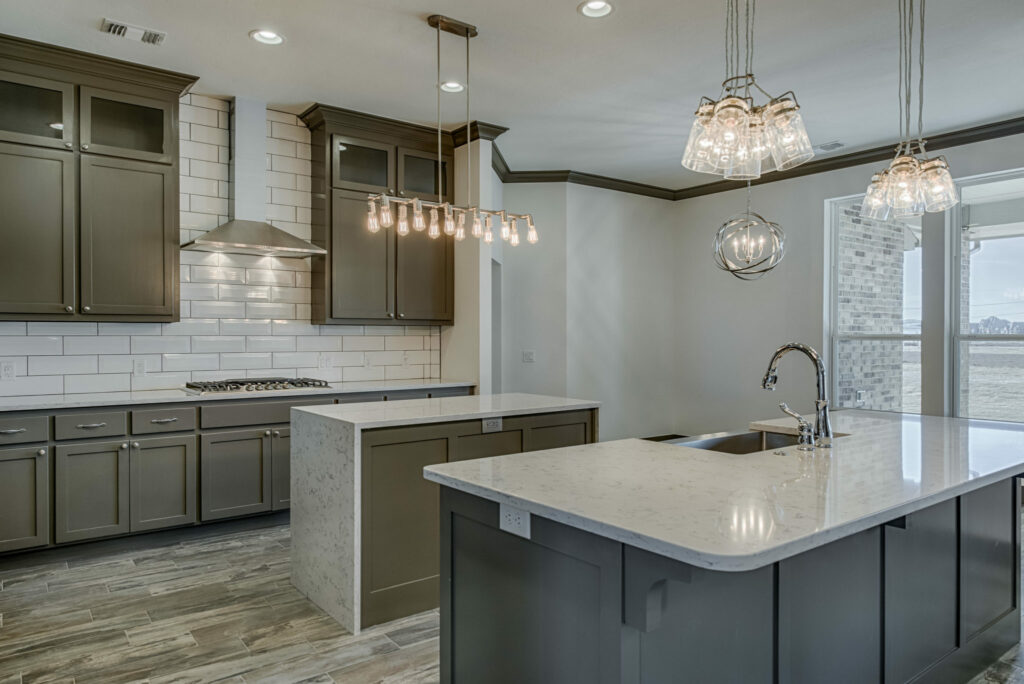 The Granite wrapped island gives this beautiful kitchen a more Modern touch.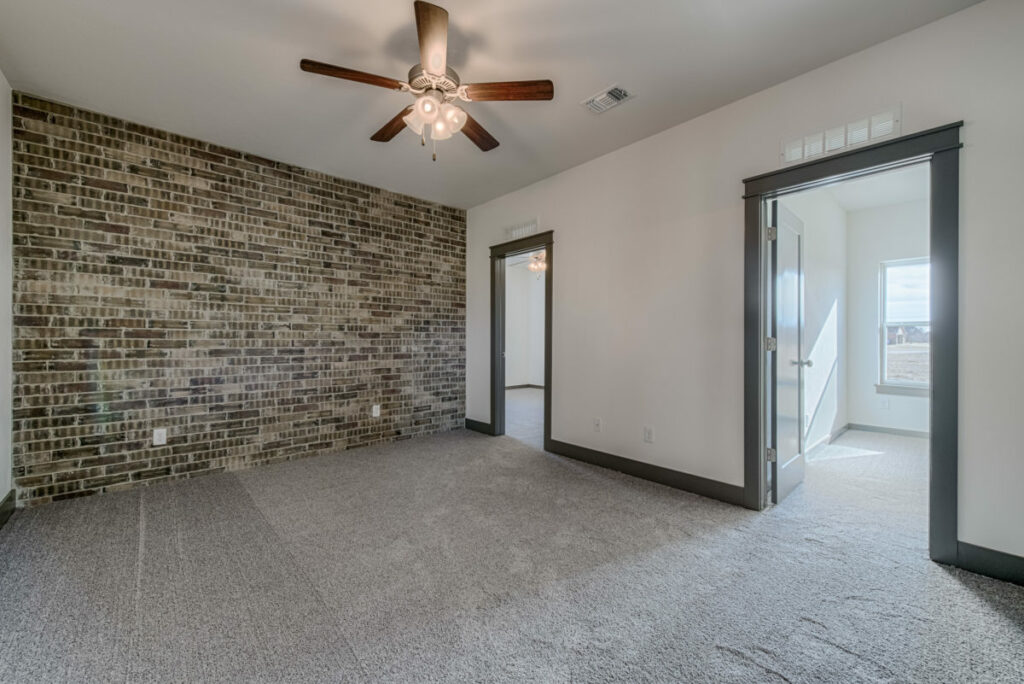 This brick wall in the "Kid's Living Area" brings in that Farmhouse touch.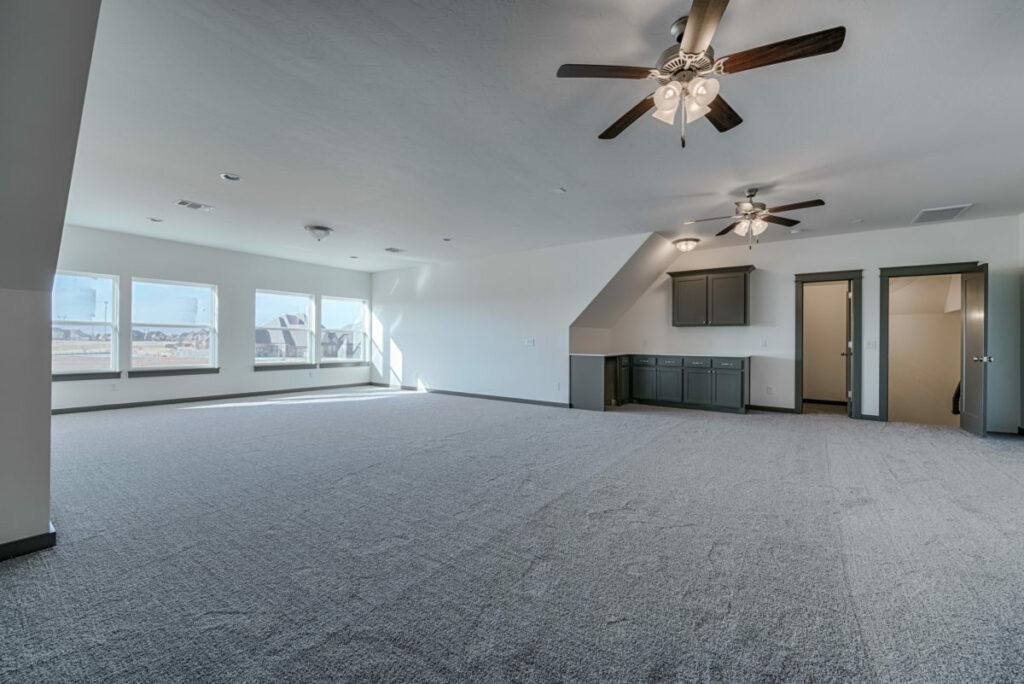 Entertaining will be easy with this large Game/Media Room!
Don't let 2017 go by without making the best decision for your family by purchasing this beauty in one of Norman's most popular communities!
Carrington Lakes is one of the most popular communities in West Norman and this home is soon to be a favorite as well! This 4/5 bedroom beauty is ready for someone to call it HOME. You will love the Grand Staircase as you enter that will lead you to the secondary bedrooms as well as a flex room that can either be a bedroom or a recreation room. A formal dining as well as a study also greet you when you enter the home.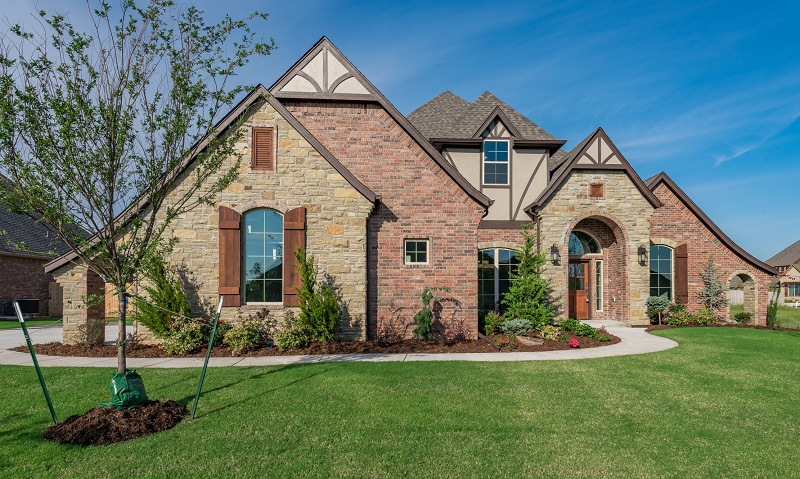 The large open kitchen and great room will allow for entertaining any size party, with storage definitely not lacking in the kitchen. If built ins are your thing, you will not be disappointed. If you want to talk about not being disappointed- wait until you see the master retreat! Dreaming of going to spa can actually now happen every morning when you wake up and enter the master bath. A LARGE walk in shower with 2 heads and a soaker tub are ones that you will rarely see in a home. The large double vanities as well as the master closet that is separated with a barn door allow for lots of storage.
You will want to see this home in person! Our homes are open 1:00-6:00 Thursday- Monday or we are happy to make a appointment to show you another time if these times don't work.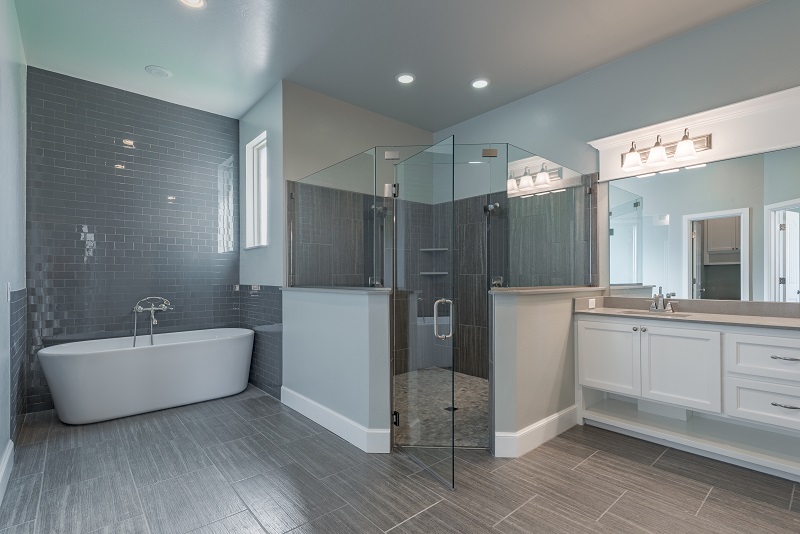 Nothing makes us happier than to see people walk through our Model Home Doors, listen to what they want in their home and watch those dreams become a reality. Hands down this is the most important thing to Landmark Fine Homes. We recognize it is not just the brick and wood that goes into building a home but so much more. This is the setting where people do "Life" together-where memories are made, where people grow, where traditions are started and maintained. We LOVE being a part of this process for so many of our Home Owners. We will be featuring every Tuesday this month- Testimonial Tuesday. It is important to us that you hear from some of our Landmark Fine Homes Family of Homeowners how their experience went. This sweet family came to us and had those visions of what they wanted in their home. Hear what they have to say after being in their home for 4 months.
I wanted to send along a GIANT thank you to all of Landmark Fine Homes for building us the most wonderful house we could have possibly imagined! We have been in our house for about 4 months now and couldn't be happier.
This is our 3rd house we have bought new from a builder. This is the 1st time we were able to build one from the ground up. Our experience was just great. We could tell that we would be getting a much better product, in terms of quality and service and Landmark Fine Homes did not disappoint. We had nothing but a positive experience throughout the whole process.
I honestly believe our superintendent, Tim Carpenter, was a huge factor in providing that positive experience. He made it such an enjoyable process. We only had a couple of hiccups with our house and they were taken care of in a timely manner and correctly. He went above and beyond to make sure the house we wanted was what we moved into! And a little more than that. He offered great suggestions along the way on how to make the house even better or where we could save a few bucks. He KNOWS what he is doing.
We cannot thank Landmark enough for building such a beautiful home.
At Landmark Fine Homes we believe in custom building YOUR home and not OUR home. With that being said, we do notice trends that come and go. Is the latest trend what everyone wants in their home? Absolutely not! That is why we try to build Spec Homes that showcase several different styles.
Some of the latest trends are the Farmhouse Design Style. We know many people have started following the popular HGTV show- Fixer Upper. Chip and Joanna Gaines showcase weekly how they incorporate this style into their designs. Farmhouse Design has its own character and showcases simple organic items, light colors. simple lines and details. It showcases natural wood, fireplaces, beamed ceilings.
Farmhouse sinks have become popular as well. Our Carrington Lakes Model showcases several of these design qualities.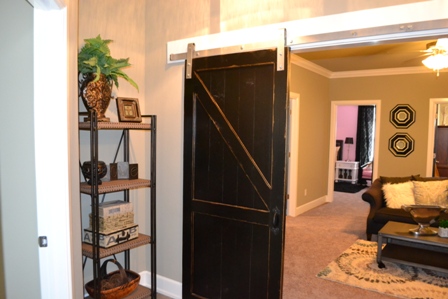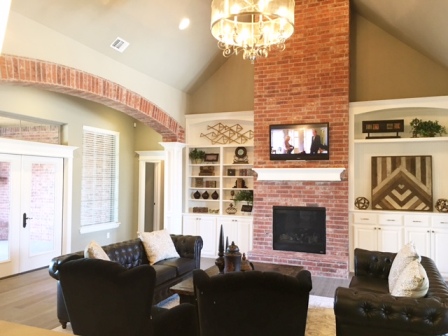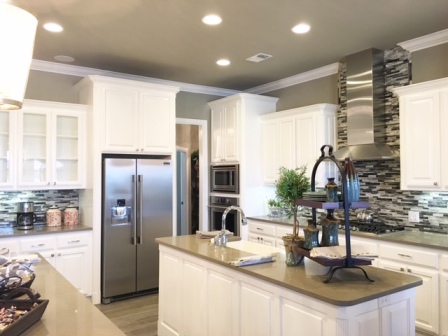 What design style are you currently liking?