I don't know about you- but we are always up for sprucing up the exterior of our homes! Houzz has always been a great source for our customers to get design ideas on their new homes. There is rarely a week that goes by where we do not have someone show us a pictures from their ideabook that they have created for inspiration on building their new home. What some people might not know is Houzz is also a great resource for all things around your home including organizing, decorating, exterior landscape ideas and more. Check out this great article they posted on "14 Colorful Spring Containers to Cheer Up Your Porch or Garden."
Read more..... https://www.houzz.com/ideabooks/104421968/list/14-colorful-spring-containers-to-cheer-up-your-porch-or-garden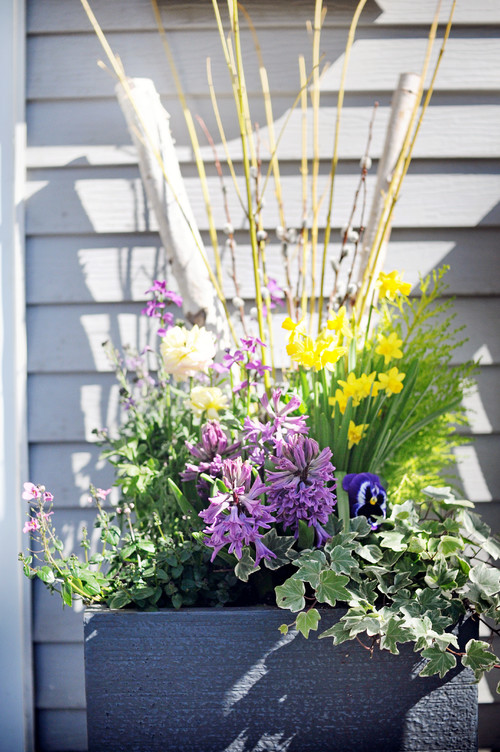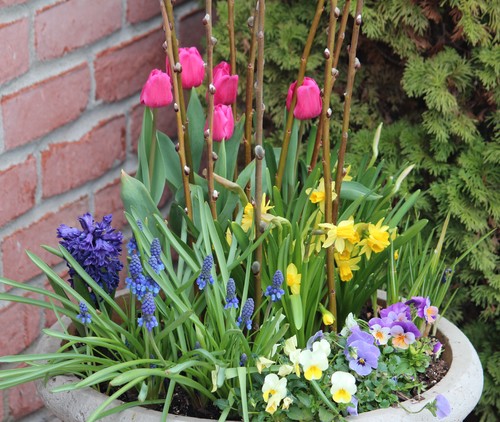 You have picked everything out so the fun can now begin! Meet our Construction Team. It is time to turn over the floor plans and selections to this group. Their job is to take all those ideas and selections you made and bring them to life.
Before we break ground on the project, you will have a Pre-Construction Meeting at our office where you will meet your Construction Superintendent. This is a opportunity for them to be introduced to you as a homeowner as well as your floor plans and selections. They will be briefed on all the details of the home so they have a clear vision of what you are wanting. From this point on they will become part of your family! They will be one of the main sources of contact throughout your build. Their job is to schedule all the trades, get inspections and make sure everything is followed on the plans. They are also the eyes of the company to make sure not only all your selections are fulfilled but everything behind the walls are built soundly and energy efficiently.
During the build of your home, Landmark Fine Homes will schedule several meeting on your jobsite. This gives us the opportunity to educate you on what is behind the walls and get feedback from you on how you want certain areas of your home to look like.
Ground Breaking - You will meet at your home site and have a quick review of how the home will be placed on the lot.
Construction Begins!
Post Frame Meeting - The builder and homeowner meet at the home to verify doors, windows, and wall locations, mark the walls for phone and cable and review the electrical plans.
Pre Drywall Meeting - The builder and homeowner verify everything is installed in the walls and we are ready to begin sheetrock. This is also the time where you will meet with the Custom Cabinet Makers. They will talk with you about what all you would like to see in your cabinets. You will receive a computer generated 3D drawing of those details before the cabinets are made.
Finishes Meeting - The builder and homeowner meet prior to trim, paint and flooring to review the selections you have made and make any adjustments. You will also design your closet layouts at this time.
Flat Work Meeting - The builder and homeowner meet prior to flat work to review. What is flat work? That is your concrete sidewalks and patios!
You are getting close to moving into your new home. Only a few more steps and it will be complete. Check back in next week to see what's next!
You have picked your community, floor plan and signed your contract, so now what?
Next up is picking out all the finishes you would like in your home as well as going over the floor plans to make sure all the details are there. We love greeting new home owners when they walk into our design studio for the first time. Honestly, we see a mix of emotions. Some can not wait to get started on this part. They have been on Pinterest, Houzz or other websites collecting pictures and information of what all they want in their new home. The other set of people walk in looking like a deer in head lights!! The thought of having to pick everything out and making sure it all matches is overwhelming for some. In comes our wonderful team to save the day!!
Landmark Fine Homes believes that we build your home not ours. With that being said, we want to make sure we have all the details in place that you want in your home. There are several meetings scheduled throughout the process of building your home. In the beginning you will come in for a Plan Review Meeting. This is where you will meet with our Estimating Department to make sure we have everything on your plans that you envisioned down to where the light switches are. Then we transition you into meeting with our Design Team. This is where you get to take all those ideas of finishes out of your head and bring them to life! The team does a great job at taking those ideas and matching them to products. During your home building process you will have one designer that is committed to making your home something that you will be proud to show off. Landmark Fine Homes also works hard at not making the process overwhelming. You will have several meetings with our design team where you can focus on certain areas of the home and not feel like you have to make decisions on every facet of the home in one visit.
Now, doesn't that sound easy and fun? It really is! Check out what this family had to say about the process!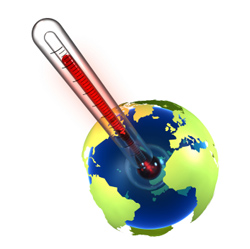 We don't know about you but around here it has been HOT!!! With temperatures in the high 90's and low 100's for the last several weeks everyone is looking for a place to cool off. If you live in one of Landmark Fine Homes communities that offer a community pool- you are in luck!! The pool has been a place where the community has been gathering to relax after a long day at work.
The Springs at Greenleaf Trails, Carrington Lakes, The Reserve at Valencia , Little River Trails and Cascata Falls all offer a pool to be enjoyed by everyone in the community.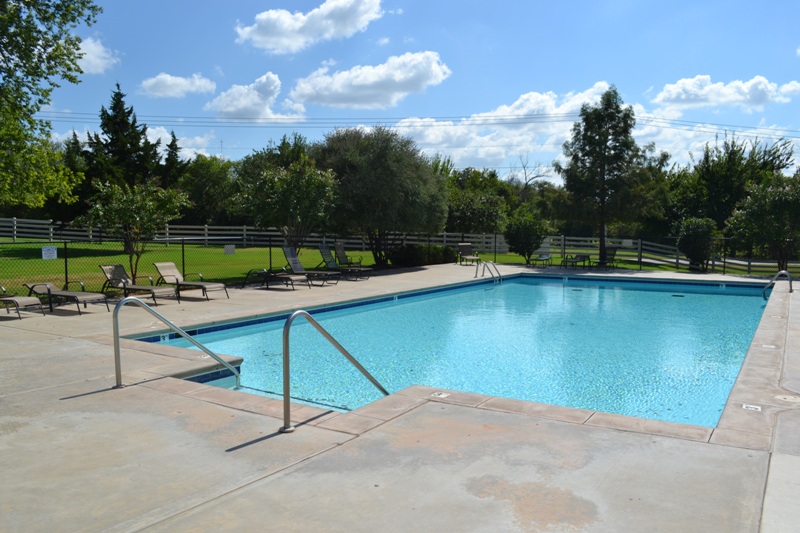 If you don't have a community pool to get wet in at the end of the day, be sure and take care of the air conditioner inside your home. Here are a few tips to make sure it keeps running at its best!
Make sure you are changing your air filters regularly. When your air filter is dirty it makes your air conditioner work harder, which will make your bill higher and reduces the air quality in your home. This will also reduce the life of your HVAC System.
Landmark Fine Homes recommends having your unit serviced regularly. You don't want to be without air in the summer so be proactive and get it serviced to help prevent any issues.
Inspect your outdoor unit and make sure it is clear of grass clippings, mud or other debris.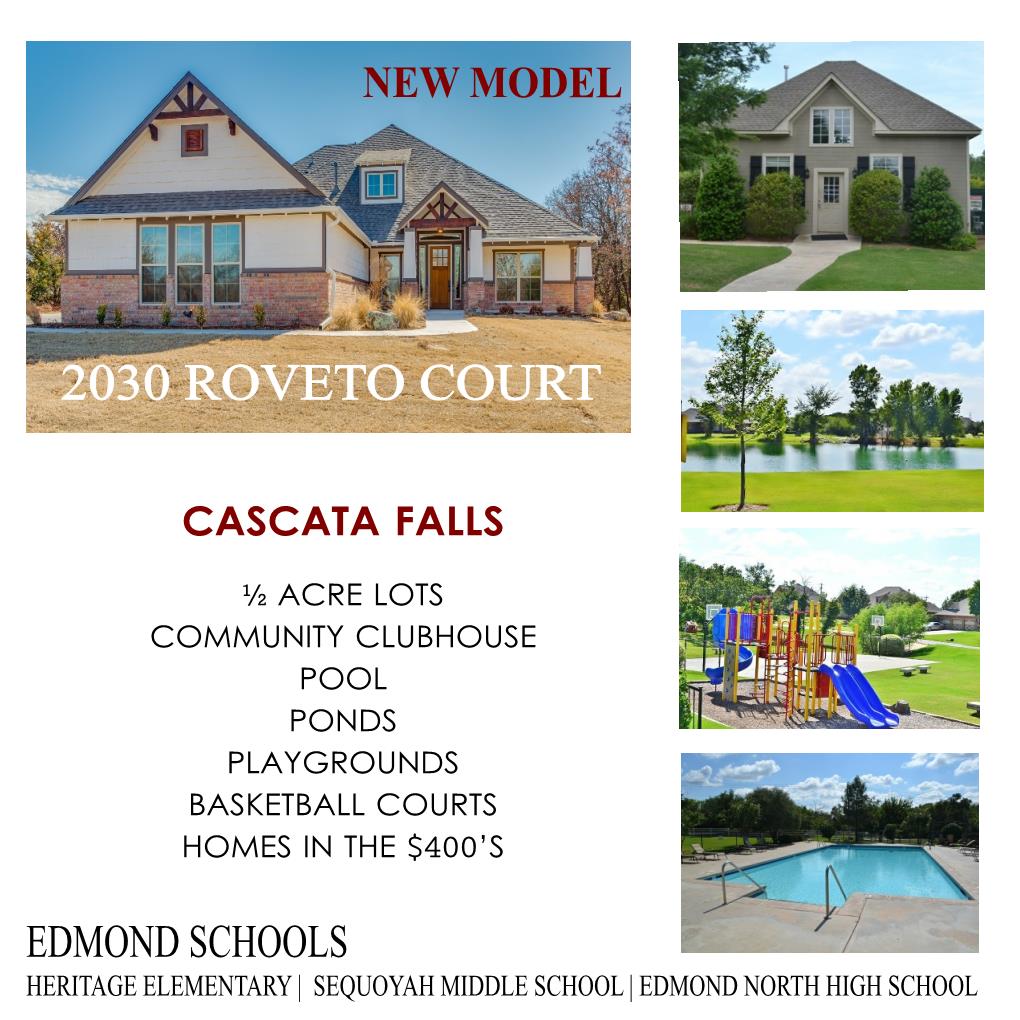 This is one of Landmark Fine Homes Best Kept Secrets that we wanted to share with everyone!
Where can you find 1/2 acre lots in the Edmond Public School district that offers a community clubhouse, pool, park, basketball courts and multiple ponds throughout? We know from our research that there are not many options. Now, try to find one of those neighborhoods with homes in the $400's!
Cascata Falls is a community you will want to check out in person. This community is located just 1.5 miles North of Waterloo off of Bryant. You will feel like you have all the benefits of country living with the luxury of having shopping, hospitals, entertainment and schools just minutes away.
Our new model home is located at 2030 Roveto Court and will be open Thursday-Monday from 1:00-6:00 pm. If those hours don't work for you just give us a call and we would love to meet you there at a time that will work for you.
Here is a sneak peek at the home before it was decorated. Come check it out this weekend for yourself!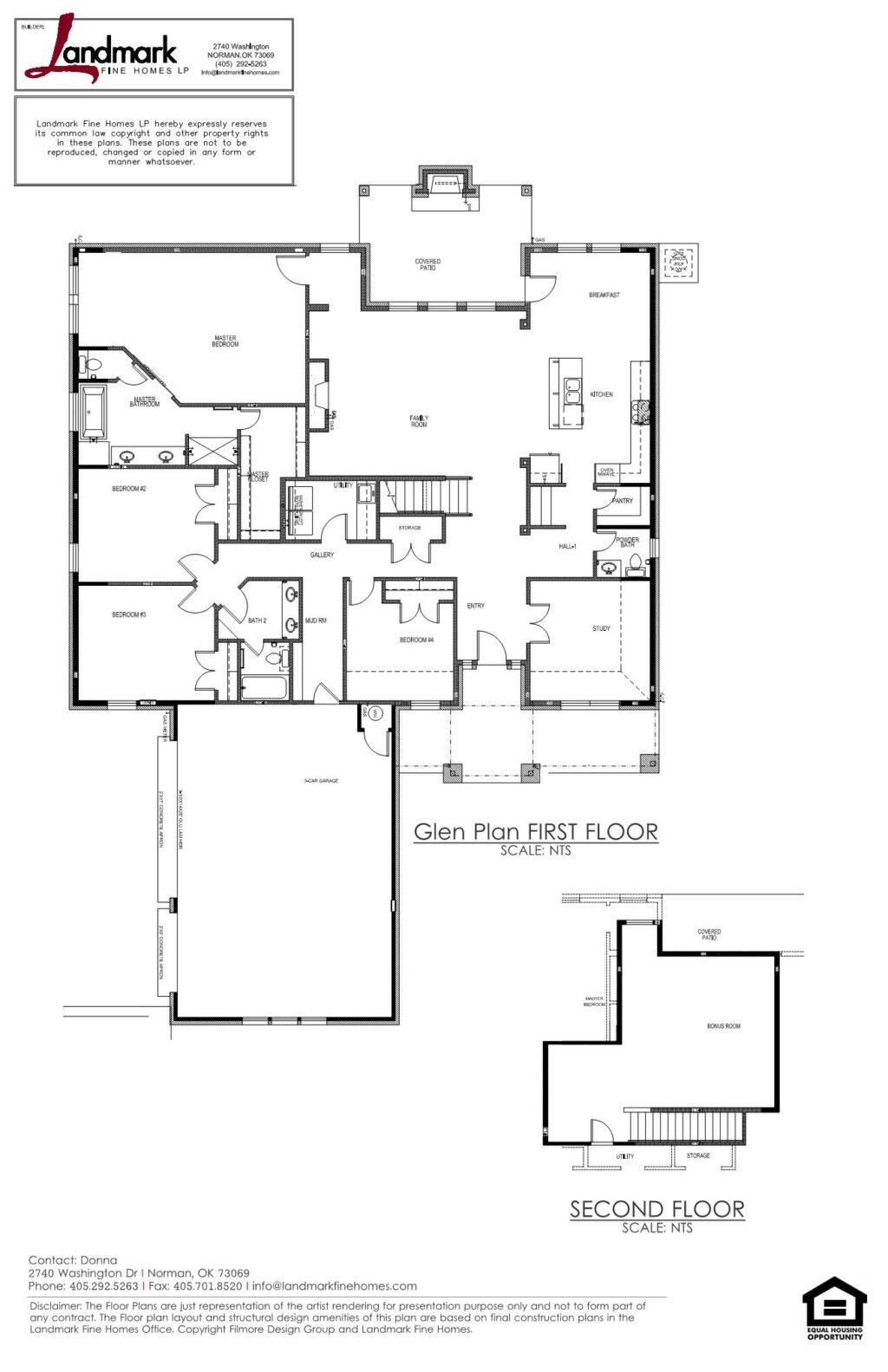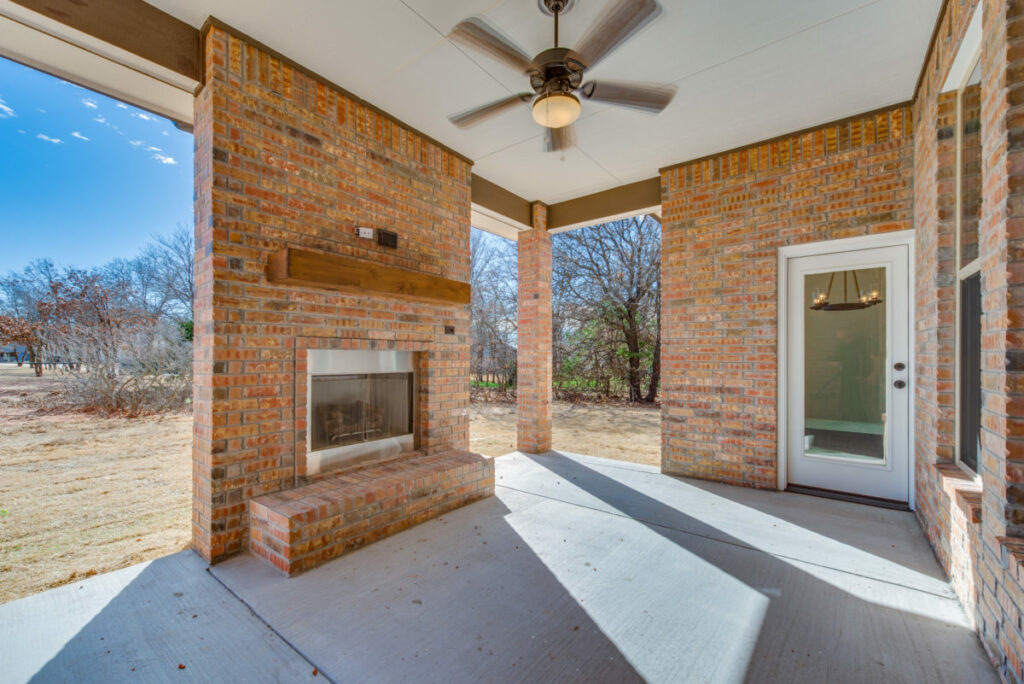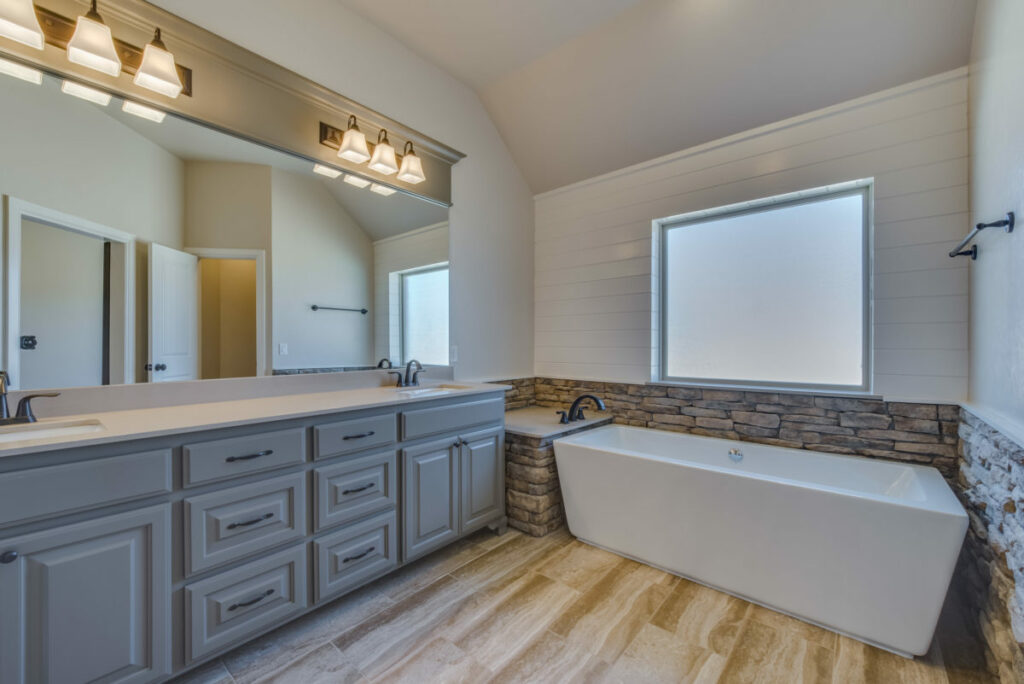 It is that time of the year. The Central Oklahoma Parade of Homes will run this Spring for two consecutive weekends- May 13-15 and May 10-22. The Parade will be open from 1:00-7:00. We are excited to have 7 homes in this years parade.
This home backs up to the community pond and common area. Beautiful views!
What a great use of space with the reading nook in the great room.
You will enjoy evenings on this back porch with the fireplace.
If you want to see the rest of the house you will want to stop by and see it in person. This home is open Saturday and Sunday from 1:00-6:00 or by appointment. We will be open during the Parade weekends until 7:00.
If you are looking for a community that offers 1/2 acre Home Sites in the Edmond School district- you don't need to look any further! Cascata Falls is the place for you!
This community offers a Community Clubhouse, Pool, Park, Basketball Court and Ponds throughout. You will love driving down the street and seeing the vast assortment of custom homes. If building isn't for you Landmark Fine Homes also offers several move- in ready homes! Currently, there are 2 homes available. Both of these homes are over 3200 square feet. Open entertaining areas as well as bonus rooms make these homes perfect for a family of any size.
Check out this video to see more.....
If this looks like a community for you- give us a call! We would love to give you a VIP tour!
It was a pleasure working with Suzzanne Wolfe in the purchase our Landmark home. From the moment we walked into the model home in March 2014, she was cordial, friendly and extremely helpful explaining to us what made Landmark homes different and more importantly, better than other homes we had seen to that point. She was always responsive to our questions, concerns and went the extra mile to accommodate our needs for finding a great home for our move to OKC.
We moved to Oklahoma in June. When we discovered that the temporary rental home we were to move into that day was unacceptable, Suzzanne went above and beyond to help us find another suitable rental home until the Landmark home we purchased was ready for us to move in. She ensured the travel time from the rental home to Tinker AFB where Tony works was consistent with travel time we would have in the Edmond home...it is that attention to detail that we love about Suzzanne (it is most uncommon, but very much appreciated!) She provided support in our hour of need and we will never forget that support...EVER!
Evan Thomas was superb going through our final walkthrough ensuring any issues identified were properly annotated and marked and most importantly worked so that when we moved in all issues had be fixed. Means a lot to us as customers that he made sure our home was inspection ready for move in. He also went the extra mile in our functional review of the home making sure he answered all of our questions on the operation of the systems that are in the house. He did the little things like turning on the oven to burn off the factory newness so that when we used it the first time we did not stink up the house! He did not have to do that, but he did it because he is Evan and that is how he operates! We look forward to our subsequent walkthroughs, because we know he cares deeply about what he does and we know he'll take care of any issues we may discover since our move in.
We closed on our new house in December and we are very happy. We love the quality of our Landmark home. That is what drew our interest from the beginning.
Sincerely,
Tony and Jennifer
We love hearing from our customers! Thank you Tony & Jennifer!
Let's get started building your NEW HOME. Stop by one of our Model Homes and see Suzzanne is Valencia, Sierra in Cascata Falls, Mark in Belleau Wood, Barb in the Preserve or Ben in Carrington Lakes.