It is that time of year- time for the Parade of Homes! This year Landmark Fine Homes has 8 Homes featured in the Parade.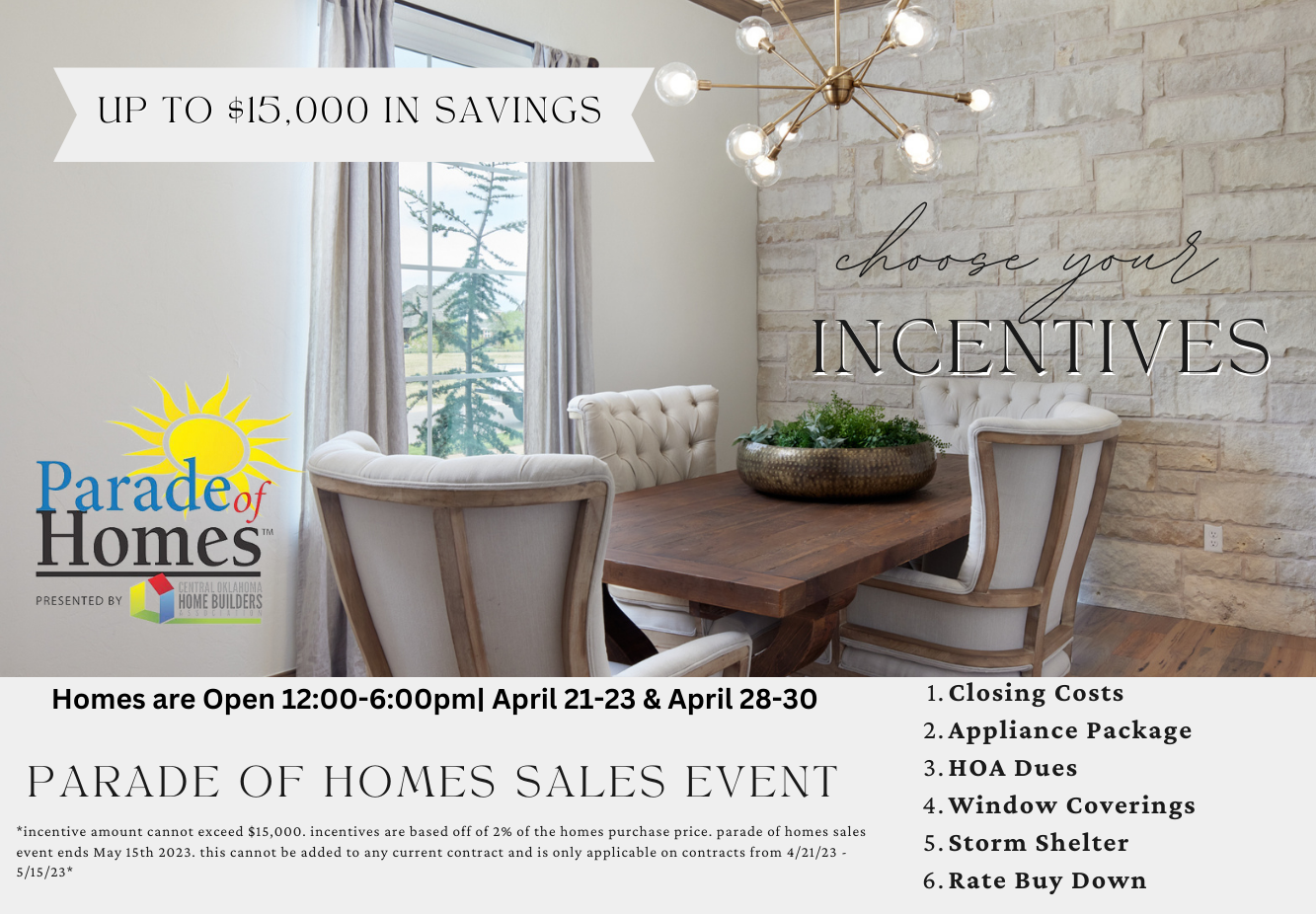 Now is the perfect time to buy a new home. Overall, living in the right home can help your family feel comfortable, safe, and happy while providing opportunities for personal growth and connections with the community. It can be a place where your family can thrive and create lasting memories together.
Please stop by one of our Parade Homes this weekend, find the perfect completed home, or talk to us about custom home building. While you are there, be sure and ask about our Parade of Homes Incentives!
This  community located in Southwest OKC, off of Meridian between SW 119th and SW 134th, offers 1/2 acre homesites with several community ponds for fishing plus walking access to Southlakes Park.  There are 2- 1 acre lots  as well!  The community is in the highly sought after Moore School district which includes one of the newest elementaries, South Lake Elementary.
Large 1/2 acre homesites with several community ponds for fishing, plus great walking access to Southlakes Park. This is a very active community with regular activites, such as Kids Fishing Derbies and Easter Egg Hunts.
Homes in this community start at 2700 square feet and up. You can choose from one of our floor plan to completely customize or bring us a plan that you have!
If you took a poll around our office right now and asked, "What is your favorite season?", the answer would be an overwhelming FALL!
There is so much going on around the OKC metro area for your family to enjoy.
Carrington Lakes in Norman is hosting their first ever Dog Costume Contest on October 20th from 11am-1pm. The response has been overwhelming! You put pets and costumes together and you know it will be a great time. We are hosting this in the community in honor of our New Model Home at 4220 Hackney Wick that is decked out with Pet Friendly features including a dog bath! You won't want to miss it.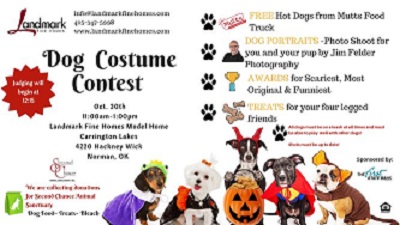 If a dog costume contest isn't your thing- Be sure and check out this great website- Travel Ok.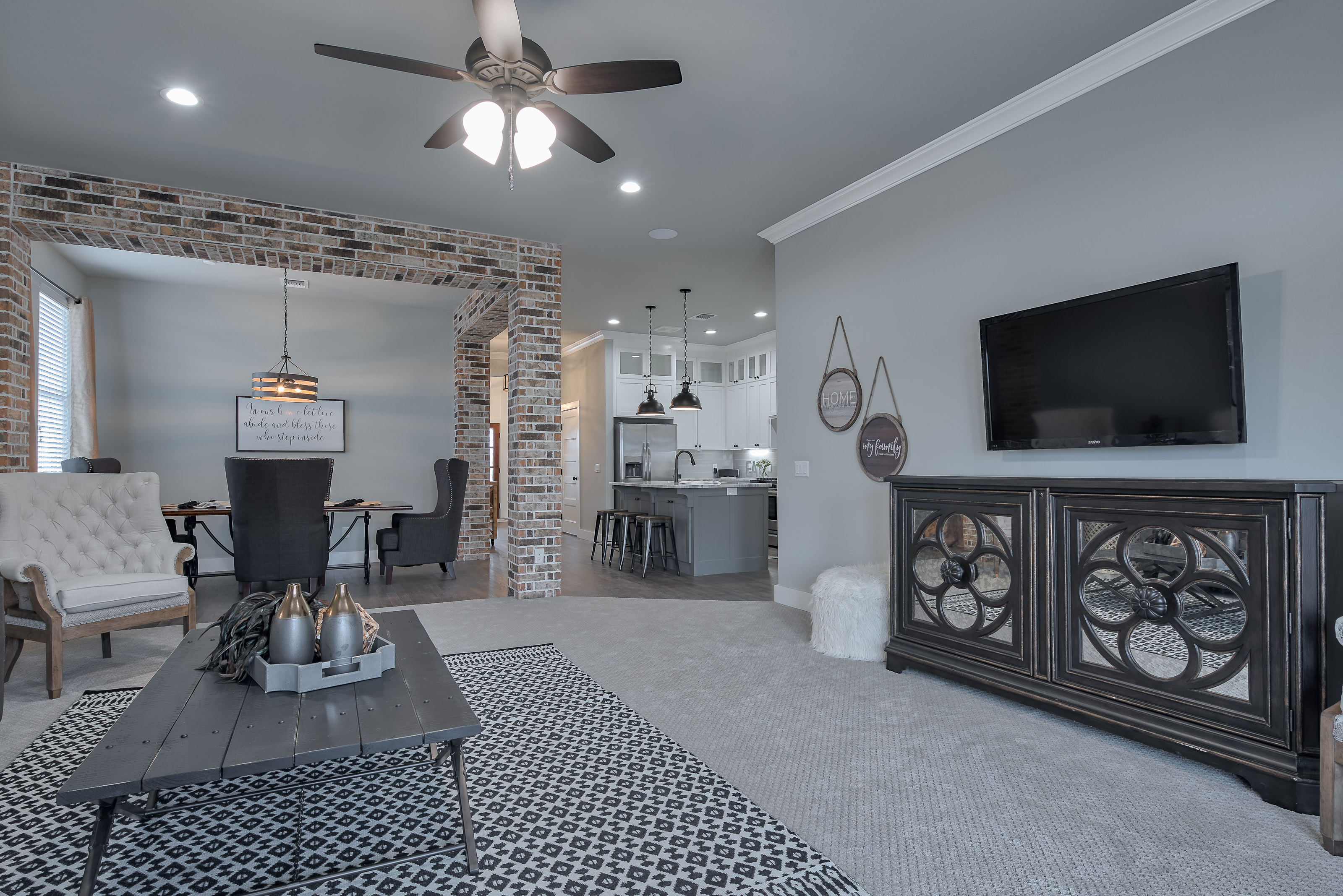 The newest "Springs" Community is open and we already have 2 Custom Homes UNDER CONTRACT.
It is an exciting time at Landmark Fine Homes! The new year is always a great time to start fresh and imagine what all is possible in 2018. If moving is on your agenda we have the perfect place for you!
The Springs at Valencia Model Home is complete and we couldn't be any happier. This gated community is located off of NW 178th between Penn and May. It offers a community clubhouse with workout room, pool, pond and one of the best features is the yards are maintained. No more being tied down to your yard! You can do the things you enjoy most in life instead of spending your free time mowing your yard. If you do like gardening, never fear, you can still plant your gardens and get your hands dirty.
There are 9 different floor plans to choose from in The Springs at Valencia. The floor plans can be completely customizable to fit your needs. By customizable, we mean you can change room sizes, add closets, re-arrange bathrooms, the only limit you have is that the home must fit on your lot!
Here are a few of the floor plans currently UNDER CONSTRUCTION.
Stop by our model home Thursday-Monday from 1:00-6:00 and see Sonya. She can show you around the community and the homes we currently have under construction. In the mean time, here are a few more pictures of our MODEL HOME located at 2309 NW 179th Terrace.
We had the opportunity to sit down with several of our homeowners in The Springs at Greenleaf Trails recently. We asked them what they like the most about living in this gated community that offers a Community Clubhouse with Workout Room, Pool, Pond, Walking Trails and the best part is your yards at maintained!!
The Springs Communities will be offered around the OKC Metro Area. Our next one will be opening by the end of summer at The Springs at Skyline in Mustang. This wonderful community is located off of Reno between Czech Hall and Cemetery Road. If you haven't been out to Mustang recently you need to go and check it out! The area is exploding with new growth. Shopping, Restaurants, Doctors Offices and Schools are within minutes. You also have great access to the highway which makes a easy commute throughout the metro.
Check out what the Scammahorn's had to say about "What they like about living in The Springs? and Why did they chose to move there?"
How could you even begin building a home without these two guys? Meet Jason and Brian- otherwise known as our Estimating Guys.
We joking say they began working here when they were 12. LOL! That is a little stretch but they have both been with Landmark Fine Homes for many years.
Jason Underhill, Director of Estimating, has been with Landmark Fine Homes since its inception in 2000. Once he graduated from Oklahoma City University, he decided to stay at Landmark Fine Homes and continue full time. Because of his longevity there isn't a floor plan that we have built that he hasn't seen. That knowledge alone is priceless. If you have a idea, Jason will know if it can be done in any particular plan. He will be one of the first people you meet once you go under contract with Landmark because he runs the Plan Review meeting at the office. This is where you go through the details of the contract and floor plan to make sure we have everything covered. Nothing is finalized until this meeting takes place.
As Director of Estimating, Jason is the person who not only anchors our pricing department but also our CAD and Design Team.
Brian Philips is our Estimator. The great story about Jason and Brian - they went to College together and were in the same Fraternity. So if you are wondering if they can work together as a team- the answer is YES! Brian is a numbers guy- no doubt! He works closely with our Sales Team to get the ideas that our customers have, put those into a floor plan to be able to determine the cost involved and get those back to the Sales Team to be able to show you those ideas on paper. He works hard to make sure all those ideas become a reality for you the potential homeowner.
If you are looking for a TOP NOTCH team of Estimators, there isn't any better than Jason and Brian. Not only are they great at what they do- they are great guys!
At Landmark Fine Homes we believe in custom building YOUR home and not OUR home. With that being said, we do notice trends that come and go. Is the latest trend what everyone wants in their home? Absolutely not! That is why we try to build Spec Homes that showcase several different styles.
Some of the latest trends are the Farmhouse Design Style. We know many people have started following the popular HGTV show- Fixer Upper. Chip and Joanna Gaines showcase weekly how they incorporate this style into their designs. Farmhouse Design has its own character and showcases simple organic items, light colors. simple lines and details. It showcases natural wood, fireplaces, beamed ceilings.
Farmhouse sinks have become popular as well. Our Carrington Lakes Model showcases several of these design qualities.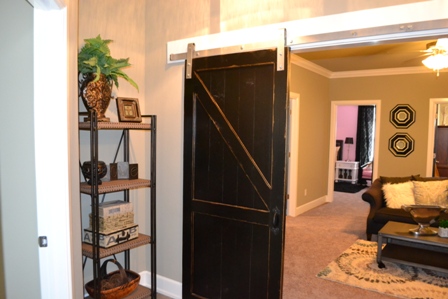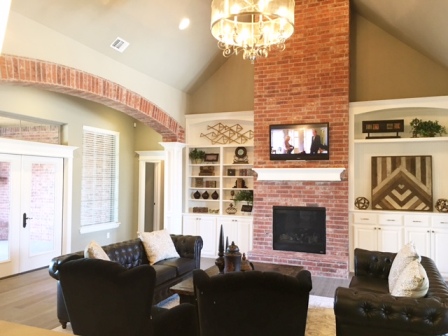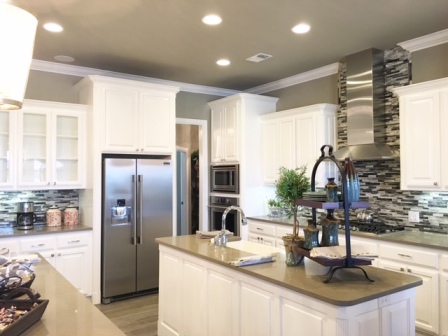 What design style are you currently liking?
Landmark Fine Homes is excited to announce our newest community: The Preserve at Parkside located off of Meridian between SW 119th and SW 134th!
The Preserve at Parkside is located in Southwest Oklahoma City, Moore School District. If rural living is what you are looking for with the convenience of the city this is the community for you. The Preserve at Parkside offers ½ acre lots with stocked ponds for catch and release fishing. The neighborhood backs up to the beautiful South Lakes Park, which provides walking trails, a large playground, fishing pond, basketball goals and soccer fields.
The Preserve at Parkside is conveniently located to allow easy access to I-44, St. Anthony's Hospital, grocery stores, retail shops, churches, Earlywine Golf Course, Waterpark and YMCA. Several colleges including Oklahoma City Community College, Mid America Bible College and Moore Norman Vo-tech are minutes away as well as the Will Rogers Airport.
The Moore Public School system services the community and has been providing high quality education to students in the metropolitan area of Moore and South Oklahoma City for more than 100 years. The principals that guide this district include high student achievement, outstanding instruction, and strong community involvement. The Moore Public School System is the 3rd largest school district in the state.
The Preserve at Parkside offers the convenience of custom building a floor plan or choosing from one of our current spec homes under construction. The community offers homes 2700 square feet and larger.
We currently have our Model Home located at 4424 SW 129th. Our Model Hours are 1:00-6:00 Thursday-Monday or if those hours do not work for you just give us a call to schedule a appointment.
Check out these homes that are almost complete and ready for you to purchase.
Doesn't this look like the perfect place to call home!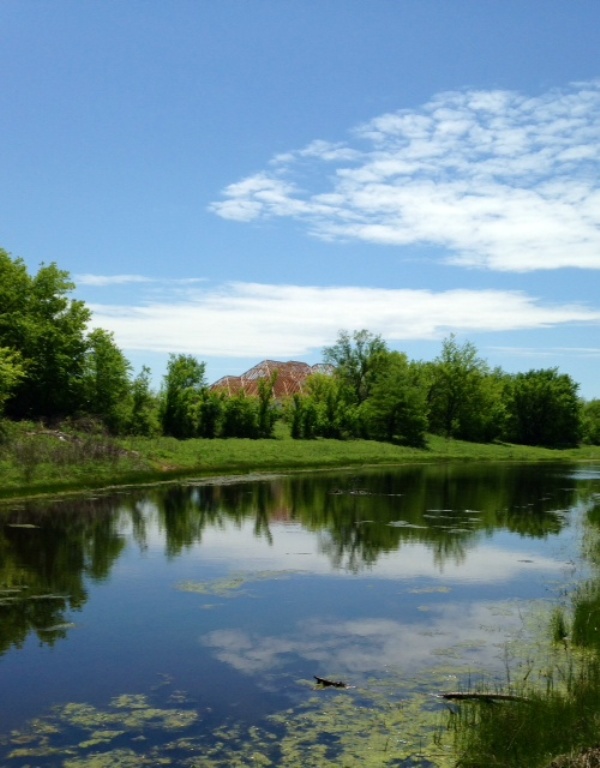 If you have been wanting to move to Norman we have a house ready for you!  This home is located in the Carrington Community which is on the west side of Norman between 36th NW &48th NW and Franklin Road at 4128 Cannon.  The home is approximately 2402 square feet and is the perfect floor plan for entertaining with the Open Kitchen and Living area.  It may look like a 2 car garage but it is a 3 car tandum.  If you only need a 2 car garage you can use the extra space for a work area or extra storage.  The Carrington Community offers 2 Clubhouses, ponds, parks and walking trails throughout.  If schools are important to you Roosevelt Elementary, Whittier Jr. High and Norman North High School service this neighborhood.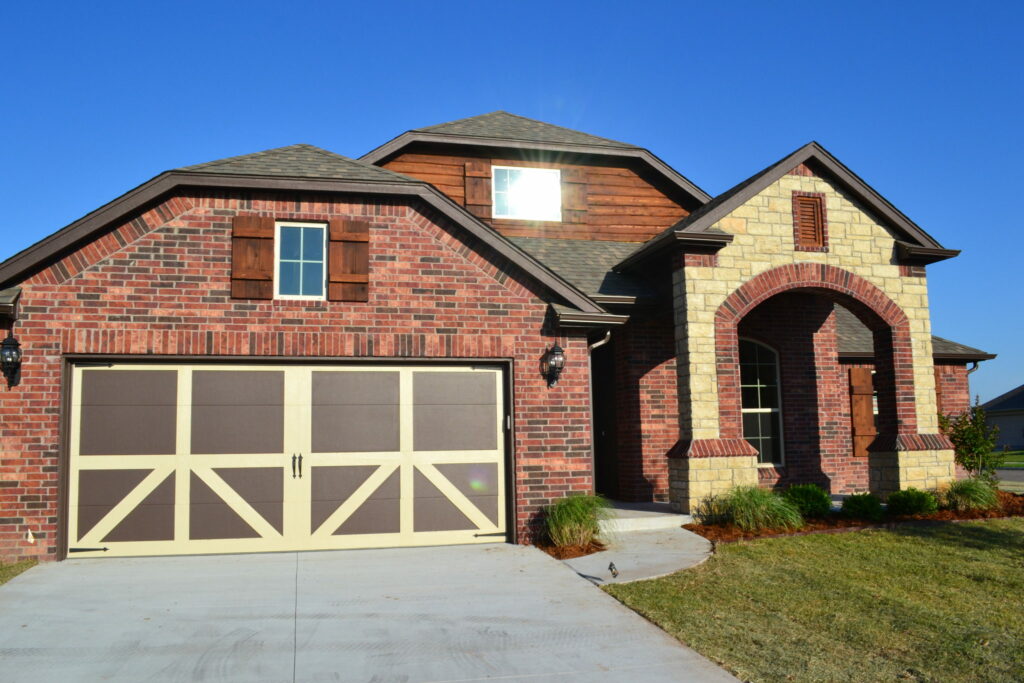 Belleau Wood Community
Edmond Schools
Centennial Elementary
Sequoyah Middle School
Edmond North High School
You won't want to miss this home! This 3976 square foot home sits on a 1 acre home site that backs up to a greenbelt. It truly is country living nestled close to I-35 and with access to all the amenities that Edmond has to offer. The home has a cozy study with a fireplace, a formal dining and a great room that opens up to the kitchen and breakfast area. The master suite is truly a place to escape the busyness of it all. A wrap around master closet is tucked into the Master Bath area. Separate Vanities are a luxury that you will enjoy.
The secondary bedrooms sits on the opposite end from the master suite. Three bedrooms and 2 full baths make this area perfect for children or guests. There is also a large media room with a separate game room.
Contact us TODAY to find out how to make this home yours!