Since the summer heat has kicked up several notches all we can think about is how to cool off! So if this heat has got you looking to do anything else beside mowing your yard- you are in luck!!
Our gated Springs Communities offer the ability to go enjoy life instead of being tied down maintaining your yard. Part of your HOA dues include yard maintenance as well as access to the Community Clubhouse with Fitness Center, Salt Water Pool and Community Pond. The Springs at Skyline Trails offers smaller square footage homes with upscale amenities. The homes won't break the bank either! They start in the $220's. Who can beat that?
The Springs Communities are located in Norman, Edmond and the Mustang/Yukon area. Each community was thoughtfully planned near local shopping, community parks, great schools and medical facilities. Although these communities are not aged restricted we have found that the empty nester is flocking to these communities. The ability to travel and leave your home knowing that it will be secure behind gates and your yard will be cared for is priceless. Not to mention- your neighbors will also have a watchful eye. Monthly Communities gatherings truly make the community a place where everyone can know your name! Did you know that each home can be completely customizable just like our larger homes? Moving walls, adding square footage or taking things away are easy changes that Landmark Fine Homes can handle. If you aren't into building, we have beautiful completed homes in each community ready for you.
Stop by one of our model homes in these communities before you miss out on some great homes.
The Springs at Greenleaf Trails- located off of Tecumseh just west of Porter in Norman
The Springs at Skyline Trails- located off of Reno just east of Garth Brooks in Mustang/Yukon area
The Springs at Valencia- located off of NW 178th between May and Penn in Edmond School District.
The Model Homes are open 1:00-6:00 Thursday- Monday or call us and let us know what works for you and we will meet you then!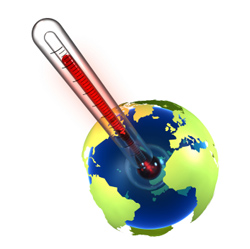 We don't know about you but around here it has been HOT!!! With temperatures in the high 90's and low 100's for the last several weeks everyone is looking for a place to cool off. If you live in one of Landmark Fine Homes communities that offer a community pool- you are in luck!! The pool has been a place where the community has been gathering to relax after a long day at work.
The Springs at Greenleaf Trails, Carrington Lakes, The Reserve at Valencia , Little River Trails and Cascata Falls all offer a pool to be enjoyed by everyone in the community.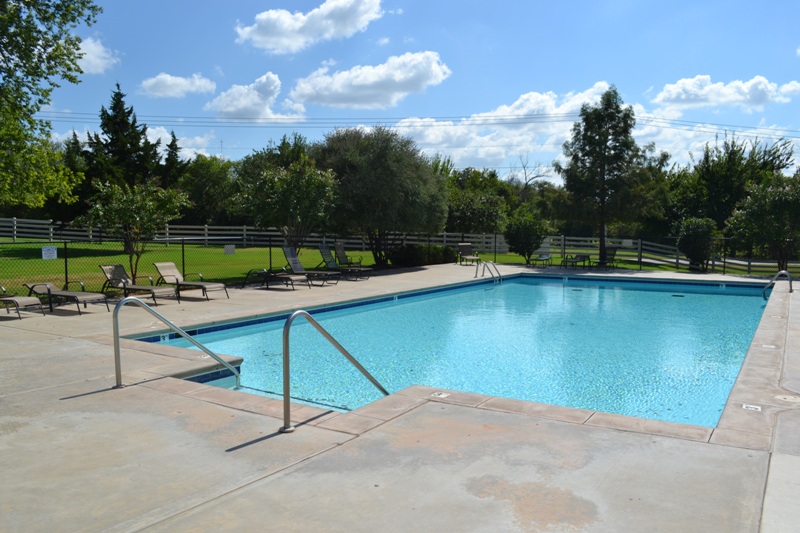 If you don't have a community pool to get wet in at the end of the day, be sure and take care of the air conditioner inside your home. Here are a few tips to make sure it keeps running at its best!
Make sure you are changing your air filters regularly. When your air filter is dirty it makes your air conditioner work harder, which will make your bill higher and reduces the air quality in your home. This will also reduce the life of your HVAC System.
Landmark Fine Homes recommends having your unit serviced regularly. You don't want to be without air in the summer so be proactive and get it serviced to help prevent any issues.
Inspect your outdoor unit and make sure it is clear of grass clippings, mud or other debris.
Community is what Landmark Fine Homes is all about.
In days gone by, communities were built by people getting to know who their neighbors are. With everyone living in such a high tech world we have listened to our customers and decided we wanted to make a change! We have decided not only to build great homes but really focus on building great communities.
"The Springs" product line is just that. We have created these communities where people can buy great homes that range from 1600-2300 square feet MOL. These homes maybe small in size but are loaded with custom details. Granite countertops, wood floors, rustic beams- you name it! The communities are gated and offer a community clubhouse with workout room, pool, ponds, walking trails and the best part - your yards are maintained!!! We want you to be able to enjoy your life and do the things you want to do, not worry about yard work. Never fear though, if yard work is your thing, you can spend as much time as you want creating flower beds and gardens in the back yard to maintain.
The Springs at Greenleaf Trails is the first community of this kind that Landmark Fine Homes put in located in Norman, Oklahoma. To get the community started, Soup Saturday's were formed. Once a month, people that were under contract to build and those that were considering the community would gather together at the model home and get to know each other. This quickly turned into everyone asking at the end of the gathering when the next one would be. At that point we knew this was something that was greatly needed! Since the first Soup Saturday begun everything from Cooking Classes, Painting Classes and Monthly Potlucks occur. Drive through this gated community in the evenings and you will see neighbors walking together and people sitting on their porches. Winter time you will find the "younger" people in the community shoveling drive ways for the "older" ones.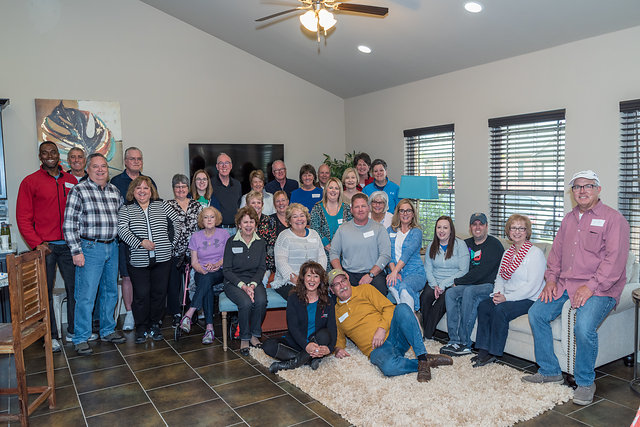 How could we just stop with the one community? There is no way we could! We are at the final stages of "Kicking off " The Springs at Skyline Trails which will be located in Mustang, Oklahoma. This gated community will offer the same community clubhouse with workout room, community pool, walking trails, pond and yards maintained. Monthly Gatherings? Absolutely!
Check out the Model Home that is almost complete!
The next community will be The Springs at Valencia located in Edmond is set to begin construction in the next several months. We are excited to have this same concept available in the Edmond Area!
Does this sound like a community you would want to be a part of? Call us TODAY to get you started.