If the Blog on "5 Ways to Make Gardening Easier" has motivated to have a garden but you still don't know if you have the time to keep up with it we have the perfect compromise- The Springs at Skyline Trails!
This community is the first in our "Springs Communties" to offer a community garden. Since the communites are all designed around "Lifestyle taking Center Stage" we knew that a Community Garden would be a perfect place for people to come together around a common interest.
Our first goal was to get a Pergola erected to ground this area and provide a place to escape the summer sun! It is set in a prime location in the community and has great access to the community pond.
Next came the raised flower beds. We knew in order for people to participate we would want to make sure the beds were easy to maintain and not back breaking! Green Okie accepted the challenge and created a beautiful space for the residents.
Since this is our newest community we decided to reach out to a local Girl Scout Troop, Troop #340, to see if they would be interested in taking this on as a community project! At Landmark Fine Homes, giving back to the communtiy is a core value. This was the perfect project to help make that happen. The Girls Scouts needed a place for the summer and are also very interested in giving back. And so it began......
As you can tell it is taking off! Not only is the community garden growing, so is the community itself! We have added several new families a month this quarter and couldn't be happier.
If the bounty is more than the community can consume plans are to donate to Manna Pantry in Yukon. The Girls Scout Troop has already spent multiple hours volunteering for this wonderful organization and knew it would be the perfect spot to donate to.
Does your community offer a Garden? If not and you are looking for one that does, be sure and check out The Springs at Skyine Trails where homes start at $198,000!
Since the summer heat has kicked up several notches all we can think about is how to cool off! So if this heat has got you looking to do anything else beside mowing your yard- you are in luck!!
Our gated Springs Communities offer the ability to go enjoy life instead of being tied down maintaining your yard. Part of your HOA dues include yard maintenance as well as access to the Community Clubhouse with Fitness Center, Salt Water Pool and Community Pond. The Springs at Skyline Trails offers smaller square footage homes with upscale amenities. The homes won't break the bank either! They start in the $220's. Who can beat that?
The Springs Communities are located in Norman, Edmond and the Mustang/Yukon area. Each community was thoughtfully planned near local shopping, community parks, great schools and medical facilities. Although these communities are not aged restricted we have found that the empty nester is flocking to these communities. The ability to travel and leave your home knowing that it will be secure behind gates and your yard will be cared for is priceless. Not to mention- your neighbors will also have a watchful eye. Monthly Communities gatherings truly make the community a place where everyone can know your name! Did you know that each home can be completely customizable just like our larger homes? Moving walls, adding square footage or taking things away are easy changes that Landmark Fine Homes can handle. If you aren't into building, we have beautiful completed homes in each community ready for you.
Stop by one of our model homes in these communities before you miss out on some great homes.
The Springs at Greenleaf Trails- located off of Tecumseh just west of Porter in Norman
The Springs at Skyline Trails- located off of Reno just east of Garth Brooks in Mustang/Yukon area
The Springs at Valencia- located off of NW 178th between May and Penn in Edmond School District.
The Model Homes are open 1:00-6:00 Thursday- Monday or call us and let us know what works for you and we will meet you then!
Landmark Fine Homes newest "Springs Community" is completing construction and we couldn't be any happier!
The gates are up and the wall around the community is almost complete so we thought we would invite our friends from The Edmond Chamber of Commerce to do a community Ribbon Cutting! The event is scheduled on Monday, May 21 at 11:30 am. We will start the morning out with the ceremony and then take a tour around the recently completed clubhouse, fitness center, pool and community pond. Lunch will be served in The Clubhouse and you can register to win prizes!
We currently have 2 homes that are completed and ready for someone to call them HOME! Here is a sneak peak!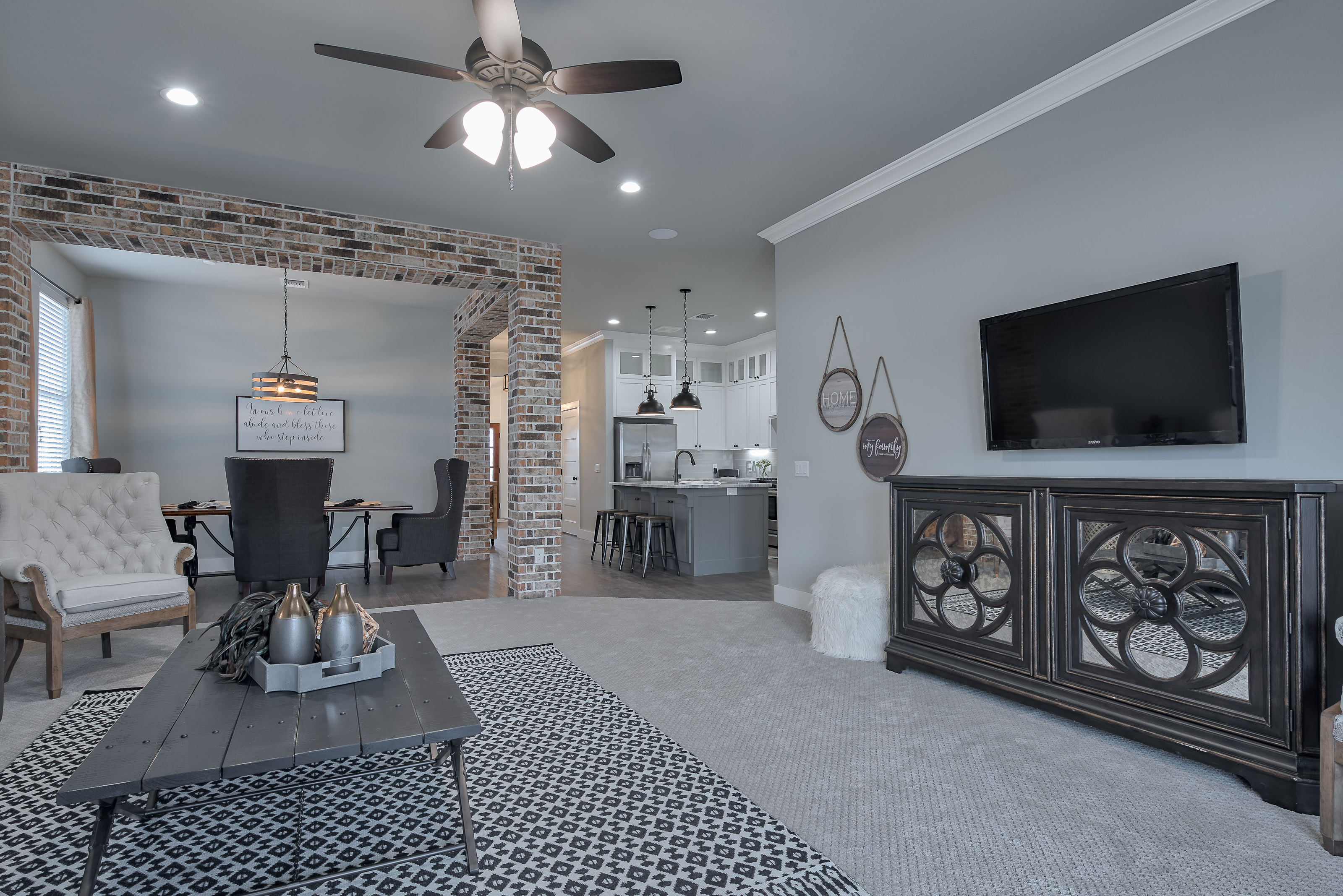 The newest "Springs" Community is open and we already have 2 Custom Homes UNDER CONTRACT.
It is an exciting time at Landmark Fine Homes! The new year is always a great time to start fresh and imagine what all is possible in 2018. If moving is on your agenda we have the perfect place for you!
The Springs at Valencia Model Home is complete and we couldn't be any happier. This gated community is located off of NW 178th between Penn and May. It offers a community clubhouse with workout room, pool, pond and one of the best features is the yards are maintained. No more being tied down to your yard! You can do the things you enjoy most in life instead of spending your free time mowing your yard. If you do like gardening, never fear, you can still plant your gardens and get your hands dirty.
There are 9 different floor plans to choose from in The Springs at Valencia. The floor plans can be completely customizable to fit your needs. By customizable, we mean you can change room sizes, add closets, re-arrange bathrooms, the only limit you have is that the home must fit on your lot!
Here are a few of the floor plans currently UNDER CONSTRUCTION.
Stop by our model home Thursday-Monday from 1:00-6:00 and see Sonya. She can show you around the community and the homes we currently have under construction. In the mean time, here are a few more pictures of our MODEL HOME located at 2309 NW 179th Terrace.
The Parade of Homes Continues!
It was a great first weekend for The Parade of Homes. All of our homes were busy with people checking out the latest and greatest things. If you are looking for a home in the Mustang/Yukon area you will not want to miss this one! This year the Parade of Homes committee honored it with being "The Best Overall" in the category $250,000-$274,000!
The Springs at Skyline is our newest community. It will be modeled after our Springs at Greenleaf Trails community in that it will have a community clubhouse with a workout room, pool, walking trails, pond and the best part is your yards are maintained! If you are ready to start enjoying life and stop taking care of a large home this community is for you. The floor plans range from approximately 1600-2300 square feet. It may seem like a started home square footage but we promise the amenities are anything but started home! Wood floors, granite countertops, farm sinks, rustic beams, flexibility in designing your own floor plan are all a part of this wonderful community.
The Lane Floor plan has approximately 2093 square feet and offers 3 bedroom, 2 bath , a flex space that can be used as a formal dining, second living, study or whatever you can imagine! A open living, kitchen and breakfast area are perfect for entertaining. The laundry room that has access to the master closet is a favorite feature of this home.
Stop by this week and see this home in person. We are open from 1:00-7:00 pm daily.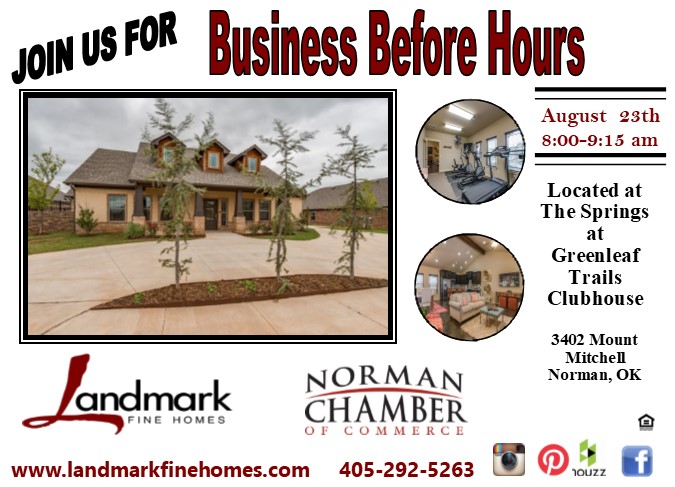 Tomorrow is the day that we look forward to every year around this time. Landmark Fine Homes has the honor of hosting Business Before Hours with the Norman Chamber of Commerce. It is always a great time spent with community leaders, eating breakfast and catching up on all the latest things that are happening in Norman. Stop by and see us tomorrow at the Clubhouse in The Springs at Greenleaf Trails!
We had the opportunity to sit down with several of our homeowners in The Springs at Greenleaf Trails recently. We asked them what they like the most about living in this gated community that offers a Community Clubhouse with Workout Room, Pool, Pond, Walking Trails and the best part is your yards at maintained!!
The Springs Communities will be offered around the OKC Metro Area. Our next one will be opening by the end of summer at The Springs at Skyline in Mustang. This wonderful community is located off of Reno between Czech Hall and Cemetery Road. If you haven't been out to Mustang recently you need to go and check it out! The area is exploding with new growth. Shopping, Restaurants, Doctors Offices and Schools are within minutes. You also have great access to the highway which makes a easy commute throughout the metro.
Check out what the Scammahorn's had to say about "What they like about living in The Springs? and Why did they chose to move there?"