I don't know about you- but we are always up for sprucing up the exterior of our homes! Houzz has always been a great source for our customers to get design ideas on their new homes. There is rarely a week that goes by where we do not have someone show us a pictures from their ideabook that they have created for inspiration on building their new home. What some people might not know is Houzz is also a great resource for all things around your home including organizing, decorating, exterior landscape ideas and more. Check out this great article they posted on "14 Colorful Spring Containers to Cheer Up Your Porch or Garden."
Read more..... https://www.houzz.com/ideabooks/104421968/list/14-colorful-spring-containers-to-cheer-up-your-porch-or-garden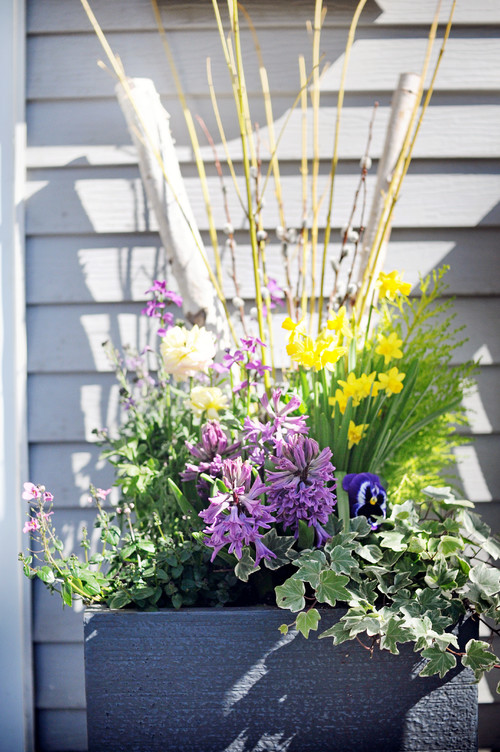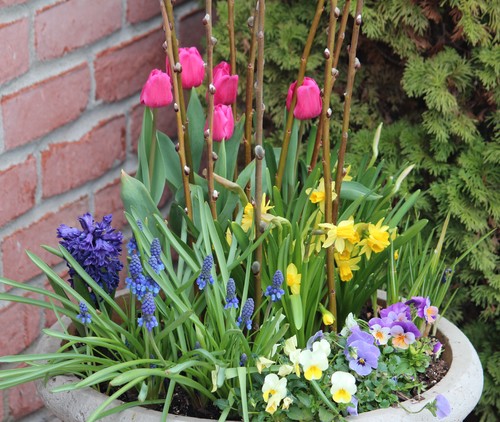 You have picked everything out so the fun can now begin! Meet our Construction Team. It is time to turn over the floor plans and selections to this group. Their job is to take all those ideas and selections you made and bring them to life.
Before we break ground on the project, you will have a Pre-Construction Meeting at our office where you will meet your Construction Superintendent. This is a opportunity for them to be introduced to you as a homeowner as well as your floor plans and selections. They will be briefed on all the details of the home so they have a clear vision of what you are wanting. From this point on they will become part of your family! They will be one of the main sources of contact throughout your build. Their job is to schedule all the trades, get inspections and make sure everything is followed on the plans. They are also the eyes of the company to make sure not only all your selections are fulfilled but everything behind the walls are built soundly and energy efficiently.
During the build of your home, Landmark Fine Homes will schedule several meeting on your jobsite. This gives us the opportunity to educate you on what is behind the walls and get feedback from you on how you want certain areas of your home to look like.
Ground Breaking - You will meet at your home site and have a quick review of how the home will be placed on the lot.
Construction Begins!
Post Frame Meeting - The builder and homeowner meet at the home to verify doors, windows, and wall locations, mark the walls for phone and cable and review the electrical plans.
Pre Drywall Meeting - The builder and homeowner verify everything is installed in the walls and we are ready to begin sheetrock. This is also the time where you will meet with the Custom Cabinet Makers. They will talk with you about what all you would like to see in your cabinets. You will receive a computer generated 3D drawing of those details before the cabinets are made.
Finishes Meeting - The builder and homeowner meet prior to trim, paint and flooring to review the selections you have made and make any adjustments. You will also design your closet layouts at this time.
Flat Work Meeting - The builder and homeowner meet prior to flat work to review. What is flat work? That is your concrete sidewalks and patios!
You are getting close to moving into your new home. Only a few more steps and it will be complete. Check back in next week to see what's next!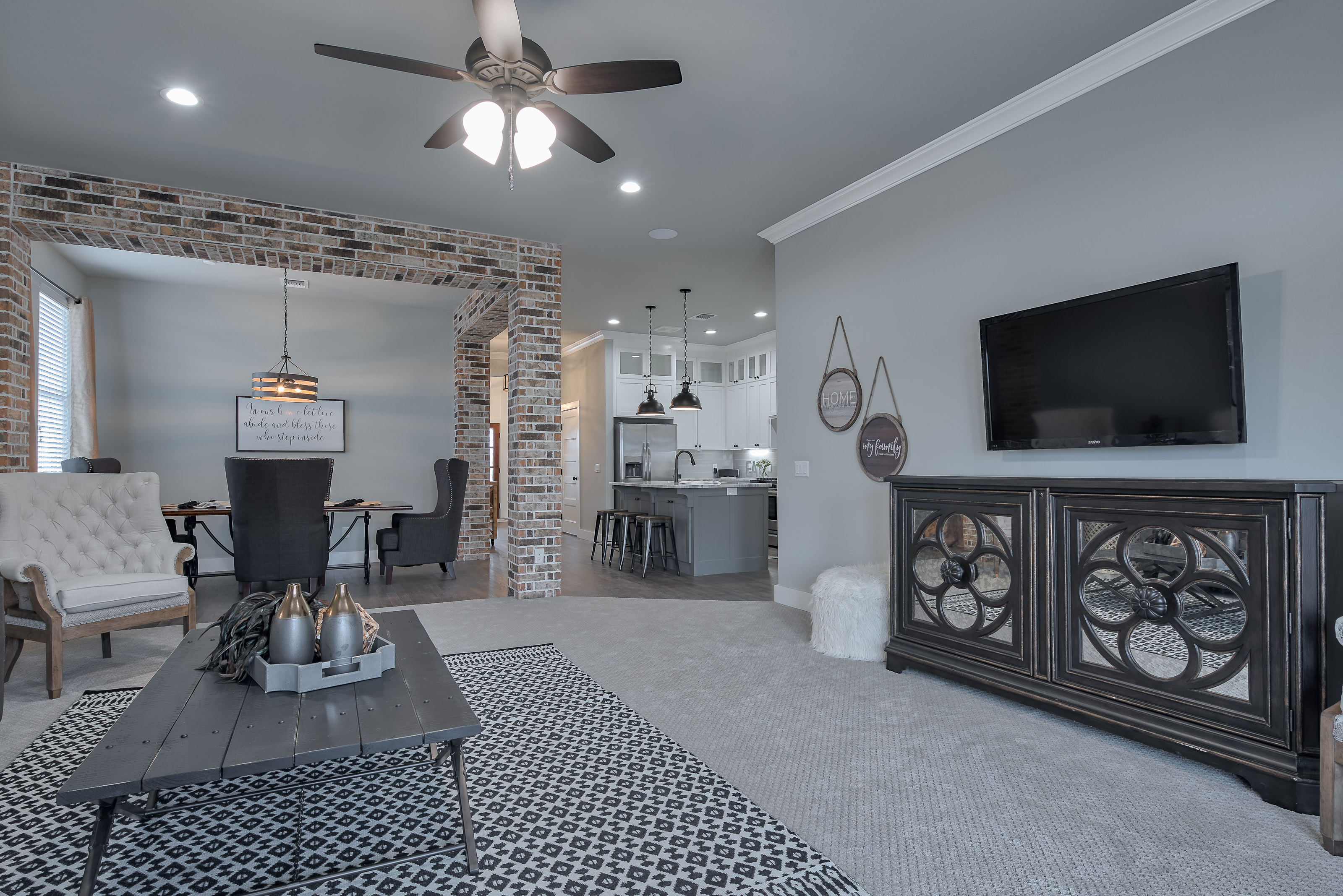 The newest "Springs" Community is open and we already have 2 Custom Homes UNDER CONTRACT.
It is an exciting time at Landmark Fine Homes! The new year is always a great time to start fresh and imagine what all is possible in 2018. If moving is on your agenda we have the perfect place for you!
The Springs at Valencia Model Home is complete and we couldn't be any happier. This gated community is located off of NW 178th between Penn and May. It offers a community clubhouse with workout room, pool, pond and one of the best features is the yards are maintained. No more being tied down to your yard! You can do the things you enjoy most in life instead of spending your free time mowing your yard. If you do like gardening, never fear, you can still plant your gardens and get your hands dirty.
There are 9 different floor plans to choose from in The Springs at Valencia. The floor plans can be completely customizable to fit your needs. By customizable, we mean you can change room sizes, add closets, re-arrange bathrooms, the only limit you have is that the home must fit on your lot!
Here are a few of the floor plans currently UNDER CONSTRUCTION.
Stop by our model home Thursday-Monday from 1:00-6:00 and see Sonya. She can show you around the community and the homes we currently have under construction. In the mean time, here are a few more pictures of our MODEL HOME located at 2309 NW 179th Terrace.
How could you even begin building a home without these two guys? Meet Jason and Brian- otherwise known as our Estimating Guys.
We joking say they began working here when they were 12. LOL! That is a little stretch but they have both been with Landmark Fine Homes for many years.
Jason Underhill, Director of Estimating, has been with Landmark Fine Homes since its inception in 2000. Once he graduated from Oklahoma City University, he decided to stay at Landmark Fine Homes and continue full time. Because of his longevity there isn't a floor plan that we have built that he hasn't seen. That knowledge alone is priceless. If you have a idea, Jason will know if it can be done in any particular plan. He will be one of the first people you meet once you go under contract with Landmark because he runs the Plan Review meeting at the office. This is where you go through the details of the contract and floor plan to make sure we have everything covered. Nothing is finalized until this meeting takes place.
As Director of Estimating, Jason is the person who not only anchors our pricing department but also our CAD and Design Team.
Brian Philips is our Estimator. The great story about Jason and Brian - they went to College together and were in the same Fraternity. So if you are wondering if they can work together as a team- the answer is YES! Brian is a numbers guy- no doubt! He works closely with our Sales Team to get the ideas that our customers have, put those into a floor plan to be able to determine the cost involved and get those back to the Sales Team to be able to show you those ideas on paper. He works hard to make sure all those ideas become a reality for you the potential homeowner.
If you are looking for a TOP NOTCH team of Estimators, there isn't any better than Jason and Brian. Not only are they great at what they do- they are great guys!