Didn't Al's recipe yesterday look yummy? If you missed it be sure and check it out on the Blog, Facebook or Pinterest!
I don't know about everyone else, but some of us at the office are all about the desserts. If chocolate is in the title, then we are all in for skipping the main meal and just eating it! Today's recipe is one that looks pretty easy but is loaded with flavor. Aren't we all for the easy during Thanksgiving?
Kelli Thompson in our Accounting Department shared this one. Kelli graduated from Westmoore High School in the Moore Public Schools District. She continued her education and graduated from OU with her degree in Accounting. She has lived in Oklahoma all her life and is the mother to twins, a boy and a girl, as well as 4 dogs! Some fun facts about Kelli:
She prefers emails/texts over talking on the phone
HUGE football fan
She loves Fall/Winter but hates Summer
Would love to live in Monterey, CA someday (After she retires from working at Landmark is what we told her!)
She has a younger sister who lives with her parents. Her parents are still married and live in the same house she grew up in.
Her favorite color is black
Loves Diet Dr Pepper and Reece's Peanut Butter Cups
Enjoys Cooking and Baking with her Daughter
Watching Football with her son
The whole family loves Ghost Adventures
As soon as the calendar turns to November, thoughts become focused on what we are thankful for and FOOD!!! Does anyone else feel like Thanksgiving is like the Super Bowl of food? Everyone has their favorite recipes and are sticking by them no matter what anyone else has to say.
We decided to do a Thanksgiving Round Up to give you the opportunity to meet some of our wonderful team and find out what their favorite recipes are. First Up:
Meet Al Reeves
Al Reeves, a Certified Public Accountant, serves Landmark Fine Homes as our Chief Financial Officer. Al grew up in Big D. (that is Duncan, Oklahoma for all of you that were thinking that big city in that other state we don't like to talk about!) His Thanksgiving holiday memories are spending time with his Uncle Murl quail hunting and enjoying meals with the family. Al spent 6 years serving in the Army Reserves, which he has some great stories from. He has served as a accountant in both the public and private industries. If you say you are heading outside to go fishing, hunting or golfing- Al will be coming along! Al has 1 sister who lives in Connecticut, 2 sons, 5 grandkids, 2 great granddaughters and a great grandson who is expected to arrive any day!
He says if you add this recipe to your collection and you won't be disappointed!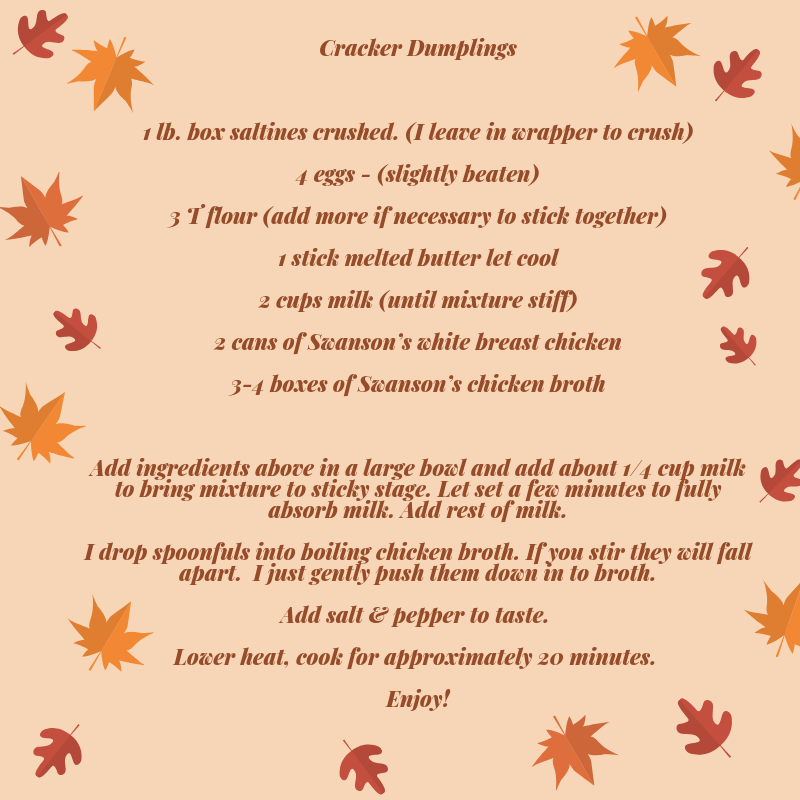 If you took a poll around our office right now and asked, "What is your favorite season?", the answer would be an overwhelming FALL!
There is so much going on around the OKC metro area for your family to enjoy.
Carrington Lakes in Norman is hosting their first ever Dog Costume Contest on October 20th from 11am-1pm. The response has been overwhelming! You put pets and costumes together and you know it will be a great time. We are hosting this in the community in honor of our New Model Home at 4220 Hackney Wick that is decked out with Pet Friendly features including a dog bath! You won't want to miss it.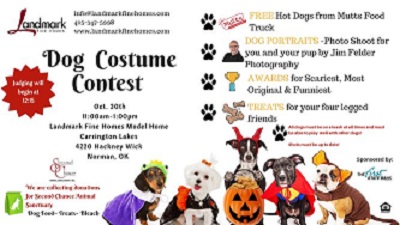 If a dog costume contest isn't your thing- Be sure and check out this great website- Travel Ok.
I don't know about you- but we are always up for sprucing up the exterior of our homes! Houzz has always been a great source for our customers to get design ideas on their new homes. There is rarely a week that goes by where we do not have someone show us a pictures from their ideabook that they have created for inspiration on building their new home. What some people might not know is Houzz is also a great resource for all things around your home including organizing, decorating, exterior landscape ideas and more. Check out this great article they posted on "14 Colorful Spring Containers to Cheer Up Your Porch or Garden."
Read more..... https://www.houzz.com/ideabooks/104421968/list/14-colorful-spring-containers-to-cheer-up-your-porch-or-garden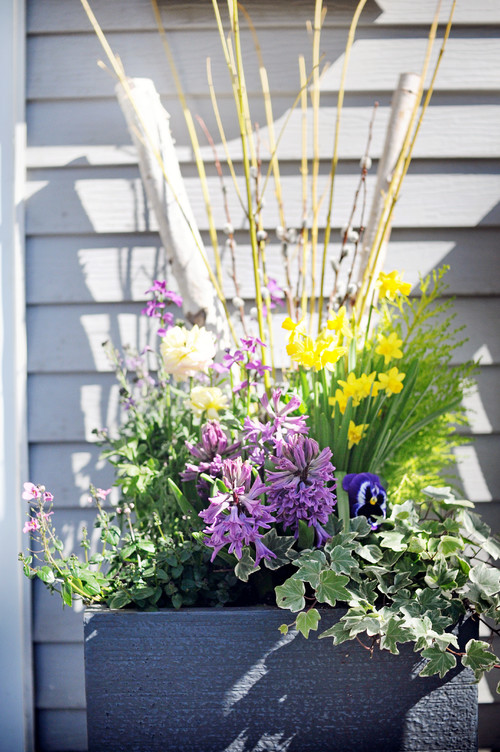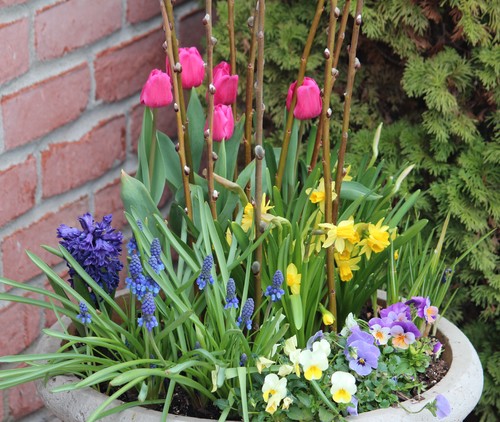 Have you always wanted to know what your decorating style is? Take this quick Quiz and find out!
The Parade of Homes Continues!
It was a great first weekend for The Parade of Homes. All of our homes were busy with people checking out the latest and greatest things. If you are looking for a home in the Mustang/Yukon area you will not want to miss this one! This year the Parade of Homes committee honored it with being "The Best Overall" in the category $250,000-$274,000!
The Springs at Skyline is our newest community. It will be modeled after our Springs at Greenleaf Trails community in that it will have a community clubhouse with a workout room, pool, walking trails, pond and the best part is your yards are maintained! If you are ready to start enjoying life and stop taking care of a large home this community is for you. The floor plans range from approximately 1600-2300 square feet. It may seem like a started home square footage but we promise the amenities are anything but started home! Wood floors, granite countertops, farm sinks, rustic beams, flexibility in designing your own floor plan are all a part of this wonderful community.
The Lane Floor plan has approximately 2093 square feet and offers 3 bedroom, 2 bath , a flex space that can be used as a formal dining, second living, study or whatever you can imagine! A open living, kitchen and breakfast area are perfect for entertaining. The laundry room that has access to the master closet is a favorite feature of this home.
Stop by this week and see this home in person. We are open from 1:00-7:00 pm daily.
Belleau Wood is our acreage community that is located in Northeast Edmond right off of Air Depot and Sorghum Mill. It has 54, 1+ acre lots that are stretched across 80 acres of rolling hills, heavily wooded areas and breathtaking views. Homes in Belleau Wood require a 3000 square foot minimum. This community is located in the acclaimed Edmond School District- Centennial Elementary, Sequoyah Middle School and Edmond North High School.
If you are wanting acreage living with easy access to I-35 this is the community for you! Come and visit Belleau Wood today and pick out a lot to build your dream home on. If you are ready to move now and don't want to build Landmark Fine Homes has several homes that are ready for you.
Check out this video to see more.....
It is that time! Everyone is talking about what their goals are for the New Year.
Stop by one of our Model Homes in Carrington Lakes, Belleau Wood, Valencia or The Ranches.  One of our New Home Consultants are ready to help you get in your dream home this year. Not only can you be in that new home, but you will want to be a part of some of the lowest interest rates in history.  If you wait too long you will miss  your chance!
Our Model Homes are open, Thursday-Monday from 1-6 or on Saturday from 10-6. We would love to help you complete one of those goals for 2014!