It is that time of year- time for the Parade of Homes! This year Landmark Fine Homes has 8 Homes featured in the Parade.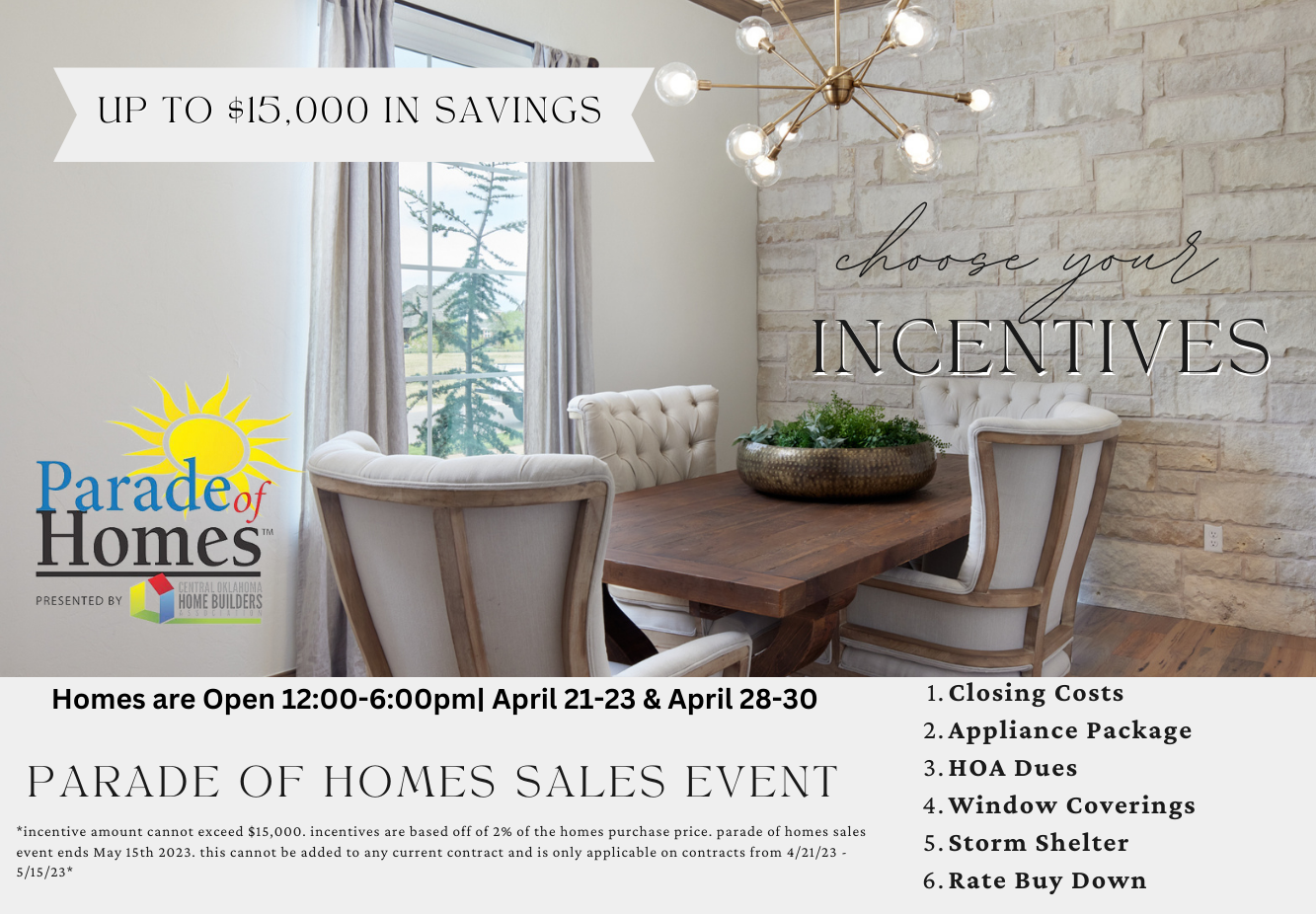 Now is the perfect time to buy a new home. Overall, living in the right home can help your family feel comfortable, safe, and happy while providing opportunities for personal growth and connections with the community. It can be a place where your family can thrive and create lasting memories together.
Please stop by one of our Parade Homes this weekend, find the perfect completed home, or talk to us about custom home building. While you are there, be sure and ask about our Parade of Homes Incentives!
Every year between Thanksgiving and Christmas we host our annual "Thanksmas Party" to give our employees, trade partners and families we have built for the opportunity to give back to The Salvation Army of Cleveland County. This organization is very dear to our hearts. Santa always comes to make sure everyone has been good and we get the opportunity to have our pictures taken with the Big Man!
Our team also takes a day and Rings the Bell! This is such a staple of the holiday season as much as the BC Clark jingle! If you have never volunteerd, you are missing out! It is such a great way to spread some holiday cheer. When they say, every penny counts, it truly does! We had fun this year and tried to put a really LARGE check into the kettle. Needless to say, it didn't work! Click on the picture and you can check out the video we did!
Our focus on giving back and The Salvation Army is not limited to Christmas Time. We had the opportunity to build The Judy McKown Children's Activity center that opened last year. This beautiful building gives families a safe warm place to go to and be mentored by those in our community.
If you are looking for somewhere to give- check out The Salvation Army!
Jerry Arias is the man behind the floor plans at Landmark Fine Homes. During the bid process, you might have liked one of our basic floor plans but decided you wanted to do some changes. Jerry takes those ideas and turns them into realty!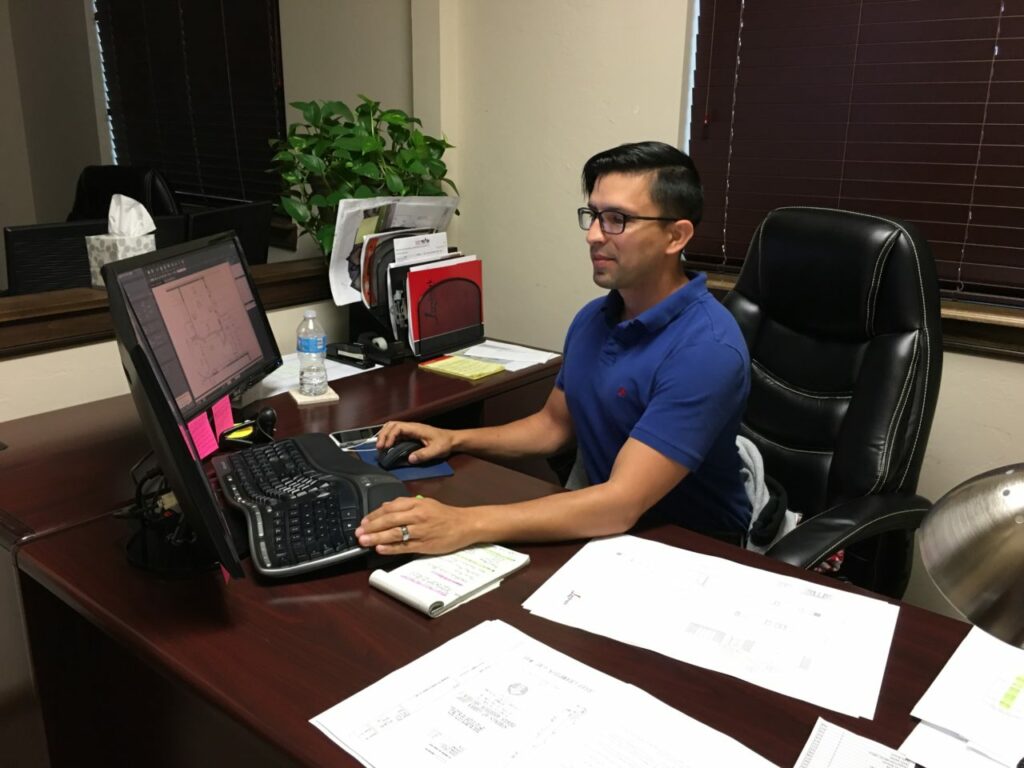 Jerry grew up in Costa Rica so his recipe is one that was shared throughout the year, especially Christmas Eve. No celebration is ended without a good "arroz con leche" (rice with milk) a very traditional Hispanic dessert, very sweet and made with lots of love, and memories to cherish for a life time.
"The main Holiday for us is Christmas Eve where all the extended family gets together. Normally a big party celebrated at the living grandparent's home. Where the ladies of get together to prepare and cook Costa Rican Tamales (bigger and thicker than your normal Mexican tamales, and each one is wrapped around with green banana leaves), we also cook big pots of "arroz con pollo" (rice with chicken) and veal meat. While the men sit and talk about soccer or watch the best game of the season all over again. The children are just children, running around, playing, climbing trees and becoming friends with any new cousins they missed over the past few years. The teens and young adults just relax and catch up on everyone's life. Any gifts are given to the children and the grandparents first, all other are done at each family's home, keeping the families together, The celebration goes on all morning through the late night, until the last one leaves after cleaning the grandparents' home. "
ARROZ CON LECHE (COSTA RICAN RICE PUDDING)
COOK TIME
30 mins
TOTAL TIME
30 mins
INGREDIENTS
1 cup uncooked rice
1 can sweet condensed milk
1 can evaporated milk
4 cups of milk
½ cup of water
½ teaspoon vanilla extract
2 sticks of cinnamon
1 teaspoon fresh nutmeg
½ cup raisins
6 cloves
INSTRUCTIONS
In a saucepan, bring rice, milk, water, cinnamon sticks, nutmeg and cloves to a boil over high heat.
Boil for 5 minutes, stirring constantly.
Add the sweet condensed milk and simmer over low heat for 10 minutes.
Add the evaporated milk, the vanilla extract and the raisins and cook for 10 more minutes until it thickens to the desired consistency. Add more milk if you want your Arroz Con Leche thinner, as it will thicken once it cools down.
Serve it chilled or at room temperature.
Online Source: http://www.oliviascuisine.com/the-world-cup-gourmet-series-costa-rica-arroz-con-leche-rice-pudding/
Didn't Al's recipe yesterday look yummy? If you missed it be sure and check it out on the Blog, Facebook or Pinterest!
I don't know about everyone else, but some of us at the office are all about the desserts. If chocolate is in the title, then we are all in for skipping the main meal and just eating it! Today's recipe is one that looks pretty easy but is loaded with flavor. Aren't we all for the easy during Thanksgiving?
Kelli Thompson in our Accounting Department shared this one. Kelli graduated from Westmoore High School in the Moore Public Schools District. She continued her education and graduated from OU with her degree in Accounting. She has lived in Oklahoma all her life and is the mother to twins, a boy and a girl, as well as 4 dogs! Some fun facts about Kelli:
She prefers emails/texts over talking on the phone
HUGE football fan
She loves Fall/Winter but hates Summer
Would love to live in Monterey, CA someday (After she retires from working at Landmark is what we told her!)
She has a younger sister who lives with her parents. Her parents are still married and live in the same house she grew up in.
Her favorite color is black
Loves Diet Dr Pepper and Reece's Peanut Butter Cups
Enjoys Cooking and Baking with her Daughter
Watching Football with her son
The whole family loves Ghost Adventures
You have picked your community, floor plan and signed your contract, so now what?
Next up is picking out all the finishes you would like in your home as well as going over the floor plans to make sure all the details are there. We love greeting new home owners when they walk into our design studio for the first time. Honestly, we see a mix of emotions. Some can not wait to get started on this part. They have been on Pinterest, Houzz or other websites collecting pictures and information of what all they want in their new home. The other set of people walk in looking like a deer in head lights!! The thought of having to pick everything out and making sure it all matches is overwhelming for some. In comes our wonderful team to save the day!!
Landmark Fine Homes believes that we build your home not ours. With that being said, we want to make sure we have all the details in place that you want in your home. There are several meetings scheduled throughout the process of building your home. In the beginning you will come in for a Plan Review Meeting. This is where you will meet with our Estimating Department to make sure we have everything on your plans that you envisioned down to where the light switches are. Then we transition you into meeting with our Design Team. This is where you get to take all those ideas of finishes out of your head and bring them to life! The team does a great job at taking those ideas and matching them to products. During your home building process you will have one designer that is committed to making your home something that you will be proud to show off. Landmark Fine Homes also works hard at not making the process overwhelming. You will have several meetings with our design team where you can focus on certain areas of the home and not feel like you have to make decisions on every facet of the home in one visit.
Now, doesn't that sound easy and fun? It really is! Check out what this family had to say about the process!
It is that time of the year. The Central Oklahoma Parade of Homes will run this Spring for two consecutive weekends- May 13-15 and May 10-22. The Parade will be open from 1:00-7:00. We are excited to have 7 homes in this years parade. We will feature a new home everyday for the next week.
214 Sonora- Little River Trails- Norman, OK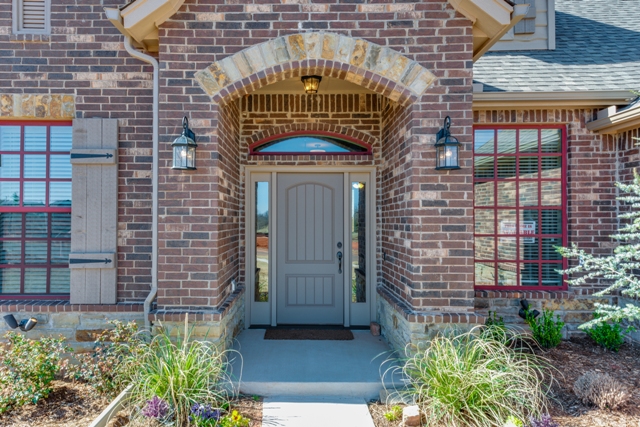 Red windows set this home apart from the curb.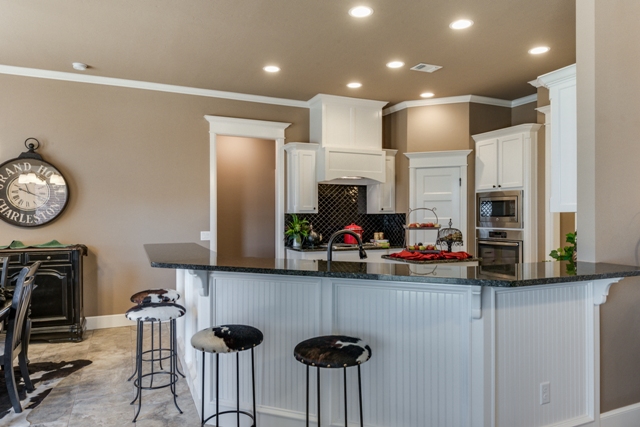 The kitchen is open to the living with a great view of the backyard.
Space is not a issue in this backyard!
If you want to see the rest of the house you will want to stop by and see it in person. This homes is open Saturday and Sunday from 1:00-6:00. We will be open during the Parade weekends until 7:00.
It is that time of the year. The Central Oklahoma Parade of Homes will run this Spring for two consecutive weekends- May 13-15 and May 10-22. The Parade will be open from 1:00-7:00. We are excited to have 7 homes in this years parade. We will feature a new home everyday for the next week.
4321 Hackney Wick- Carrington Lakes- Norman, OK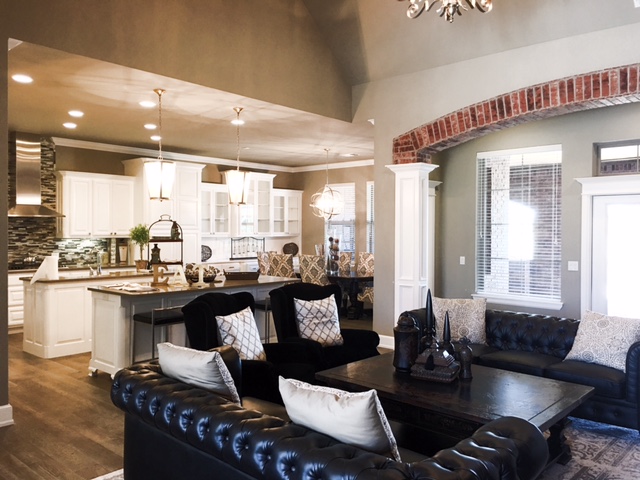 The brick arch, white kitchen and double islands is one you will want to see in person!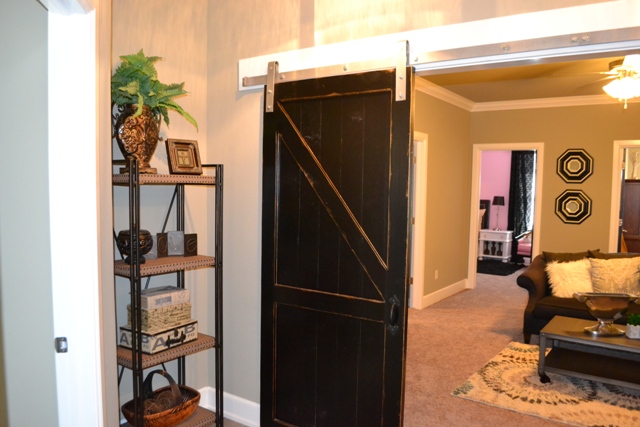 The secondary living area off of the secondary bedrooms is separated with rustic barn doors.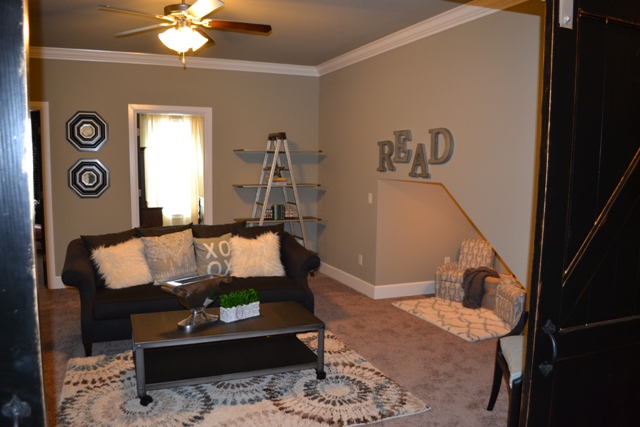 A reading nook in nestled under the stairs. It is a perfect place for the little ones to read.
If you want to see the rest of the house you will want to stop by and see it in person. Our model homes are open Thursday- Monday from 1:00-6:00. We will be open during the Parade weekends until 7:00.
If there is one thing that we consistently hear is-" I would love to build a new custom home BUT it is overwhelming! How will I ever be able to make all the choices? I am not a designer. Do I have to drive all over town to pick things out?"
At Landmark Fine Homes, we have been building Custom Homes for over 15 years. We have broken the building process down into easy steps. There is nothing overwhelming! We ask you to pick out a few things at a time, or if you want, you can complete all the steps in one visit. Kim Kelley, Selection Center Coordinator, has been with Landmark Fine Homes for over 11 years. Her expertise has been priceless in helping our customers make those sometimes hard decisions. She can help you make sure the whole house will come together and be something you are proud of.
Our New Design Center, located at our main office in Norman, has selections from vendors around the metro area. It is truly "One Stop Shopping." The need to run all over town is taken away. Many of our customers have consistently said if they have an idea in their head, Kim helps bring it to life! If you have seen it in a magazine, on Pinterest, Houzz or a website, Kim will be able get that design brought to life in your home.
There is truly no reason to wait!  Stop by one of our Model Homes in Norman at The Springs at Green Leaf Trails or Carrington Lakes, in Edmond at Belleau Wood or The Reserve at Valencia or in Southwest Oklahoma City at The Preserve at Parkside.  One of our New Home Consultants would be happy to get you started on your new home.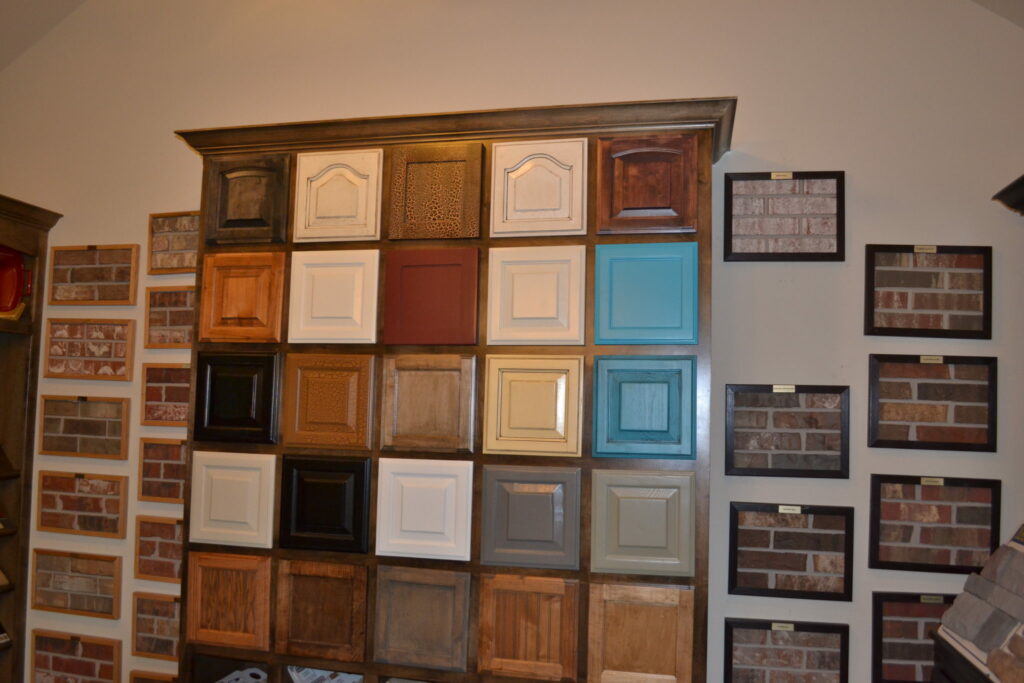 July 4th is a great time celebrating everything Americana.
Carrington Lakes got into the spirit of the 4th by decorating everything that moved- bikes, motorized cars, golf carts and more!  The event was a great way for the Community to come together and celebrate our Nation's birthday. The morning began with the parade.  The streets were packed with people of all ages decked out in their finest red, white and blue.  Onlookers lined the drives to encourage everyone and stock up on all the candy that was being thrown by the participants.   The parade made its way through the neighborhood and ended up at the Carrington Lakes Clubhouse. Once there, you had your choice of activity.  Everyone seems to love the Sno Cones!  Those that were brave tried out the waterslides and others lounged around the pool.  No matter what your preference was there was something for everyone. 
If this is a community you would like to live in, stop by our model home this week to find out how!  Our Model is located at 4316 Moorgate and is open from Thursday- Monday from 1:00-6:00 pm or by appointment.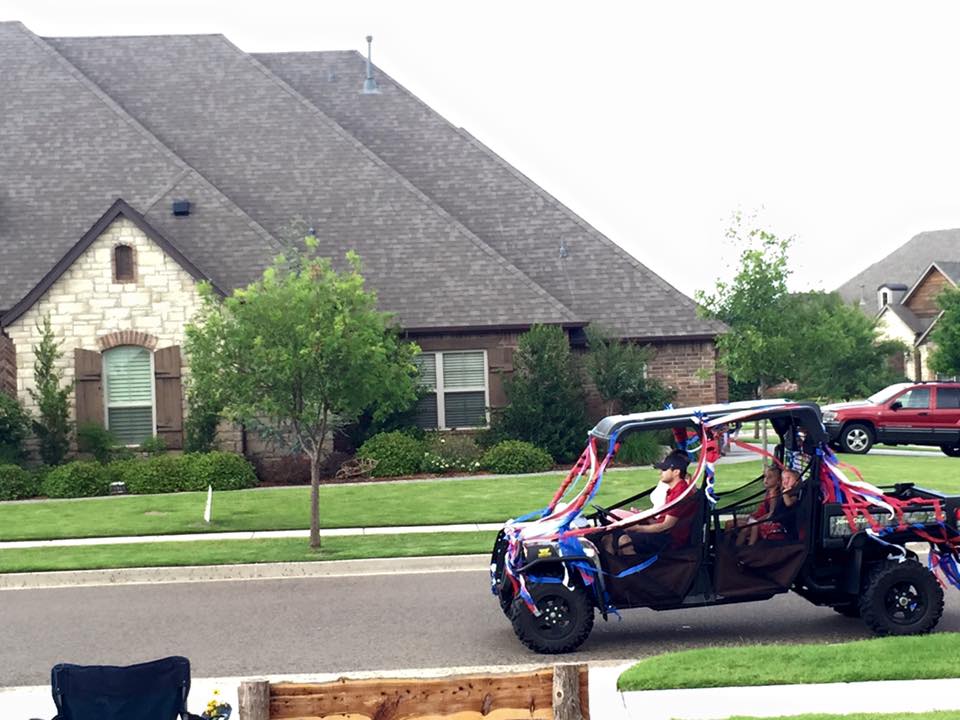 Are you ready?
Winter is right around the corner as temperatures continue to drop! Now is the time to take care of a few maintenance issues around your home to make sure you are ready!
Be sure and disconnect all outside hoses. If you forget the outside water faucet can freeze and burst pipes inside the walls.
If this is the first time to you have turned on your heater you may experience a burning smell. This is completely normal. There might also be some smoke that could set off your smoke detector. The smoke will usually clear away quickly. Opening a door or window will usually help.
A good rule of thumb is to change out your batteries on your smoke alarm at the same time you change your clocks. It is not too late! Make sure those batteries are good.
What are other things you do around your house as the temperatures drop?