Jerry Arias is the man behind the floor plans at Landmark Fine Homes. During the bid process, you might have liked one of our basic floor plans but decided you wanted to do some changes. Jerry takes those ideas and turns them into realty!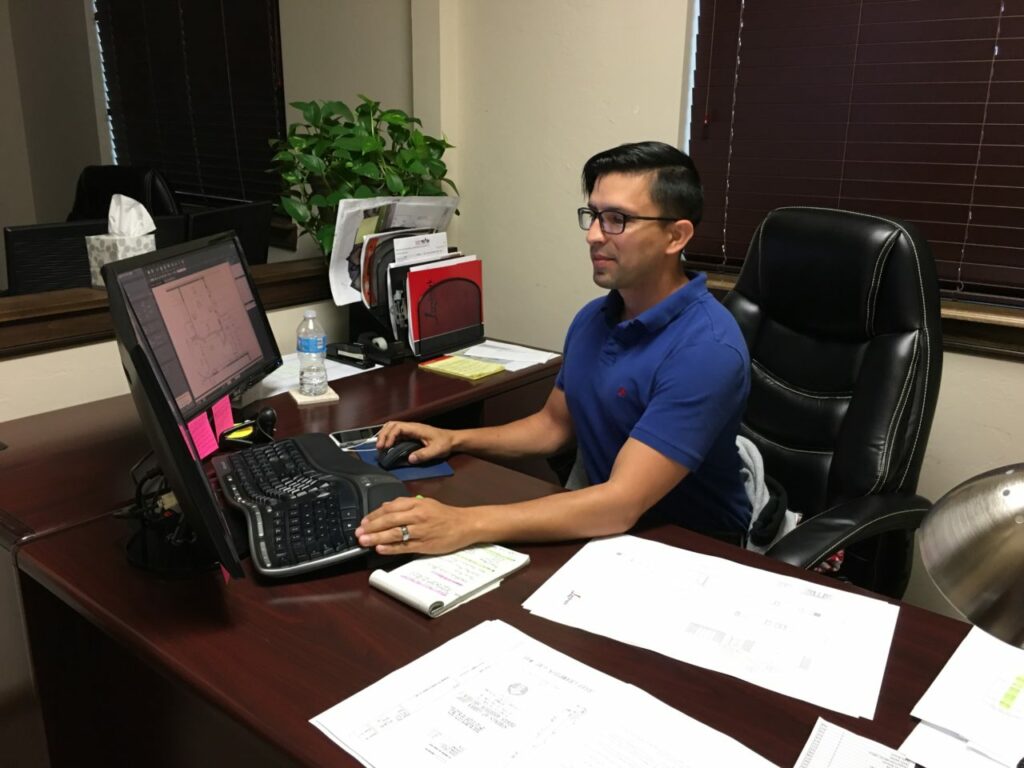 Jerry grew up in Costa Rica so his recipe is one that was shared throughout the year, especially Christmas Eve. No celebration is ended without a good "arroz con leche" (rice with milk) a very traditional Hispanic dessert, very sweet and made with lots of love, and memories to cherish for a life time.
"The main Holiday for us is Christmas Eve where all the extended family gets together. Normally a big party celebrated at the living grandparent's home. Where the ladies of get together to prepare and cook Costa Rican Tamales (bigger and thicker than your normal Mexican tamales, and each one is wrapped around with green banana leaves), we also cook big pots of "arroz con pollo" (rice with chicken) and veal meat. While the men sit and talk about soccer or watch the best game of the season all over again. The children are just children, running around, playing, climbing trees and becoming friends with any new cousins they missed over the past few years. The teens and young adults just relax and catch up on everyone's life. Any gifts are given to the children and the grandparents first, all other are done at each family's home, keeping the families together, The celebration goes on all morning through the late night, until the last one leaves after cleaning the grandparents' home. "
ARROZ CON LECHE (COSTA RICAN RICE PUDDING)
COOK TIME
30 mins
TOTAL TIME
30 mins
INGREDIENTS
1 cup uncooked rice
1 can sweet condensed milk
1 can evaporated milk
4 cups of milk
½ cup of water
½ teaspoon vanilla extract
2 sticks of cinnamon
1 teaspoon fresh nutmeg
½ cup raisins
6 cloves
INSTRUCTIONS
In a saucepan, bring rice, milk, water, cinnamon sticks, nutmeg and cloves to a boil over high heat.
Boil for 5 minutes, stirring constantly.
Add the sweet condensed milk and simmer over low heat for 10 minutes.
Add the evaporated milk, the vanilla extract and the raisins and cook for 10 more minutes until it thickens to the desired consistency. Add more milk if you want your Arroz Con Leche thinner, as it will thicken once it cools down.
Serve it chilled or at room temperature.
Online Source: http://www.oliviascuisine.com/the-world-cup-gourmet-series-costa-rica-arroz-con-leche-rice-pudding/
Didn't Al's recipe yesterday look yummy? If you missed it be sure and check it out on the Blog, Facebook or Pinterest!
I don't know about everyone else, but some of us at the office are all about the desserts. If chocolate is in the title, then we are all in for skipping the main meal and just eating it! Today's recipe is one that looks pretty easy but is loaded with flavor. Aren't we all for the easy during Thanksgiving?
Kelli Thompson in our Accounting Department shared this one. Kelli graduated from Westmoore High School in the Moore Public Schools District. She continued her education and graduated from OU with her degree in Accounting. She has lived in Oklahoma all her life and is the mother to twins, a boy and a girl, as well as 4 dogs! Some fun facts about Kelli:
She prefers emails/texts over talking on the phone
HUGE football fan
She loves Fall/Winter but hates Summer
Would love to live in Monterey, CA someday (After she retires from working at Landmark is what we told her!)
She has a younger sister who lives with her parents. Her parents are still married and live in the same house she grew up in.
Her favorite color is black
Loves Diet Dr Pepper and Reece's Peanut Butter Cups
Enjoys Cooking and Baking with her Daughter
Watching Football with her son
The whole family loves Ghost Adventures