Landmark Fine Homes believes in giving back. This year we are collecting school supplies for local schools and one of your favorite teachers at all our Model Homes.
Here are the rules to get your favorite teacher nominated:
You can nominate the Teacher once per day
Nominations will end August 1st, 2018
To nominate them it is easy!
Go to our Facebook Post on Teacher Nomination
Tag or Comment with your favorite Teachers Name
Include the School/District they teach in
Or
Stop by one of our Model Homes and nominate them in person.
All names will be entered into the drawing for the "Favorite Teacher"
We will draw the name of the winner LIVE on August 11th at one of our Community Events- "Donuts in the Drive" that will take place at our Model Homes.
The more you nominate the teacher the more chances they have to win!
You can drop the school supplies by at one of our Model Homes in The Reserve at Valencia, The Springs at Valencia, The Springs at Skyline Trails, The Preserve at Parkside, Carrington Lakes, The Springs at Greenleaf Trails, Little River Trails or Montoro Ridge.
You have picked everything out so the fun can now begin! Meet our Construction Team. It is time to turn over the floor plans and selections to this group. Their job is to take all those ideas and selections you made and bring them to life.
Before we break ground on the project, you will have a Pre-Construction Meeting at our office where you will meet your Construction Superintendent. This is a opportunity for them to be introduced to you as a homeowner as well as your floor plans and selections. They will be briefed on all the details of the home so they have a clear vision of what you are wanting. From this point on they will become part of your family! They will be one of the main sources of contact throughout your build. Their job is to schedule all the trades, get inspections and make sure everything is followed on the plans. They are also the eyes of the company to make sure not only all your selections are fulfilled but everything behind the walls are built soundly and energy efficiently.
During the build of your home, Landmark Fine Homes will schedule several meeting on your jobsite. This gives us the opportunity to educate you on what is behind the walls and get feedback from you on how you want certain areas of your home to look like.
Ground Breaking - You will meet at your home site and have a quick review of how the home will be placed on the lot.
Construction Begins!
Post Frame Meeting - The builder and homeowner meet at the home to verify doors, windows, and wall locations, mark the walls for phone and cable and review the electrical plans.
Pre Drywall Meeting - The builder and homeowner verify everything is installed in the walls and we are ready to begin sheetrock. This is also the time where you will meet with the Custom Cabinet Makers. They will talk with you about what all you would like to see in your cabinets. You will receive a computer generated 3D drawing of those details before the cabinets are made.
Finishes Meeting - The builder and homeowner meet prior to trim, paint and flooring to review the selections you have made and make any adjustments. You will also design your closet layouts at this time.
Flat Work Meeting - The builder and homeowner meet prior to flat work to review. What is flat work? That is your concrete sidewalks and patios!
You are getting close to moving into your new home. Only a few more steps and it will be complete. Check back in next week to see what's next!
You have picked your community, floor plan and signed your contract, so now what?
Next up is picking out all the finishes you would like in your home as well as going over the floor plans to make sure all the details are there. We love greeting new home owners when they walk into our design studio for the first time. Honestly, we see a mix of emotions. Some can not wait to get started on this part. They have been on Pinterest, Houzz or other websites collecting pictures and information of what all they want in their new home. The other set of people walk in looking like a deer in head lights!! The thought of having to pick everything out and making sure it all matches is overwhelming for some. In comes our wonderful team to save the day!!
Landmark Fine Homes believes that we build your home not ours. With that being said, we want to make sure we have all the details in place that you want in your home. There are several meetings scheduled throughout the process of building your home. In the beginning you will come in for a Plan Review Meeting. This is where you will meet with our Estimating Department to make sure we have everything on your plans that you envisioned down to where the light switches are. Then we transition you into meeting with our Design Team. This is where you get to take all those ideas of finishes out of your head and bring them to life! The team does a great job at taking those ideas and matching them to products. During your home building process you will have one designer that is committed to making your home something that you will be proud to show off. Landmark Fine Homes also works hard at not making the process overwhelming. You will have several meetings with our design team where you can focus on certain areas of the home and not feel like you have to make decisions on every facet of the home in one visit.
Now, doesn't that sound easy and fun? It really is! Check out what this family had to say about the process!
We have been busy in our communities celebrating the end of summer with Ice Cream Socials as well as coming together and supporting our local schools with a back to school supply drive! The Reserve at Valencia and The Preserve at Parkside met within the last week. It is always amazing when you see a group of neighbors come together to rally around a cause!
At Landmark Fine Homes we consistently talk about how we don't just build homes but we build communities. When we say communities we don't just mean taking a piece of land and putting in streets, curbs, developing lots and adding amenities that everyone enjoys. Those are items that go into our thinking but we also have listened to our customers and heard what you wanted. The clubhouses, parks, pools and walking trails are all great but what you are wanting more than anything is a community where you can go out of town and not worry about leaving your home. A community where if someone becomes ill, the neighbors rally around that person and provide meals. A community where when you drive down the street you know the names of the people that live in the homes not just what kind of cars they drive.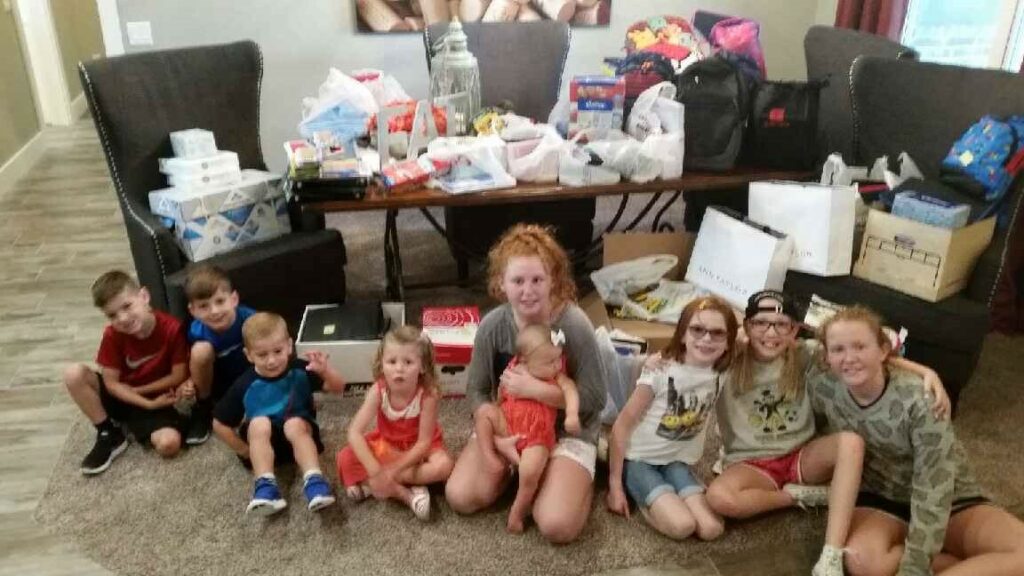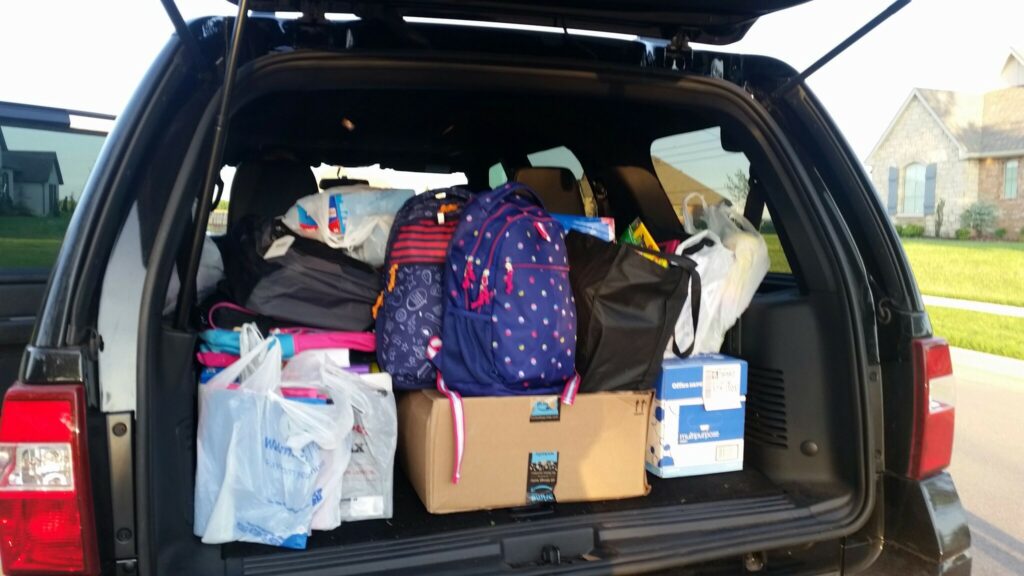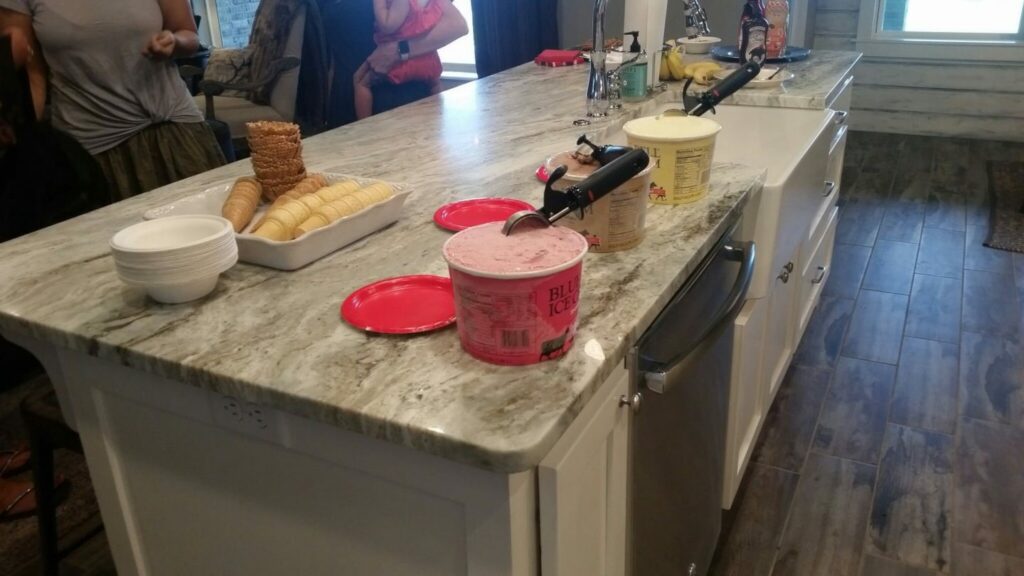 Our focus this year is hosting community gatherings where that can happen.  We have found as our world has become more high tech people are still craving high touch opportunities!  If this is something you are wanting- talk with one of our New Home Consultants in The Springs at Greenleaf Trails, The Reserve at Valencia, The Preserve at Parkside, Carrington Lakes, Montoro Ridge, Little River Trails, Cascata Falls, or The Springs at Skyline. They would love to help you get into your new Landmark Fine Home.
As the Festival of Homes approaches this week we know there will be a lot of people out looking at homes. You are going to see the latest and greatest in design from several builders.
We love our Design Team and all they do to create such beautiful environments for people to live in. They are constantly staying on top of the latest trends whether it is color, countertops, ceiling treatments, flooring or lighting. Our consistent trade partners also bring us those products that they are receiving so we can be the first ones to have them in our homes. This also allows you as a buyer to be confident that you will receive the best pricing and design there is!
We also love our Construction Team and the hard work that they put in making sure the home is energy efficient. That is what The Teel's loved about building with Landmark Fine Homes not only once but twice! Not only did they have the best design possibilities but they also had the best construction which saved them money every month on their utility bills.
Check out what they had to say:
Landmark Fine Homes has had the privilege of building 2 homes for this wonderful family. We had the opportunity to spend some time in their beautiful home in The Preserve at Parkside to catch up and find out what all they enjoyed about working with us.
We have found that many people are nervous about custom building a home. Landmark Fine Homes works hard to make sure the process is as easy as possible. Everything is broken down into steps as to not be too overwhelming for anyone.
Diana knew what she wanted when she saw it but wasn't sure how to make it come to life. That is where our Design Team came in to fill in the gaps. She was able to come into our Design Studio and work with our Team Member to make her selections. She didn't need to drive all over town to find things. She could come to our office and see it all put together.
Take a minute and listen to what all the Teels had to say about their experience!
Another Tuesday and Another Testimony! We are so grateful for all the wonderful people who have trusted us to build not only their homes but who have become a part of our extended family. We often have people come into our model homes and say "All we have heard about building is that it is a nightmare!"
We are very committed to making sure that statement doesn't become a reality to any of our families. Since we have been building homes since 2000 we have a lot of experience in how to make the process as easy as possible. Each step is broken down so you do not have to make all the decisions at one time.
Hear what another one of our wonder families have to say:
We absolutely love our new home! It was a great and pleasant experience being able to build with Landmark Fine Homes. The process went very smoothly and was laid out very well. We would love to give a shout out to all of the folks who we were able to work with during construction:
Tim was great throughout the entire construction process. He made sure to meet with us at all of the major milestones and explain in detail what was going on, how certain things worked, and gave good visuals of what was about to or had just happened. If we ever had a concern and voiced it with Tim, he made sure proper corrections were made to our satisfaction and kept us informed of progress being made. He is very knowledgeable and willing to explain anything we had questions about. It was a great experience working with Tim and would work with him again in a heartbeat!
Jason was extremely helpful throughout the process as well. He was very thorough in going over our plans and very helpful with explaining house details. Jason also communicated very well and constantly followed up with us to find out if we needed anything or how progress was going. Anytime we spoke with Jason, he was upbeat and seemed to always have a smile on his face!
Kim was fantastic throughout the entire selection process. She had everything laid out for us which made it easy to pick everything out. If we ever had questions, she was able to find the answers. Her positive attitude and energy made it a lot of fun throughout the selection and construction process!
Again, it was a pleasure working with Landmark Fine Homes in building the home of our dreams! We are excited and cannot wait for the many years we plan to live in and enjoy our home. The team at Landmark Fine Homes throughout the entire process was very professional, positive, and energetic. We always felt we were being well taken care of and made a priority. Thank you all again!
It is that time of the year. The Central Oklahoma Parade of Homes will run this Spring for two consecutive weekends- May 13-15 and May 10-22. The Parade will be open from 1:00-7:00. We are excited to have 7 homes in this years parade. We will feature a new home everyday for the next week.
4416 SW 129th - The Preserve at Parkside - Moore Schools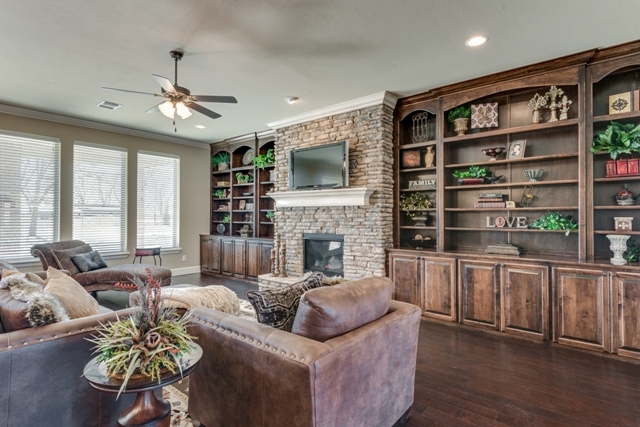 Beautifully cabinetry with a stunning fireplace.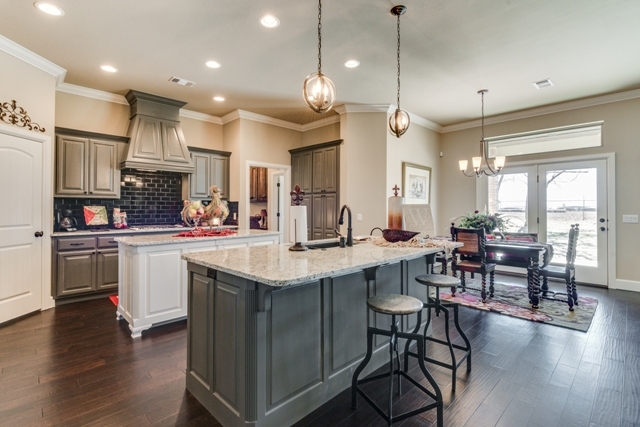 The open kitchen showcases the 2 islands with painted cabinetry.
This community is 1/2 acre lots which allows plenty of room between you and your neighbor.
If you want to see the rest of the house you will want to stop by and see it in person. Our model homes are open Thursday- Monday from 1:00-6:00. We will be open during the Parade weekends until 7:00.
It was a pleasure working with Suzzanne Wolfe in the purchase our Landmark home. From the moment we walked into the model home in March 2014, she was cordial, friendly and extremely helpful explaining to us what made Landmark homes different and more importantly, better than other homes we had seen to that point. She was always responsive to our questions, concerns and went the extra mile to accommodate our needs for finding a great home for our move to OKC.
We moved to Oklahoma in June. When we discovered that the temporary rental home we were to move into that day was unacceptable, Suzzanne went above and beyond to help us find another suitable rental home until the Landmark home we purchased was ready for us to move in. She ensured the travel time from the rental home to Tinker AFB where Tony works was consistent with travel time we would have in the Edmond home...it is that attention to detail that we love about Suzzanne (it is most uncommon, but very much appreciated!) She provided support in our hour of need and we will never forget that support...EVER!
Evan Thomas was superb going through our final walkthrough ensuring any issues identified were properly annotated and marked and most importantly worked so that when we moved in all issues had be fixed. Means a lot to us as customers that he made sure our home was inspection ready for move in. He also went the extra mile in our functional review of the home making sure he answered all of our questions on the operation of the systems that are in the house. He did the little things like turning on the oven to burn off the factory newness so that when we used it the first time we did not stink up the house! He did not have to do that, but he did it because he is Evan and that is how he operates! We look forward to our subsequent walkthroughs, because we know he cares deeply about what he does and we know he'll take care of any issues we may discover since our move in.
We closed on our new house in December and we are very happy. We love the quality of our Landmark home. That is what drew our interest from the beginning.
Sincerely,
Tony and Jennifer
We love hearing from our customers! Thank you Tony & Jennifer!
Let's get started building your NEW HOME. Stop by one of our Model Homes and see Suzzanne is Valencia, Sierra in Cascata Falls, Mark in Belleau Wood, Barb in the Preserve or Ben in Carrington Lakes.