We are so honored to have been chosen by the Coulter family to build their dream home. Stop by one of our Model Homes this week to find out how you can get started on yours! Our model homes are in Carrington Lakes in Norman, The Ranches in SW OKC/Moore Schools, The Reserve at Valencia in Edmond and Belleau Wood in Edmond.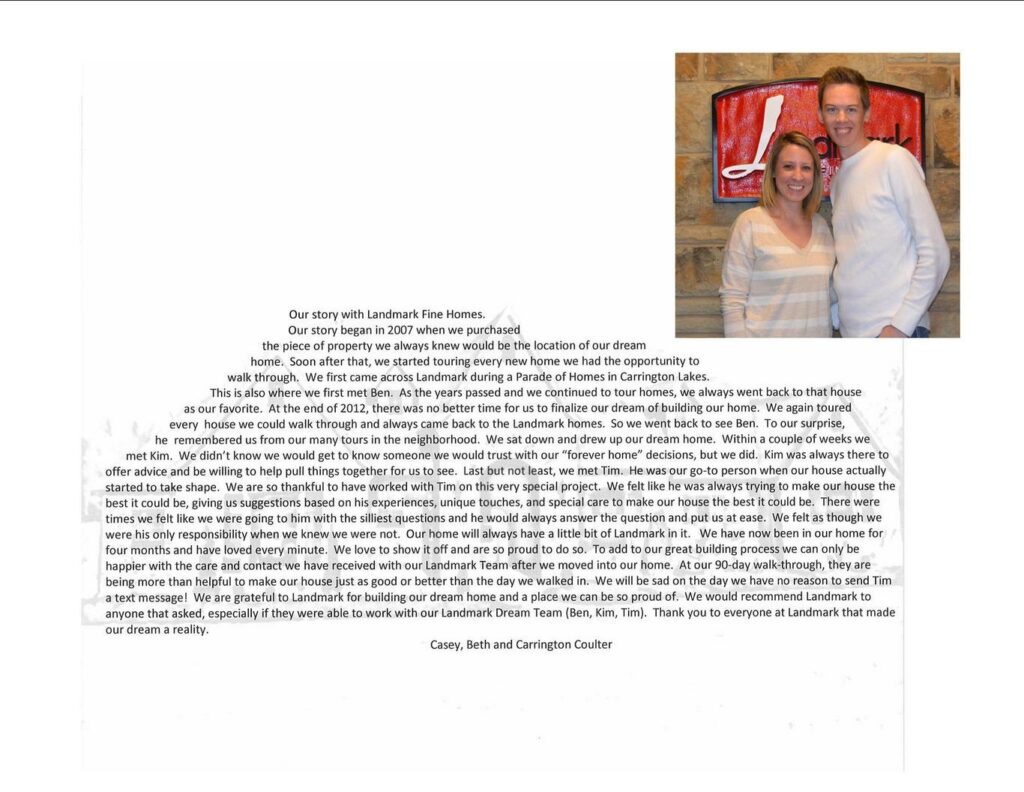 It is that time! Everyone is talking about what their goals are for the New Year.
Stop by one of our Model Homes in Carrington Lakes, Belleau Wood, Valencia or The Ranches. One of our New Home Consultants are ready to help you get in your dream home this year. Not only can you be in that new home, but you will want to be a part of some of the lowest interest rates in history. If you wait too long you will miss your chance!
Our Model Homes are open, Thursday-Monday from 1-6 or on Saturday from 10-6. We would love to help you complete one of those goals for 2014!
You should finally be safe to plant your summer garden now in Oklahoma. With the extended cold temperatures, it has taken a little longer to get plants in the ground than in years past.
All of our homes in Belleau Wood, Carrington Lakes, Valencia and the Ranches have perfect backyards to plant a garden in. Here are some things to consider:
Do you have enough sun exposure? Vegetables love the sun. They need at least 6 hours of full sun every day, and preferably 8.
Know your soil. Most soil can be enriched with compost and be fine for planting, but some soil needs more help. Vegetables must have good, loamy, well-drained soil. Check with your local nursery or local cooperative extension office about free soil test kits so that you can assess your soil type.
Placement is everything. Avoid planting too near a tree, which will steal nutrients and shade the garden. In addition, a garden too close to the house will help to discourage animals from nibbling away your potential harvest.
Decide between tilling and a raised bed. If you have poor soil or a bad back, a raised bed built with non pressure-treated wood offers many benefits.
Vegetables need lots of water, at least 1 inch of water a week.
You'll need some basic planting tools. These are the essentials: spade, garden fork, soaking hose, hoe, hand weeder, and wheelbarrow (or bucket) for moving around mulch or soil. It's worth paying a bit extra for quality tools.
Study those seed catalogs and order early.
HAPPY PLANTING!!
Your lawn may look a little sad right now but it certainly doesn't need to stay that way! Give your grass some attention now and you will see the benefits all summer long.
STEP ONE: Aerate your soil
Compacted soil is hard for water, air, and roots to penetrate, and that makes it harder on the grass. You can either go to your local equipment rental store and get a core aerator or call a local lawn company to come and do it for you.
STEP TWO: Mow the old grass low
You need to be sure and mow that old, brown grass low to remove thatch, an accumulation of dead stems and leavess.
Heavy thatch prevents water and nutrients from reaching the roots and promotes disease.
STEP THREE: Stop Weeds
As the temperature begins to reach 70, lawn weeds begin to spout. Stop them by applying a pre-emergence lawn weed preventer. Once it is watered in , it forms a barrier atop the soil to keep weeds from sprouting. Be sure and do this after you aerate.
These are just a few of our tips. We try to use them for all of our model homes in Carrington Lakes, Valencia, Belleau Wood and The Ranches. What are some of yours?