Landmark Fine Homes believes in giving back. This year we are collecting school supplies for local schools and one of your favorite teachers at all our Model Homes.
Here are the rules to get your favorite teacher nominated:
You can nominate the Teacher once per day
Nominations will end August 1st, 2018
To nominate them it is easy!
Go to our Facebook Post on Teacher Nomination
Tag or Comment with your favorite Teachers Name
Include the School/District they teach in
Or
Stop by one of our Model Homes and nominate them in person.
All names will be entered into the drawing for the "Favorite Teacher"
We will draw the name of the winner LIVE on August 11th at one of our Community Events- "Donuts in the Drive" that will take place at our Model Homes.
The more you nominate the teacher the more chances they have to win!
You can drop the school supplies by at one of our Model Homes in The Reserve at Valencia, The Springs at Valencia, The Springs at Skyline Trails, The Preserve at Parkside, Carrington Lakes, The Springs at Greenleaf Trails, Little River Trails or Montoro Ridge.
I don't know about you- but we are always up for sprucing up the exterior of our homes! Houzz has always been a great source for our customers to get design ideas on their new homes. There is rarely a week that goes by where we do not have someone show us a pictures from their ideabook that they have created for inspiration on building their new home. What some people might not know is Houzz is also a great resource for all things around your home including organizing, decorating, exterior landscape ideas and more. Check out this great article they posted on "14 Colorful Spring Containers to Cheer Up Your Porch or Garden."
Read more..... https://www.houzz.com/ideabooks/104421968/list/14-colorful-spring-containers-to-cheer-up-your-porch-or-garden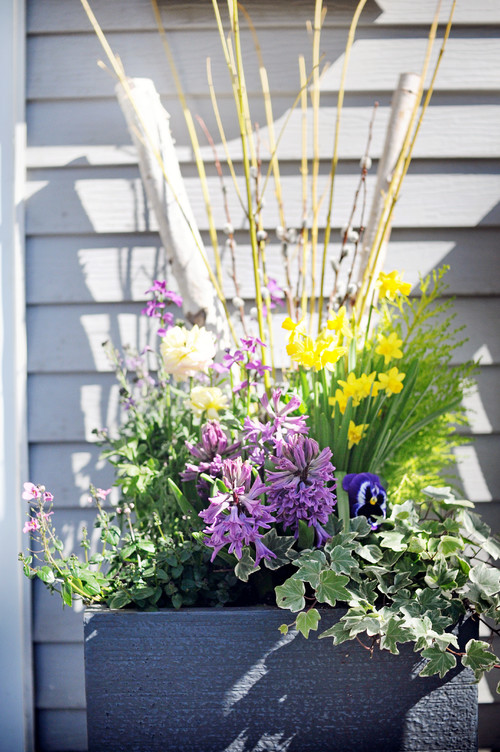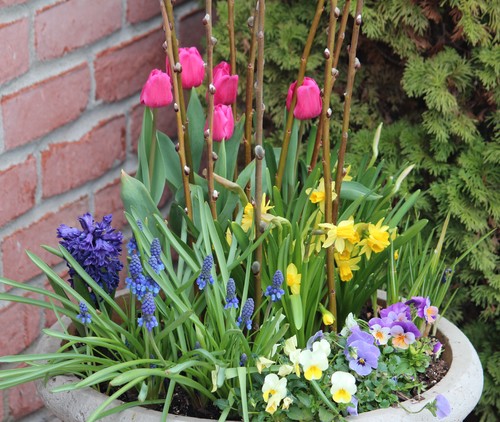 Michele and I recently built a house with Landmark Fine Homes, and we are really happy with what we consider our dream home. When we thought about leaving our home of 23 years, we researched, toured and talked to many home owners about their builders and the process of building a new home. We even toured older homes in other developments because we wanted to make sure that we would still be happy in 10-20 years after the "new house feeling" wears off. We felt comfortable that the houses and developments of Landmark Fine Homes seem to have stood the test of time. Our decision was easy, we decide on Landmark Fine Homes as our construction company.
After the initial meeting about floor plan availability, lot selection, and cost, the process began. We were given the basic plans and many options to adjust the plans as to fit to our specific needs and desires. We were surprised at the flexibility of the floor plans and the simple alteration that could be made. As we went through the design stage, Donna, Brett and Jason walked us through the design and expectations during the building process. Once everything was designed, we returned in a couple weeks to approve final design plans. This process was made easy by the years experience that Landmark Fine Homes brought to the table. This plan also provided us with the tentative dates and let us set our expectation for closing and moving.
As the actual construction took place, Landmark, specifically Brett and Donna, kept us informed of the progress and answered any questions that we had.  We met Brett at the house during each phase of the project.  We discussed electrical outlets, lighting, insulation, brick, heat/AC, cabinets: he was patient with us and answered all of our questions, even when I would think of something during the night and call him early in the morning.  He never seemed to busy or bothered to talk to me or Michele.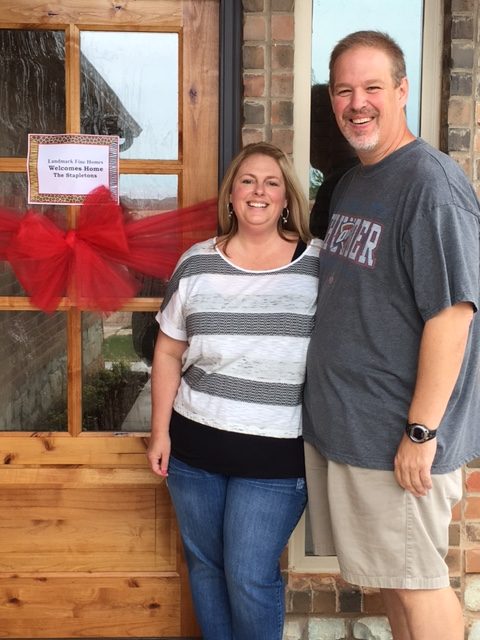 While I saw houses all around us being built, it seemed like we were receiving individual attention. During the selection process, Michele never felt pressured to make decisions, and the process was made enjoyable by the Landmark Design Team. Michele would receive calls from Donna or Kaitlin asking about personal preferences in cabinetry or paint color and explaining options along the way. They even recommended that we go to some of Landmark Fine Homes other show homes, so we could see how a certain paint or tile would look before we actually chose anything. They were patient and always available to talk to us or explain any questions we had.
With many construction companies, we would imagine that once you have moved in that you are on your own. This is not the case with Landmark. They have continually followed up with us, checking our sprinkler system, AC and just checking to make sure we are happy. This type of service is rare in our world today. Finally, I want to say "Thank You" for making us feel like we were special and building us a home we always wanted.
Sincerely,
Todd and Michele
This Friday begins the Festival of Homes. Landmark Fine Homes loves being a part of the Builders Association of South Central Oklahoma. We will be featuring 3 homes in the Norman area.
The first home is located in The Springs at Green Leaf Trails. This is a gated community that is located off of Tecumseh just west of Porter. The homes in this community range 1600-2400 square feet. The homes include upscale amenities with just a smaller footprint. What is even more wonderful about this community is all the amenities it has. You will enjoy the Community Clubhouse that has a workout room, gathering area and community pool. This is a community that has regular gatherings which usually focuses around FOOD! The community pond is stocked with fish and is surrounded by walking trails. If you asked the homeowners in this community what they liked the most I am sure you would hear them say- "We don't have to mow our lawn! " That is one feature that is loved by all!