If you took a poll around our office right now and asked, "What is your favorite season?", the answer would be an overwhelming FALL!
There is so much going on around the OKC metro area for your family to enjoy.
Carrington Lakes in Norman is hosting their first ever Dog Costume Contest on October 20th from 11am-1pm. The response has been overwhelming! You put pets and costumes together and you know it will be a great time. We are hosting this in the community in honor of our New Model Home at 4220 Hackney Wick that is decked out with Pet Friendly features including a dog bath! You won't want to miss it.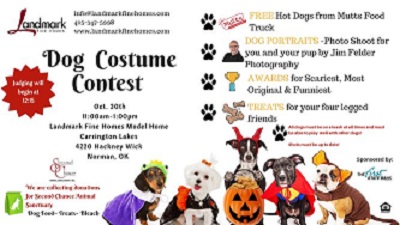 If a dog costume contest isn't your thing- Be sure and check out this great website- Travel Ok.