Tips for Picking the Perfect Backsplash
Posted on
August 24, 2021
For most of your kitchen, the design should be timeless. Your cabinets, countertops, and flooring are going to have to last a long time, so it's best not to choose anything too outrageous for those "permanent" pieces. The one place in a kitchen where you can really express your personality? Your backsplash. Picking a backsplash you'll love is a matter of finding what speaks to you and complements the rest of your kitchen.
The Evolution of Backsplash
Kitchen backsplashes used to be purely functional. They were only about four inches tall, found behind stoves and sinks, and created solely to protect the walls from kitchen mishaps. Backsplashes didn't become decorative until the 1950s, but today the sky is the limit when it comes to the types of backsplash you can choose! Backsplashes can be made of mirrors, stainless steel, or wall panels, though the most common backsplash material is tile. Do you know how to pick a backsplash for kitchen surfaces behind your sink and stove?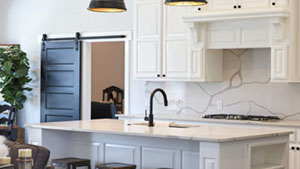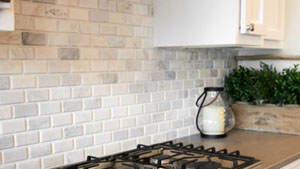 Selecting the Right Backsplash for Your Kitchen
Start by considering which of the current backsplash trends appeals to you. Subway tiles have been popular for several years now, but mosaics are also trendy. Pick up some samples and live with them a while. Want to know how to pick a backsplash to match countertop and cabinets? Put the tile you're considering right next to the surfaces it needs to match and you'll know if it does.
A good rule of thumb for kitchen design is to choose one main color and a couple of accent colors. The color of the countertops can dictate the color of the rest of the kitchen, but if you don't love your countertops, there are ways to mix up your look. For instance, if you have granite countertops and don't want your whole backsplash to be granite, mix it up by using some granite tiles and some tiles of different materials. Metallics like stainless steel, oil-rubbed bronze, or antique brass can create an impactful look, as can glass tiles.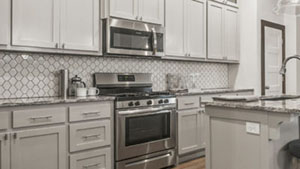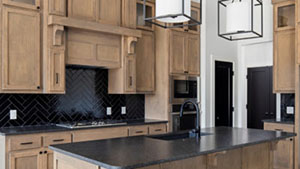 Play with Different Colors and Styles
Don't limit yourself when you're choosing tile. Modern tiles come in a wide variety of colors, materials, shapes, and sizes, so you can get creative. There are tiles made of ceramic or porcelain tiles, glass, metals, stone, and much more. They also come in a wide range of shapes, including square, rectangular, circular, diamond, and random shapes like flowers. Consider the area behind your stove if you're looking for a place to use tiles for a bold statement.
Design Your Dream Kitchen with Landmark Fine Homes
When you're ready to build your dream home, with your dream kitchen, Landmark Fine Homes is the Oklahoma City builder you need, with floor plans and the expertise to make your dream a reality. Our homes are energy-efficient and built with the utmost attention to detail. We'll even help you find the right piece of land to build on, performing a free inspection to determine all the costs involved in building a house on your lot. Make your next house the home of your dreams by contacting Landmark Fine Homes today!